NEWS: #Canes agree to terms with Andrej Nestrasil. Details: http://t.co/FcuBfdamAW pic.twitter.com/i6JFThaE3u

— Carolina Hurricanes (@Canes) June 29, 2015
Carolina Hurricanes fans can grade the past week's moves made by GM Ron Francis as either spectacular or disheartening. From getting the "best player on the board" in Noah Hanifin, to today's announcement that they signed Andrej Nestrasil to a two-year deal, the past week has been busy to say the least.
How should fans of the Hurricanes feel about the flurry of activity? Was it a spectacular week, or a disheartening display of "more of the same?"
Fans want to see their team back in the playoffs
This is a universal aspiration for any team's fan base. Sitting at home watching other teams go at it in the postseason is no fun. This is especially true for fans of teams that have tasted the ultimate in success.
2006 was like no other year in the Raleigh-Durham-Chapel Hill area of North Carolina. Going on a run for Lord Stanley's Cup and then winning it, created excitement that can only be appreciated if your team has had that experience. It's simply amazing.
There is only one problem, however, and that is that fans want it again. In fact, having won a Cup creates a hunger in fans that may be deeper than in fans of teams that have never been there. A team being perpetually bad is frustrating. (I know. I'm a Chicago Cubs fan). But having been to the top of the mountain creates expectations that can only be satisfied at the least by getting back in the playoffs to at least try to win it all again.
That being said
Hurricanes fans have been patient. With one return to the playoffs since winning the Stanley Cup in 2006, they have endured quite a lot. There have been coaching changes, roster moves that at times did not seem to make sense, and players not living up to their expectations. In fact, the past six seasons have been disheartening for the "Caniacs."
But here we are in late June 2015, just days removed from the 2015 NHL Entry Draft. Francis has been busy and seems to have a strategy for getting his team back to contending for a playoff spot.
Hanifin
Taking Noah Hanifin with their fifth overall pick was spectacular. Not so much the pick, but the fact that he was still available for Francis to grab. Hanifin has been highly touted by numerous analysts, and is a tremendous "get" for Carolina.
Joe McDonald of ESPN confirms that most thought he'd have been selected higher than fifth. McDonald writes,
"Not only is he a talented defenseman, but Hanifin also has strong character traits that many in the hockey world respect on and off the ice. Most thought he would've been selected a bit higher than fifth, due to his hockey IQ and work ethic."
It is without question that Francis got a player with great potential in Hanifin. McDonald adds,
"Hanifin definitely has the ability to play at the NHL level next season, especially with a team such as the Hurricanes, but he hasn't decided whether he'll return to Boston College or turn pro."
At 6'3″ and 205 lbs. Hanifin has the size to play on the blue line. Brian Dessart of SI.com wrote before the draft that Hanifin is committed to being in shape and having an NHL-ready body. Hanifin said that training with professional athletes has helped:
"So, I think I'm ahead of the curve because of the experience I have training with pro athletes….when I'm in the NHL, I want to have that same work ethic and discipline—I'm trying to develop that now"
Hurricanes fans are hopeful that he'll have a great development camp and make his way onto the roster sooner rather than later. As I wrote a few days ago, "Justin Faulk Needs Help." The 'Canes defense will definitely benefit if Hanifin is ready both in his mind and in the minds of Coach Bill Peters and team management.
Francis will take a long look at what he sees and make the decision that he deems best.
"The biggest thing is to make sure that we do what's right for Noah long term in his career." @RonFrancis10 on when @NHanifin can join team

— Mike Maniscalco (@mikemaniscalco) June 29, 2015
Nestrasil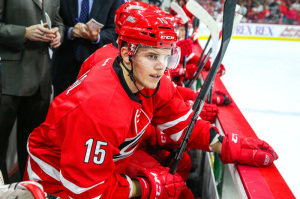 As the Tweet that starts this article points out, the Hurricanes have signed Andrej Nestrasil to a two-year contract that will pay him $875,000 in 2015-16 and $950,000 in 2016-17. In the Hurricanes' press release Francis said of Nestrasil,
"Andrej is a big body and a good fit for our team and what we're trying to do. He battled an injury last season, but proved he could produce offensively on the NHL level."
At 6'3″ and 200 lbs. he brings size to the Hurricanes' forward position. Where he will fit in the scheme as far as line assignment remains to be seen, but I think most fans are happy with the announcement that he is staying in Raleigh.
I interviewed "Nesty" at the end of last season for my series, "Inside Hurricanes Locker Room." During these exit interviews held as the team was cleaning out their lockers, Nestrasil told me.
"I know that are some parts of my game where I need to get better, a little faster, a little quicker. I want to come back and I want to start winning."
He is getting his wish to come back, and fans agree that winning is also something they want, too.
Busy, busy
I've written about the Hurricanes getting goalie Eddie Lack from the Vancouver Canucks and moving goalie Anton Khudobin to the Anaheim Ducks in exchange for d-man James Wisniewski. These are moves that seem to make sense on the surface, although I'm still trying to wrap my mind about the "Wiz."
Was Andrej Sekera just not someone the team was interested in bringing back? Did he want to come back? Sekera certainly appears to be a valuable commodity right about now.
Per Pierre LeBrun, it's believed that 10 teams have interest in UFA Andrej Sekera.

— Brennan Klak (@nhlupdate) June 29, 2015
Who knows? Maybe in a way getting new faces in Hurricanes sweaters will be what the team needs to move forward.
By the way, don't be surprised if there is more to come from Francis. He's been busy, and seems to be on a roll.
Mark Shiver is a staff writer for The Hockey Writers credentialed with the Carolina Hurricanes. You can follow him on Twitter @markshiver
Mark lives in the Raleigh, NC area and covers the Carolina Hurricanes.