In a stunning move that defies conventional thinking, the Carolina Hurricanes have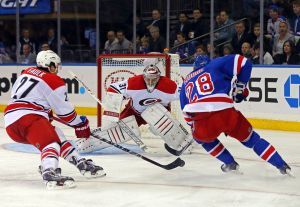 traded goalie Anton Khudobin to the Anaheim Ducks for defenseman James Wisniewski.
Only an hour ago, the 'Canes traded a couple of draft picks to the Vancouver Canucks for their goalie Eddie Lack, prompting speculation that Cam Ward – with a much larger contract and cap hit – might be out the door. Instead, Hurricanes GM Ron Francis surprised most analysts with the Khudobin trade.
The Hurricanes absolutely need a strong defenseman. Actually more than one.
(Read "Justin Faulk Needs Help" here)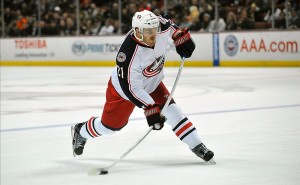 Wisniewski is 31-years old and has been in the NHL for a decade. He was selected by the Chicago Blackhawks in the 2002 NHL Entry Draft, and moved to the NHL in the 2005-06 season. He has been not only with the Blackhawks, but also with the New York Islanders,Montreal Canadiens, Columbus Blue Jackets, and the Ducks. One might call him a journeyman defender.
Wisniewski played in 69 games last year and had eight goals and 26 assists. He was a -13.

Looking at his stats, one is not likely to jump up and down. But, it's a start for the 'Canes as far as addressing the needs they have on the blue line. Greg Wyshynski of Yahoo Sports wrote of the trade,
"This was a great salary dump for the Ducks, as Wisniewski has two more years left at $5.5 million and was a healthy scratch for Bruce Boudreau during the playoffs."
Although that seems like a lot of salary for the Hurricanes to deal with, Wyshynski went on to write,
"He's 31 years old and a proven puck mover. He might be a bit of a redundancy in Carolina with John-Michael Liles and Ron Hainsey already there, but his salary will also ensure the Canes are well above the cap floor."
A proven puck mover definitely won't hurt, especially in the system that 'Canes Coach Bill Peters employs.
Stay plugged in to all the NHL Deals this weekend with THW's Deal Tracker.
Mark Shiver is a staff writer for The Hockey Writers credentialed with the Carolina Hurricanes. You can follow him on Twitter @markshiver
Mark lives in the Raleigh, NC area and covers the Carolina Hurricanes.