Justin Faulk needs help. He can't be the top line defense for the Carolina Hurricanes all by himself. With Andrej Sekera gone, Faulk is without his longtime defensive partner. The 'Canes will need to make a sound decision to pair Faulk with a quality player that can anchor the blue line for Coach Bill Peters' defense.
Sekera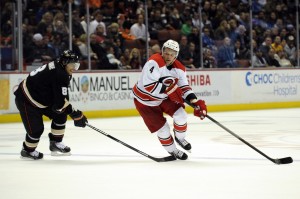 A while back it was speculated that the Hurricanes might try to bring Sekera back to Raleigh. That does not seem likely, however. Jon Rosen at lakingsinsider.com wrote on April 28th that the Los Angeles Kings and Sekera were in "preliminary discussions."
Admittedly that is old news, and Sekera is a free agent on July 1. But, other teams including the Kings have been speculated as having possible interest in the former Hurricane, and nothing has been mentioned lately indicating that his return is a real possibility.
Draft?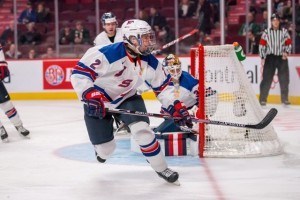 With the draft a week away, the Hurricanes could look to bolster their defense with a strong pick. Obviously Noah Hanifin has gotten a lot of hype as a top defenseman in the upcoming draft. Thursday, Mike Morreale at nhl.com ranked the top defensemen in the draft and Hanifin was at the top. He is
"rarely out of position and is an exceptional skater and puck distributor."
The Boston College standout will very likely be the first defender taken, and that means that he will probably be gone when the 'Canes pick at five.
Zachary Werenski was also touted as the other college player that could be drafted in the top ten. The University of Michigan standout comes highly thought of:
"…has a big shot and exhibits confidence on the power play."
But, Morreale noted that he was the youngest player in NCAA hockey last season. Should the Hurricanes draft him regardless?
The Hurricanes may like what they see in either of these two, but they need a player now who can step alongside and help Faulk. They don't need to put all their hopes on a Haydn Fleury-type draft pick that may not be ready for a long while. But, then again Faulk came from the NCAA:
@GilmourFan4ever @JudeMac_17 @Borje_Salming21 Justin Faulk is evidence the right NCAA dman can be a beast

— Doug Abrams (@dabrams2021) May 31, 2015
Faulk at age 23 has played himself right into consideration as a top d-man in the NHL in the minds of many. However, it did take him a year to break onto 'Canes ice after being drafted. No matter how great this draft class is, it will be fairly remarkable if there is an NHL-ready defender taken in the early going.
And if I had any say, if Mitch Marner were available at number five, I'd draft him in a flash, regardless of the need on the blue line. In my mind, the 'Canes' greatest issues are on offense as I wrote in May.
So…
Hurricanes GM Ron Francis will very likely have to bring in someone to help Faulk on the blue line. The Hurricanes re-signed Michal Jordan on Wednesday, but he's not yet ready to be part of the top pairing on defense.
ICYMI: @NHLCanes agree to terms with defenseman Michal Jordan: http://t.co/nfN9rZB17V pic.twitter.com/LvuSJKA0fH

— NHL (@NHL) June 19, 2015
Ryan Murphy and John-Michael Liles are growing as defensemen, but they are just not there yet.
The bottom line is that Francis will need to pull the trigger on a trade and bring in a seasoned player to pair with Faulk. Weren't the Hurricanes and Leafs rumored to be talking? Perhaps Dion Phaneuf or Jake Gardiner for Alexander Semin would be a good swap for both sides. Or maybe, Tim Gleason, anyone?
This is a fantastic time to be a fan of the Carolina Hurricanes. Watching Francis put together the pieces that he thinks will create playoff opportunities down the line will be exciting.
Mark Shiver is a staff writer for The Hockey Writers credentialed with the Carolina Hurricanes. You can follow him on Twitter @markshiver
Mark lives in the Raleigh, NC area and covers the Carolina Hurricanes.