This season's big college free agent land continues to get closer to picking a team to sign with. Last week former Minnesota Gopher defenseman Mike Reilly informed the Columbus Blue Jackets, the team who drafted him, that he will not sign there. On Thursday, he informed the New York Rangers that they are no longer on his radar.
The Rangers are loaded on defense and it's tough to see how he cracks the lineup this season short of a trade, so it makes sense that the Rangers have been crossed off the list.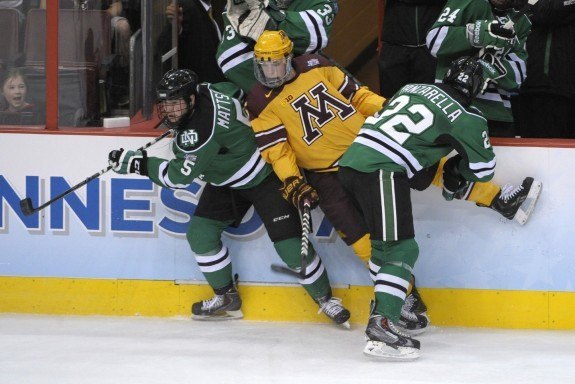 And that's what it comes down to, what makes sense for his career, where he's going to be able to play. The money will be nearly identical everywhere since he'll be signing an ELC, so it's about where he can have a future.
At the moment, it's believed that his list is down to the Chicago Blackhawks (who brought him to the Cup Final for Game 3), Minnesota Wild (where his father is a minority owner), Los Angeles Kings, and Pittsburgh Penguins.
#blackhawks pulling out all the stops for Mike Reilly. Former #gophers D is at Game 3 … #mnwild

— Michael Russo (@Russostrib) June 9, 2015
Reilly cannot sign with a team officially until July 1, but is free to announce where he's going any time now.
Many have outlined the reasons he may want to go to certain teams — from Chicago's cap trouble making it possible for him to step directly into the lineup of a Cup competitor to wanting to play in his home state — however, you may have missed this tiny morsel in a recent Michael Russo blog, notable because Russo is not a writer who passes along idle speculation without marking it firmly as such.
A few weeks ago, I wrote that "as of right now the Blackhawks are the frontrunners."

Don't want to get your hopes up, but the Wild's still very, very much in this.
Russo also mentioned in a separate post that Reilly's father, also Mike, is expected to talk with coach Mike Yeo this week. So that may place the Blackhawks and Wild neck and neck as the frontrunners in the Reilly sweepstakes.
There's no rush for Reilly to choose, but he's been crossing teams off his list at a pretty good clip.
RELATED: Ranking Mike Reilly's Potential Landing Spots
RELATED: Mike Reilly Moves on From the Blue Jackets
Dustin Nelson writes about news and the Minnesota Wild for The Hockey Writers.