It is no secret that the Edmonton Oilers need to add at least one veteran defenceman capable of playing top four minutes along their blueline. Be it via trade or the unrestricted free agent market, Peter Chiarelli is going to have his work cut out for him when it comes to upgrading his backend. While free agency can be a risky proposition, the former Boston Bruins general manager may have little choice but to go down that road in order to achieve what he is hoping to accomplish.
With that said, Johnny Oduya is a player the Oilers should do their best to try and avoid. There is no question the soon-to-be 34-year-old played a key role for the Chicago Blackhawks during his three-plus seasons in the Windy City. However, asking him to take on similar or even greater workload for a team like Edmonton, would be a disaster waiting to happen. Especially when you take into consideration the amount of money and term it would take to have the two-time Stanley Cup winner even consider making such a move.
In case you have not been paying attention, there is no Duncan Keith, Brent Seabrook or Niklas Hjalmarsson in Edmonton…never mind a collection of forwards that includes the likes of a Marian Hossa, Patrick Kane, and Jonathan Toews. Playing top-four minutes in Chicago is arguably the perfect spot for the former seventh-round pick of the Washington Capitals. If an organization can keep their expectations in check, the chances of a guy like Oduya delivering what they are looking for are probably quite good.
We Have Seen This Movie Before
He did exactly that during his time with the defensively responsible New Jersey Devils but his play started to head in the other direction after joining the Atlanta Thrashers/Winnipeg Jets. Going from the Devils' system to a team with inferior talent, far less structure and expectations of taking on a bigger role was not a good fit for the Stockholm native. While moving the puck remained a strength, Oduya struggled in his own end of the rink …something which rarely occurred during his time in New Jersey.
While his point production started to slip prior to being traded, it became almost non-existent after the move. Not surprisingly, he quickly became a target for Jets fans and few seemed disappointed with Kevin Cheveldayoff's decision to ship the rearguard out-of-town in exchange for a pair of draft picks during the 2012 NHL Trade Deadline. This despite the team being in the midst of a playoff push and claiming Grant Clitsome off waivers to take his roster spot.
Chicago Was The Perfect Landing Spot
To their credit, Chicago took a chance on Oduya being the sort of player who could come in and help stabilize their blueline in a support role and have been repeatedly rewarded for taking that risk. During his three full seasons in a Blackhawks uniform, Oduya has been part of two Stanley Cup-winning squads and another that fell just short of making it three consecutive trips to the Final. It was a perfect fit for both the team and player and one that both sides would be wise to try to continue for the foreseeable future.
While the Hawks were busy making shrewd moves to help get them back to the Stanley Cup Finals, the Oilers were becoming "experts" at placing players in scenarios they had no business being in. Be it slotting youngsters like Jeff Petry and Justin  Schultz in positions they were not ready for or veterans who were simply in over their heads, it was one misstep after another.
In my mind, pursuing a player like Oduya would give them the opportunity to add yet another failed experiment to that list. You would think the signings of Andrew Ference and Nikita Nikitin to come in and log top four minutes would be more than enough evidence for Edmonton to resist the temptation of "secondary" free agents and prove they have actually learned from their previous blunders.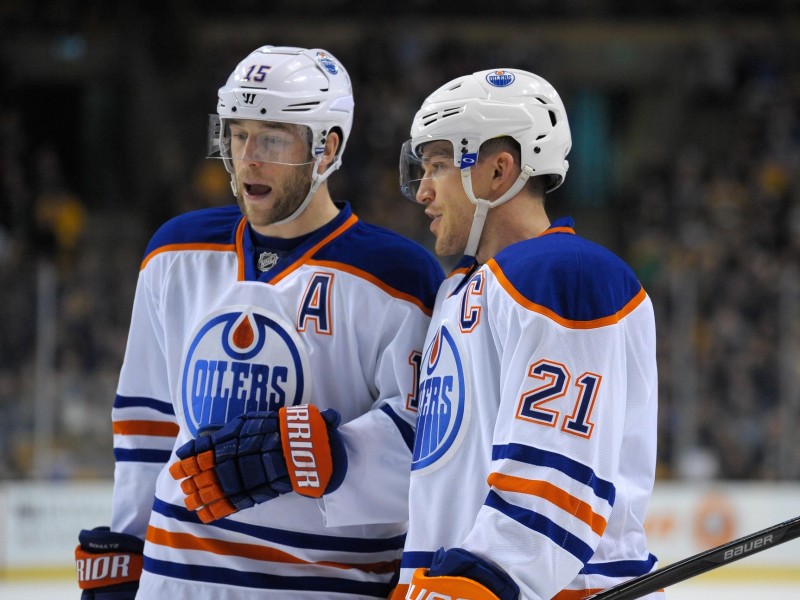 Setting Up Players For Success…Not Failure
Don't get me wrong, Oduya is a far better defenceman than either Ference or Nikitin, but both have proven to be capable of being nothing more than bottom pairing guys. With that being the case, has anyone honestly seen something from two-time Olympian that would suggest he was anything more than a No.4 on a very good team? In my mind, the answer to that question is rather obvious and it is something which cannot be ignored.
Again, skating alongside a Hjalmarsson or Seabrook for the champs is a far cry from carrying the mail for the worst team in the Western Conference. Add to that the fact he would likely find himself lining up beside Schultz on the blueline and it begins to make even less sense. Yes, for the right team Oduya would be a very nice pick-up but Edmonton is not that team.
With no top-pairing defenceman in sight. The aforementioned duo of Ference and Nikitin already on the books at a combined cap hit of $7.75 million in 2015-16, coughing up another $3M-$4M on a "maybe" is not a risk this organization can afford to take. History tells us this approach does not work and my guess is Peter Chiarelli will come to the very same conclusion and ultimately steer clear of Johnny Oduya when he hits the open market on July 1, 2015.
Rob Soria is the Author of Connor McDavid: Hockey's Next Great One. He has chronicled the Orange and Blue since creating his Oil Drop blog in 2011 and has also had his writings featured over at HometownHockey.ca and Vavel USA, where he has covered the NHL, MLB and ATP Tour. Rob was born, raised and still resides in Edmonton, Alberta and can be reached via twitter @Oil_Drop.