On Thursday, the Minnesota Wild announced that they've placed veteran forward Matt Cooke on waivers for the purposes of buying him out.
There had been speculation that the Wild may attempt to free themselves of Cooke, though it wasn't clear that they'd jump on buying him out right away. He has one year remaining on his contract with an AAV of $2.5M. He will be 37 at the start of the season.
The #MNWild confirm Matt Cooke's impending buyout. In statement, GM Chuck Fletcher says the team needs "cap flexibility."

— Chris Johnston (@reporterchris) June 18, 2015
Cooke will be at the tail end of a three-year deal that worked well for the Wild in its first year. Cooke and linemate Kyle Brodziak were defensively sound that season, though they didn't blow the doors off the barn, playing primarily on the Wild's third and fourth lines. Cooke even managed to be an offensive presence that season with 10 goals and 18 assists through 82 games.
That season he was a key piece of the teams special teams as well, averaging 2.65 minutes per game on the penalty kill, second to only Brodziak among forwards. The third most minutes went to Cody McCormick, who averaged more than a minute less than Cooke, but played only part of the sesson with Minnesota after being a part of the trade that brought Matt Moulson to minnesota. Fourth on the team was Mikko Koivu, third among players who played the full season in St. Paul, and he averaged over ten seconds fewer than McCormick.
Last Season
Cooke entered the season as a reasonable option for the team's fourth line. He wasn't a possession monster, but he ate rough zone starts, killed penalties, and was capable of contributing offensively. In reality, Cooke wasn't able to contribute much to the team this season in any category.
Much of that was because Cooke sustained multiple injuries during the season, making it a fractured year where he frequently played hurt. His numbers tumbled off a cliff, but that was aided in part by these injuries — both playing injured and not playing consistently enough to get into a groove.
Those circumstances certainly make it difficult to succeed, but all the blame cannot be laid at the feet of his injuries. It was a rough year. His score-adjusted CF%Rel fell from -5.1% to a very, very ugly -10.3%. That's a negative number for the fifth straight year. That looks even worse when you notice that his ZS%Rel improved from -21.6% to -13.2%. So, while his possession numbers were very rough, he wasn't even eating up the bad zone starts at the same rate as he was previously, which can provide a service to the team's top players.
His ice time fell as well, both at even strength (12.7 to 9.9) and shorthanded (2.6 to 2.1), another place were he can be said to provide value to a team.
It's worth noting that his P/60 actually saw an increase from 1.3 to 1.9 this season, just slightly below the 2.0 he posted in his final season with Pittsburgh. That's partially on the back of a 17.4% shooting percentage at even strength, the highest even strength shooting percentage he's posted in the last 11 years. However, as an aside, his shooting percentage is not wildly out of line with what we've seen form him previously, despite being up 8.1% from last year (which is significant). Over the last 11 years, he's been above 10% in nine of those seasons and above 14.5% in five seasons.
What's Next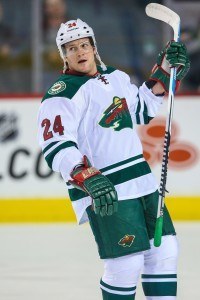 Many who wanted him to stay in Minnesota may cite his experience or his reputation of being a great locker room guy as arguments for retaining him. It's those things that should be extra damning of his recent numbers, because that reputation goes back years across teams and surely made this a very tough decision for GM Chuck Fletcher to make while trying to foster trust and growth inside the team. No one likes to see a teammate bought out.
But an incredibly difficult cap situation for the Wild made this a necessary evil. Instead of the $2.5M Cooke would have cost the team, he'll cost $500,000 against the cap this season and $1M the season after. General Fanager estimates the Wild to be just north of $9M in cap space at the moment, and that's before they sign a goaltender (Devan Dubnyk is rumored to be looking for more than $5M a year), as well as Mikael Granlund, Erik Haula, and Christian Folin and then begin looking at free agents to fill in the holes.
Buying out Cooke gives them a little bit of breathing room. Haula and Folin's combined cap hit last year was $1.825M. Each may get a raise, but you can assume that Fletcher will get both of them on contract for around what the team frees up by buying out Cooke. It's a smart move for a GM who is entering a pivotal offseason for his franchise.
Cooke will find work again. He hasn't outlasted his utility and, with a GVT of 4.1 last season and a dCorsi of 22.55 in the 2013-14 season (his last non-injured season, he posted a dCorsi of -12.41 last year), he's above replacement level if you can get him on a cheap contract. But the $2.5M cap hit he held was far above what he should likely be getting at this point in his career.
Subscribe to The Hockey Writers' Minnesota Wild newsletter to stay up to date on everything happening with the Minnesota Wild.
GVT via Hockey Prospectus, other stats via War on Ice.
Dustin Nelson writes about news and the Minnesota Wild for The Hockey Writers.