JUST IN: @VanCanucks trade G @eddielack to @NHLCanes for 2015 3rd rd pick and 2016 7th rd pick. pic.twitter.com/bs4G3gVYdR

— SportsCentre (@SportsCentre) June 27, 2015
This just in: The Vancouver Canucks traded goalie Eddie Lack to the Carolina Hurricanes for a 3rd Round pick in this year's NHL Entry Draft and a 7th-Round pick in next year's draft. According to Chris Johnston of Sportsnet, the goaltender from Sweden is cheaper than Cam Ward, only $1.3 million in the last year of his deal. Johnston said:
"This could prompt a subsequent move by the Hurricanes."
Will GM Ron Francis trade veteran Cam Ward, also in the last year of his contract? At $6.8 million, it would sure be a cost-saving play by Francis.
This is quite an extraordinary move by the 'Canes. Just this week, Chip Alexander of the Raleigh News & Observer reported, "Francis said this past week he hopes to re-sign both team captain Eric Staal and goalie Cam Ward to multi-year extensions. He also noted both have no-trade clauses in their contracts." So what, if anything, has changed?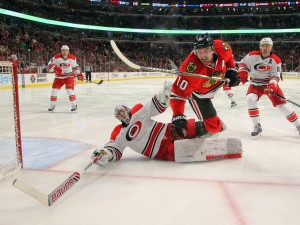 Eddie Lack played in 41 games last season, and notched 18 wins. His save percentage was .921 and his GAA was 2.45. We're not talking Carey Price here. Cam Ward played in 51 games and had a .910 save percentage and a GAA of 2.40. Clearly the trade was not made based on a comparison of performance. It has to be driven by money, if not entirely, then certainly to a great degree.
Saturday's NHL Entry Draft has gotten off to a rousing start for fans of the Canucks and Hurricanes. Francis is now down to eight picks for the day. Will he make more moves, or use them all to replenish the Charlotte Checkers and maybe find a diamond in the rough for Carolina?
Stay plugged in to all the NHL Deals this weekend with THW's Deal Tracker.
At least one fan likes the deal:
https://twitter.com/amanda_m915/status/614789539249434624
By the way, does Carolina really need another goalie? With Ward and Anton Khudobin capable of carrying the load, this trade is cause for wondering what it going on in the Hurricanes' front office? One would have to think that something big is on the horizon in Raleigh. It just does not make sense, at first glance, to see the 'Canes with three goalies of similar skill. At the very least, things just got really interesting for fans of the Hurricanes.
Mark Shiver is a staff writer for The Hockey Writers credentialed with the Carolina Hurricanes. You can follow him on Twitter @markshiver