The Anaheim Ducks are attempting to acquire Carolina Hurricanes back-up goaltender Anton Khudobin, according to TVA Sports' Renaud Lavoie.
#ducks are trying to get Anton Khudobin from Carolina. Could be done today. #tvasports

— Renaud Lavoie (@renlavoietva) June 27, 2015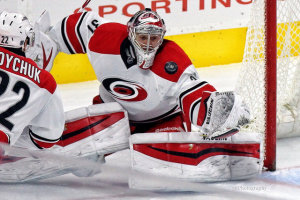 The goaltending carousel in these situations can get moving quickly. A few days ago it wasn't clear that Carolina was in the market for a goaltender, but on Saturday morning they
acquired Eddie Lack
, who provides a cheaper back-up option than Khudobin and possibly a more promising future option than Khudobin.
That leaves them with a goaltender to move. If Anaheim acquires Khudobin, they'll be in a similar situation where they suddenly have Frederik Andersen, John Gibson and Khudobin and will be looking to trade one. That move may be about return as a move that sent Andersen or Gibson out of town will likely get more in return than Carolina's move for Khudobin.
Adding to the notion that this may be about what Anaheim can get for one of their goaltenders is that bringing in the 29-year-old Khudobin will be a more expensive option than either either Andersen or Gibson. Khudobin has one year remaining on his contract with a $2.25 million cap hit.
Or it could be a bit more about the team's future, since both Andersen and Gibson will be RFAs next summer and will be commanding a raise. Either way, it looks like a trade is developing.
The Ducks will get goalie Anton Khubodin from the Carolina Hurricanes in a trade today…. not clear yet what goes the other way

— Pierre LeBrun (@Real_ESPNLeBrun) June 27, 2015
RELATED: One Burning Question Facing the Ducks
[catlist categorypage="yes" numberposts=3 excludeposts=this]