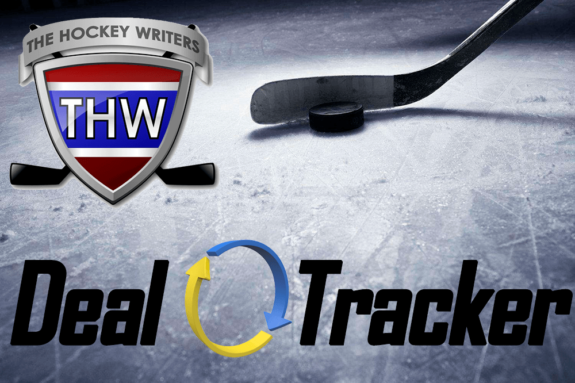 With a number of moves expected during the next 48 hours at the NHL Draft, we here at The Hockey Writers decided to put together a handy dandy deal tracker for fans to keep updated on every deal that is made over the weekend.
[RELATED: How the NHL Draft Has Replaced Free Agency]
From trades to signings, the tracker will have everything that goes down while all 30 teams are congregated in the BB&T Center in Sunrise, Florida.
For constant updates on all of the picks made at the 2015 NHL Draft, be sure to check out The Hockey Writers' live draft tracker throughout the night. With it being one of the deepest drafts in years, things could get pretty crazy.
TEAM
PLAYER/COMPENSATION
TEAM
PLAYER/COMPENSATION
SIGNING (DETAILS)

G Devan Dubnyk (6 years, $26 million)
TRADE (DETAILS)

D Eric Gryba
2015 fourth-round pick (107)
C Travis Ewanyk
TRADE (DETAILS)

F Brad Ross
2015 fourth-round pick (107)
D Martin Marincin
TRADE (DETAILS)

D Patrick McNally
2015 seventh-round pick (210)
TRADE (DETAILS)

2015 second-round pick (57)
2015 third-round pick (79)
2015 seventh-round pick (184)
G Cam Talbot
2015 seventh-round pick (209)
TRADE

F Emerson Etem
2015 second-round pick (41)
F Carl Hagelin
2015 second-round pick (59)
2015 sixth-round pick (179)
TRADE (DETAILS)

2015 seventh-round pick (193)
G Antti Niemi (Rights)
TRADE (DETAILS)

D James Wisniewski
G Anton Khoudobin
TRADE

2015 second-round pick (36)
2015 second-round pick (42)
2016 third-round pick
TRADE (DETAILS)

G Eddie Lack
2015 third-round pick (66)
2016 seventh-round pick
TRADE

2015 second-round pick (41)
2016 third-round pick
F Kyle Palmieri
TRADE

2015 second-round pick (34)
2015 third-round pick (68)
2015 first-round pick (29)
TRADE

2015 first-round pick (28)
2015 second-round pick (33)
2015 third-round pick (72)
TRADE

2015 first-round pick (29)
2015 second-round pick (61)
2015 first-round pick (24)
TRADE

2015 first-round pick (16)
2015 second-round pick (33)
D Griffin Reinhart
TRADE (DETAILS)

F Ryan O'Reilly
LW Jamie McGinn
D Nikita Zadorov
F Mikhail Grigorenko
F JT Compher
2015 second-round pick (31)
TRADE (DETAILS)

LW Milan Lucic
2015 first-round pick (13th)
G Martin Jones
D Colin Miller
SIGNING (DETAILS)

D Adam McQuaid (4 yrs, $11 million)
TRADE (DETAILS)

D Dougie Hamilton
2015 first-round pick (15th)
Two 2015 second-round picks (45th, 52nd)
SIGNING (DETAILS)

D Mike Reilly (2 yrs, $1.85 million)
SIGNING
F Joakim Andersson (1 yr, $815,000)
SIGNING (DETAILS)

G Troy Grosenick (2 yrs, $1.2 million)
SIGNING (DETAILS)

F Tyler Toffoli (2 yrs, $6.5 million)
TRADE (DETAILS)

G Robin Lehner
F David Legwand
2015 first-round pick (21st)
SIGNING (DETAILS)

F Mike Fisher (2 yrs, $8.8 million)
SIGNING (DETAILS)

F Carl Soderberg (5 yrs, $23.75 million)
June 25
F Carl Soderberg
2016 sixth-round pick
June 19
F Zach Hyman
2017 seventh-round pick
F Greg McKegg