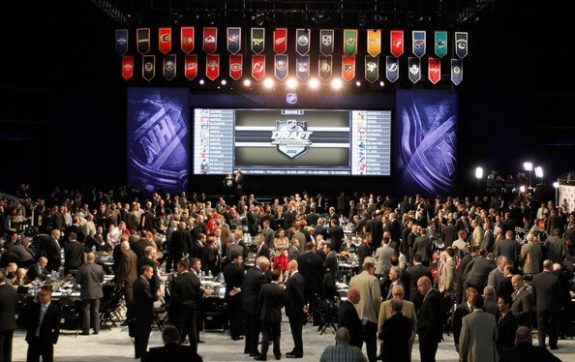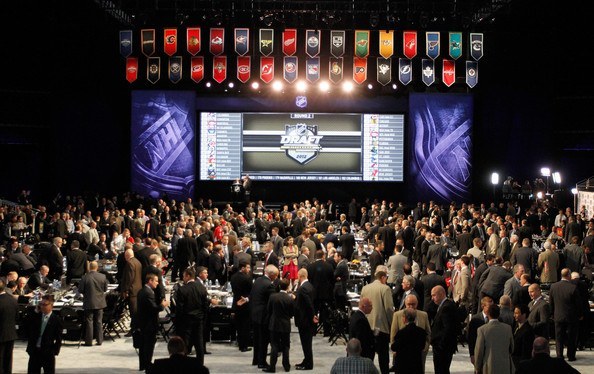 The 2015 NHL Draft is finally here, and it's expected to be one of the deepest drafts in years. With so much action expected, it's only right that we provide you with a single place to keep updated on all of the picks that take place on Friday night.
Everyone knows who the first two picks are going to be — Connor McDavid to Edmonton and Jack Eichel to Buffalo– but it won't be official until the NHL Draft actually gets under way at 7pm EST from the BB&T Center in Sunrise, Florida. The big questions, however, are what will happen, if anything, with Arizona's third overall pick and beyond?
[RELATED: The Next Ones Draft Guide]
Behold the NHL Draft Live Tracker. This tracker will be updated as picks are made, and will include links to the recaps of every pick that is made! So, bookmark this page and be sure to check back all night long as the picks come rolling in! The Hockey Writers will also have updates on any trades that are made throughout the day.
Make sure to refresh (F5 or CMD + R) throughout the day
ROUND 1
Round 2
Round 3
Pick
Team
Player
Position
Former Team
1
Robin Kovacs
2
Kyle Capobianco
3
Dennis Yan
4
Andrew Nielsen
5
6
Blake Speers
7
Martins Dzierkals
8
Keegan Kolesar
9
 Felix Sandstrom
10
Jean-Christophe Beaudin
11
Anthony Cirelli
12
 Vili Saarijarvi
13
Alexander Dergachyov
14
Daniel Vladar
15
Adin Hill
16
Samuel Montembeault
17
Erik Foley
18
Sergey Zborovskiy
19
Brent Gates
20
Brendan Warren
21
Mitchell Vande Sompel
22
Jens Looke
23
Deven Sideroff
24
Thomas Novak
25
Mike Robinson
26
Lukas Vejdemo
27
Thomas Schemitsch
28
Aleksi Saarela
29
30
Dennis Gilbert
Round 4
Pick
Team
Player
Position
Former Team
1
William Borgen
2
Callum Booth
3
Adam Musil
4
Jesper Lindgren
5
Nicolas Roy
6
Colton White
7
Samuel Dove-McFalls
8
Austin Wagner
9
Anthony Richard
10
 Andrei Mironov
11
Denis Malgin
12
Chris Martenet
13
Mikhail Vorobyov
14
Jesse Gabrielle
15
Adam Helewka
16
Christian Wolanin
17
Michael Spacek
18
Filip Ahl
19
Joren Van Pottelberghe
20
Ales Stezka
21
Parker Wotherspoon
22
Brad Morrison
23
Dmitry Zhukenov
24
Alexandre Carrier
25
Glenn Gawdin
26
Caleb Jones
27
Jonne Tammela
28
Daniel Bernhardt
29
Mathieu Joseph
30
Ryan Shea
Round 5
Pick
Team
Player
Position
Former Team
1
Devante Stephens
2
Conor Garland
3
Ethan Bear
4
Dmytro Timashov
5
 Luke Stevens
6
Niko Mikkola
7
David Kase
8
Sam Ruopp
9
Karlis Cukste
10
Matthew Bradley
11
Karch Bachman
12
Joseph Cecconi
13
Matt Schmalz
14
Kirill Kaprizov
15
Pavel Karnaukhov
16
Dominik Simon
17
Spencer Smallman
18
Christian Jaros
19
Chase Pearson
20
Veeti Vainio
21
Rudolfs Balcers
22
Connor Hobbs
23
Carl Neill
24
Karel Vejmelka
25
Luke Opilka
26
 Ryan Pilon
27
Troy Terry
28
Adam Gaudette
29
Ryan Zuhlsdorf
30
Radovan Bondra
Round 6
Pick
Team
Player
Position
Former Team
1
Giogrio Estephan
2
Kristian Oldham
3
John Marino
4
Stephen Desrocher
5
Jake Massie
6
Brett Seney
7
Cooper Marody
8
Vladislav Gavrikov
9
Adam Parsells
10
Sergei Boikov
11
Christopher White
12
Markus Ruusu
13
Roy Radke
14
Cameron Hughes
15
Andrew Mangiapane
16
Frederik Tiffels
17
Mason Appleton
18
David Cotton
19
Patrick Holway
20
Nicholas Boka
21
Andong Song
22
Colby Williams
23
Lukas Jasek
24
Tyler Moy
25
Liam Dunda
26
Simon Bourque
27
Steven Ruggiero
28
Garrett Metcalf
29
Bokondji Imama
30
Joni Tuulola
Round 7
Pick
Team
Player
Position
Former Team
1
Ivan Chukarov
2
Erik Kallgren
3
Adam Huska
4
Nikita Korostelev
5
Steven Lorentz
6
Chaz Reddekopp
7
Ivan Fedotov
8
Markus Nutivaara
9
Marcus Vela
10
Gustav Olhaver
11
Patrick Shea
12
John Kupsky
13
Matt Roy
14
Jack Becker
15
Riley Bruce
16
Nikita Pavlychev
17
Sami Niku
18
Joel Daccord
19
Adam Marsh
20
Gustav Bouramman
21
Petter Hansson
22
Matteo Gennaro
23
Jack Sadek
24
Evan Smith
25
Ryan Bednard
26
Jeremiah Addison
27
Miroslav Svoboda
28
Ziyat Paigin
29
Tate Olson
30
John Dahlstrom