Mitchell Vande Sompel THW Close-Up:
Team: Oshawa Generals (OHL)
Birthdate: February 11, 1997
Hometown: London, ON
Height: 5′ 10″  Weight: 180lbs
Position: Defense
Shoots: Left
NHL Draft Eligibility: 2015 first year eligible
Draft Rankings:
NHL CS (North America): 34th
Craig Button (TSN): 32nd
Bob McKenzie (TSN): 63rd
Future Considerations: 41st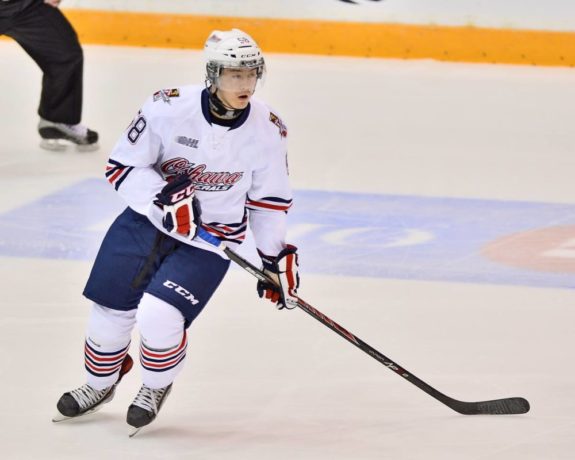 Mitchell Vande Sompel is a player who has seen his draft stock continue to climb as the season has gone on.
Part of the reason for his exposure no doubt is playing for the nation's top junior team in the Oshawa Generals. Vande Sompel was more than a bit piece though for the Memorial Cup winning squad and was a key cog in the lineup.
An offensive defenseman by trade Vande Sompel put up 63 points in 58 games to lead Generals defensemen and fourth league wide. He is an outstanding skater as he has great acceleration as well as exceptional lateral quickness. He moves the puck well and is effective jumping into the rush.
While he can struggle defensively at times, as many smaller defensemen do, he positions himself well and because of his skating ability is able to close gaps in a hurry.
Scouts Honour:
"If any scouts were on the fence about Vande Sompel going into the Memorial Cup, I think he did his best to sway them. He had an absolutely fantastic tournament, showcasing his natural offensive ability, but also the improvements that he's made defensively. His engagement in his own end was very promising. He did a terrific job of using his outstanding mobility to separate forwards from the puck down low. Scouts like winners and all it takes is one team to be sold on the fact that size won't hurt him from being a 5 on 5 contributor."

– Brock Otten, OHL Prospects Blog

 … his skating is elite as he possesses great lateral quickness and is extremely crisp on his edges .. also an outstanding backwards skater who uses his stick almost like an anchor to give him even more power and leverage .. his speed is generated through a series of rapid-fire crossovers .. very agile and quick off the mark in spite of a shorter stride .. powered by a well-balanced and strong lower body however he is not very built up top .. consequently, he can struggle at times along the boards defensively .. his lack of upper-body strength hurts his game, however due to his skating he is able to close gaps quickly which allows him to get on a puckcarrier swiftly .. understands his play inside his own zone .. can quickly side-step an opposing forward and make a quick outlet pass .. an efficient puckmover who doesn't over-handle the puck .. locates options and has a good sense for when to jump into the rush .. boasts strong offensive capabilities including a clever and sneaky snap shot .. patrols the line effectively and makes quality plays …

"Vande Sompel really impressed me this season with his play in his own zone as someone who coach Smith could use in a multitude of situations while also taking advantage of his strong puck skills and vision with the puck. His versatility and work ethic are very promising. He is a great first pass blue liner who follows the play up ice and consistently contributes offensively, mind you not always in a flashy manner. His skating is absolutely beautiful as he is ultra-mobile and generates good amounts of speed with very little effort. His size and lack of physical play holds him back from being higher on my list."

– Dan Stewart, Future Considerations

Mitchell Vande Sompel is a good passer, with excellent vision.  He has good hockey IQ and makes smart plays with his breakout pass, and on the powerplay. He is also a very good stickhandler who can lead the rush, skate the puck out of danger in the defensive zone, or can play with poise on the blue line and be a real quarterback on the powerplay. His agility allows him to walk the line and open up passing and shooting lanes. Vande-Sompel also has a good slapshot and wrist shot with an excellent release. He understands the importance of keeping his shot low, making sure he gets it through to the net, and generating tip-in and rebound opportunities for the talented Generals forwards.

– Ben Kerr, Last Word on Sports
Where He'll End Up in June:
Vande Sompel was originally considered a mid round selection, however he has jumped up the rankings and will likely go somewhere in the 2nd or 3rd round on draft day.
Statistics:
Interviews:
International Tournaments:
2014 – Canada (Ontario) – U17 World Hockey Challenge
2015 – Canada – U18 Ivan Hlinka Memorial Tournament
NHL ETA:
Risk/Reward Analysis:
NHL potential:
2nd/3rd pairing defenseman who can contribute on the power play
Strengths:
Skating
Acceleration
Lateral quickness
Passing
Awareness
Vision
Positioning
Accurate shot
Flaws/Aspects He Needs to Work On:
Adding strength and muscle
Playing more physical
Fantasy Potential:
Offensive: 8/10
Defensive: 6/10
NHL Comparable:
Pittsburgh's Kris Letang comes to mind in terms of NHL comparables due to size and skating ability as well as being a #58-wearing, offense-first defenseman. Letang was a 3rd round draft choice who faced similar questions as Vande Sompel does.
****
THW's The Next Ones prospect profile template design architect: Chris Ralph
Carl covers the Edmonton Oilers for THW as well as providing additional prospect coverage. Follow him on twitter @carlTHW, connect on Facebook or contact at carl.maloney@hotmail.com for questions, comments or if you're interested in him writing for you.