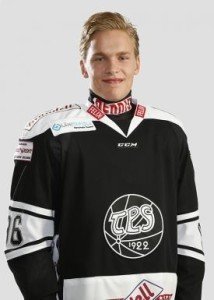 The Colorado Avalanche have selected Mikko Rantanen with the 10th overall pick in the 2015 NHL Entry Draft.
Rantanen will be a huge addition to Colorado's young, very promising future. He is a very big skilled winger with huge upside. Rantanen played against men for TPS in the Finnish Elite League, and many scouts think he could break into the team right away.
He protects the puck extremely well with his big frame, he is exactly what the Avalanche were looking for up front on the wings. Next to Matt Duchene or Nathan MacKinnon, Rantanen will have all the talent around him that he could need to succeed at the NHL level. Especially with great leaders such as Jarome Iginla, Alex Tanguay and Gabe Landeskog to turn to and learn from. Rantanen can snipe the puck and also possesses great vision on the ice with hockey IQ being his strongest asset.
The Avalanche have made some great moves to add much more depth to the team. Selecting Rantanen makes them bigger and even more skilled up front. A great pick by the Avs.
Colorado enters this years draft with picks in the first round (10th), second (31st-from Buffalo and 40th), third (71st), fourth (101st), sixth (161st) and seventh round (191st). Their fifth-rounder was traded to Montreal in the deal for Danny Briere.
[RELATED: Rantanen's Next Ones Profile]
To keep up with all the deals and picks follow our deal and draft trackers.