Jesper Lindgren THW Close-Up:
Date of birth: 5/19/1997
Place of birth: Umea, Sweden
Ht: 6'0″     Wt: 161 lbs
Shoots: Right
Position: D
NHL Draft Eligibility: 2015
Twitter: @jeslindgren
THW The Next Ones Rankings (February): not ranked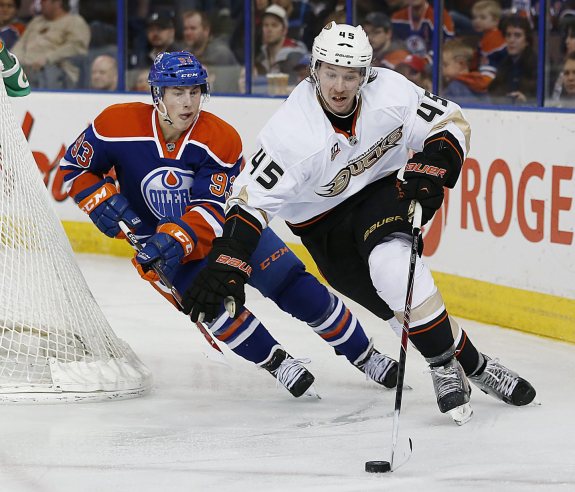 Other Rankings:
THW War Room Rankings (March): 80
Future Considerations: not ranked
HockeyProspect.com (February): not ranked
Last Word On Sports (February): not ranked
Craig Button (March): not ranked
CS Final Rankings for European skaters (March): 19
***
A steady climber throughout the year, Jesper Lindgren is finally getting the recognition he deserves. He played a handful of games this season in the SHL with Modo Hockey, but the majority was spent with Modo's J20 team, where he shined. Playing in 39 games for the club, Lindgren amassed six goals and 27 assists as a 17-year old.
The Umea-native loves to carry the puck. He can slow the game down when he has control and is deadly accurate with his passing. Lindgren skating is his best feature, and although not always the fastest on the ice, he has such fluid control with his skates to leave opponents flat-footed. His defensive game isn't poor by any stretch, but could use some polishing.
His biggest hinderance is his size – not height, but weight. At 6'0″, he's a measly 161 pounds. He has a great compete level, but his scrawny build allows him to be overpowered in puck battles along the boards. Lindgren could stand to gain much needed weight, not only for board play, but his physical game, as well. Yet another skilled defenseman from Sweden, Jesper Lindgren will add a scoring blueliner to one lucky NHL team's pipeline.
Where Will He End Up In June:
Jesper Lindgren should go somewhere in late 2nd, but is likely to go in the 3rd round of the draft.
Scout's Honor:
"A smooth skating offensive minded blueliner…more agile and fluid than a speedster…has impressive hockey sense and vision…makes some incredible high-end passes…not only hitting targets through skates and sticks but also finding open spots to head the puck…has a good hard shot that is has good placement…good defensively as well…while not a bruiser by any stretch physical play is solid, he never shies away from fighting along the boards…likes to use his body to separate the puck from the opponents in one on one situations…reads passes well and can step up to intercept before quickly transitioning the play…offensive puck moving is where he stands out most. (December 2014)"
"Possible first round sleeper who has come out of nowhere with eye-popping skating, skills and swashbuckling offensive skills. An aggressive offensive player you will jump up in pinches and fake defenders to him and place the puck to an opponent or simply freeze the defender and blow on by. Incredibly cool and confident, with legs and moves that sometimes don't work, but cause defenders to think about what they might encounter on the next touch. He has elusive puck control that isn't going to ever stay back if he has an inkling he can make a play. His feet let him get back when the puck is turned over in transition. A bold gunslinger who needs to get stronger, bigger and continue to progress. Displays Karlsson-like attributes and seems on a quick developmental track to the first round if there is a team looking willing to take the chance to watch him progress."
Bill Placzek – DraftSite.com
Statistics:
International Tournaments:
Lindgren played for Team Sweden in three different tournaments.
ETA:
3-4 years
Risk/Reward Analysis:
Risk: 2/5   Reward: 3.5/5
NHL Potential:
2nd pairing defenseman that carries the puck, plays PP, and creates scoring chances.
Strengths:
Hockey sense
Passing
Carries the puck
Creativity on the blueline
Poise
Compete level
Puck control
Shot accuracy
Vision
Flaws/Aspects He Needs To Work On:
Strength
Shot power
Polishing his defensive game
Physicality
Fantasy Hockey Potential:
Offensive: 7/10    Defensive: 4.5/10
NHL Player Comparison:
– NHL comparison: Sami Vatanen
***
THW's The Next Ones prospect profile template design architect: Chris Ralph