by Eldon MacDonald (edited by @ChrisRalphTHW)
The 2015 NHL Draft Rankings War Room: This March Madness edition brings you the Top 120 ranked prospects as compiled by THW's Eastern Canada based hockey bird dog, Eldon MacDonald. The Next Ones Midterm Rankings (a.k.a. Chris's List) can be found here.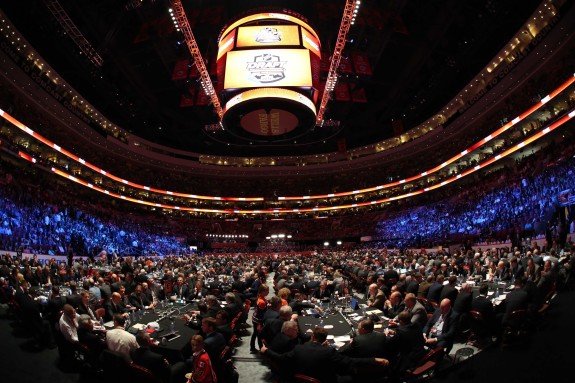 The 2015 NHL Draft Ultimate Prospect Tracker
This update expands the previous list of draft eligible prospects covered to 721 making this your quintessential  draft resource.
The Ultimate Rankings Spreadsheet
THW's War Room rankings are presented in the following formats in the accompanying spreadsheet:
Tab 1 – Sorted by E-Mac's NHL Draft War Room March ranking
Tab 2 – Sorted by NHL Central Scouting Combined Mid-Term Ranking
Tab 3 – Sorted by League
Tab 4 – Sorted by Nationality
Column 1 "Mar" = E-Mac's War Room March ranking
Column 2 "CR" = The Next Ones/Chris's List Midterm ranking
Column 3 "NHL" = NHL Central Scouting's Midterm rankings combined
Only a portion of the table displays by default; you can scroll over to see the rest of the player demographics and statistics or select View full-size workbook option, which is the icon in the bottom right hand corner, to view the full table.
The beauty of the above option is that you can then download the file to your computer and play with it or adjust it anyway you like.
Be sure to scroll over to see E-Mac's War Room commentary.
The spreadsheet is searchable; simply click on the spreadsheet and utilize CTRL/Command "F"
Most prospects are also linked to their elite prospects profile.
Other Rankings
A must read. RT@FCHockey: FC has released March rankings for the 2015 #NHLDraft. Check out our brand new top 30: http://t.co/W9pk3O9SwW

— Christian Roatis (@croatis) February 28, 2015
MT @ScoutingService: #NHL Draft Rankings: http://t.co/fUuRbacd4R February 2015 Top 60 Discussion includes Provorov http://t.co/e8YtQcXoRe

— Brandon Wheat Kings (@bdnwheatkings) March 2, 2015
.@ISSHockey releases their ranking of the Top 30 prospects for the 2015 .@NHL Draft – http://t.co/9vSE6P1GTK .@CHLHockey .@NCAAIceHockey

— Hockey's Future (@HockeysFuture) March 9, 2015
Essential Link: MyNHLDraft.com rankings collection