by Eldon MacDonald (edited by @ChrisRalphTHW)
The regular seasons are winding up in the CHL and have already wound up in many other leagues, particularly overseas. Except for the U18 Worlds (May 1st to 17th in the Czech Republic), most of the surprises to come are more likely to be of a team nature rather than a player nature. So here is the list of my 15 most recent surprises (in some cases, continued surprises) – 10 draft risers and five draft fallers.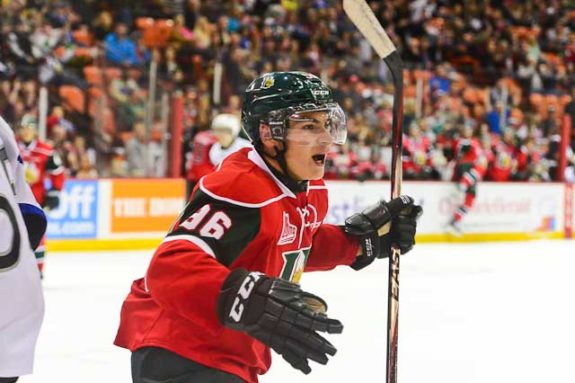 Ten Prospects Whose Stock is Rising
(#s indicate THW War Room March ranking; stats as of March 12th)
#6 from #12 – Mathew Barzal, Seattle, WHL – C, R, 6'0' 177
Yes, a player can have a slow start; yes, a player can have a major injury (broken kneecap in Mathew's case) but if you want to be a difference maker you just have to suck it up and soldier on. Mathew Barzal is a difference maker and yes he did suck it up, come back and been a difference maker on an offensively-challenged Seattle Thunderbirds squad. Mathew has been averaging 1.7 points per game since he got his game back (from January 30th, 2015 to be exact) after returning from his knee injury. Many say his game mirrors Ryan Nugent-Hopkins of the Edmonton Oilers. However, if you were to ask Mathew, he is likely to say he is modelling his game after Claude Giroux, the captain of the Philadelphia Flyers. While he is not all the way there yet, the closer Mathew gets his game to Giroux's the more likely he is to become that difference maker in the NHL that he and many of us think that he will become.
#10 from #13 – Timo Meier, Halifax, QMJHL – RW, L, 6'1, 209
Timo Meier is that special player that doesn't come along often, the kind of player who not only compliments the star players but makes them better – like Nikolaj Ehlers, Jonathan Drouin, Connor McDavid or Kevin Fiala. What Timo Meier learned from playing with so many star players is why these players became stars, what a player needs to do to become a star and the dedication and effort needed to be a star player in your own right. Since he turned it up a notch around November 1st, Timo has averaged 1.7 points a game and has delivered the works almost every night – forecheck, backcheck, board work, offense.
#13 from #19 – Kyle Connor, Youngstown, USHL – C, L, 6'1, 182
Don't look now, but Kyle Connor has also kicked it up a notch. After a relatively slow start to the season (1.1 points per game in his first 16 games), Kyle has been averaging 1.5 points per game and is now the USHL scoring leader.
Our very own @KyleConnor18 moves up to #7! RT @CraigJButton: Craig's List – March Edition. http://t.co/WIdSdvTq4c @TSN_Sports #2015NHLDraft

— Youngstown Phantoms (@YtownPhantoms) March 12, 2015
#28 from #43 – Anthony Beauvillier, Shawinigan, QMJHL – C, L, 5'10, 181
M. Feu, the player with a fire in his belly for every game, is currently second in goal scoring with 42 goals (one behind Timo Meier as of March 19th) for first year draft eligible players in the QMJHL. Although Anthony has been very good since the start of the season, he has been even more effective in the New Year, averaging 1.6 points per game.
#29 from #73 – Joel Eriksson Ek, Färjestad, SWE 1 (SHL) – C, L, 6'2, 183
Joel Eriksson Ek is a big centre with plays with an excellent compete level, big shot, good defense and hockey sense. What is particularly intriguing to scouts is that he is very good right now as a raw, under-developed, under-strength draft year player. How good can he become when he adds some weight and strength after a lot of work in the gym? Joel gave us a very good indication of that potential in the recent Five Nations Tournament where he was one of the most prominent players for Team Sweden which is why I am putting him into the late first round.
http://t.co/XjymQcv3NG
#30 Joel Ek Eriksson @EkEriksson
Offensive threat with that extra gear to burn defenders. Dangerous weapons on puck.

— ISS Hockey (@ISShockey) March 1, 2015
#32 from #67 – Jack Roslovic, USA U18 NTDP, USHL – C, R, 6'1, 182
After a slow start (6 points in 16 games), Jack caught fire and has been on a pace of 1.5 points per game ever since (51 points in 35 games). If he maintains that pace, expect him to be a first rounder on all lists including my own. More importantly, he is the one of the guys who appears to be carrying Team USA in the recent games I have seen (last weekend versus Sioux Falls and in the Five Nations Tournament).
#33 from #54 – Jake DeBrusk, Swift Current, WHL – LW, L, 6'0, 177
Jake is a player that I had previously under-valued. In particular, I had under-valued him because of his modest stature and his okay but still modest results. What I missed out on was that this guy has a knack for scoring goals. Jake currently leads the WHL in goals (36) for first-time draft eligible players. Jake is a player that grows on you the more that you see him – first round is possible.
Editor's Note: Especially impressive is the fact that DeBrusk has contributed in on close 35% of team points registered, third only to Barzal and Jansen Harkins amongst first year WHL draft eligible.
#37 from #47 – Julius Nättinen, JYP-Akatemia, FIN 2 (Mestis) – C, L, 6'2, 187
Julius Nättinen is the Finnish version of Joel Eriksson Ek – size, position, offense, defense. He plays in the second division Finnish professional league where he is putting up respectable results for a 17 year-old in a men's league (29 points in 39 games). However, he has played lights out in all the junior age tournaments (U18's) that he has played in this year – averaging over two points per game for Team Finland which is why I have moved him up 10 places.
#39 from #52 – Gabriel Gagné, Victoriaville, QMJHL – RW, R, 6'5, 183
Gabriel is a bit of an outlier at 39 but how can you not love a 6'5 guy with great hands and an outstanding finish (better than 6'6 Hunter Smith or 6'6 Michael McCarron at the same stage of their careers). With 31 goals to date, he is only 11 behind the leaders in the QMJHL, Timo Meier and Anthony Beauvillier, for first-time draft eligible players. He still is only 183 pounds so his physical game is likely to take off as he adds more weight and strength. His first few steps and his acceleration still have a way to go but at 6'5 with his hands and finish, I can't see why second round and likely early second round isn't more than probable for Gabriel.
#50 from #71 – Zachary Senyshyn, Sault Ste. Marie, OHL – RW, 6'2, 195
It seems that everybody on the Sault Ste. Marie Greyhounds is already a top draft pick (Ritchie, McCann, Bailey, Bunting, DeAngelo, Nurse, Halverson). Therefore, it is understandable when a really good prospect like Zachary Senyshyn does not get the quantity or quality of ice time that he might receive with a lesser team. Although his results are relatively modest (43 points and a +30 in 61 games), scouts are likely to have seen enough of his acceleration, top speed, high-end finish (25 goals), size and drive to the net to accord him a spot somewhere in the second round.
Five Prospects Whose Stock is Falling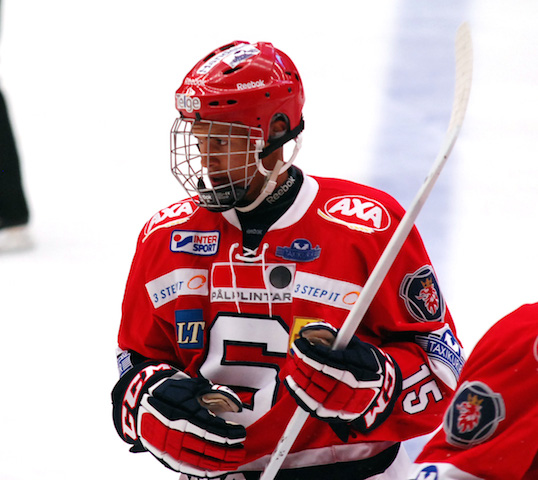 #19 from #6 – Oliver Kylington, AIK (loan), SWE 2 (Allsvenskan) – D, L, 6'0, 181
Oliver is a guy whose game has yet to live up to his amazing physical abilities, particularly skating and passing. Oliver's game in the recent Five Nations Tournament (February 4th to 8th in the Czech Republic) was nowhere near top 10 quality – it was distinctly ordinary. However, I don't think he will fall much farther, if any further, because it is likely that at least one team still believes that his game will eventually come around to more closely match his physical abilities.
#21 from #10 – Nick Merkley, Kelowna, WHL – RW, R, 5'11, 187
Nick is a prospect who had a terrific start to the season. In his first 30 games, he had 51 points and a +21. However, his play in his last 36 games tailed off with just 34 points and a plus 6. I still consider Nick a very good player; however, he probably won't make the top 10 in this draft class.
Editor's Note: I still like Merkley's complete game and compete level. His hockey sense is also right up there in this draft class.
#43 from #38 – Rasmus Andersson, Barrie, OHL, D, R, 6'0, 214
Rasmus Andersson is a player who has fallen through no fault of his own; it is just that there were a number of players who moved up past him (Beauvillier, Eriksson Ek, Roslovic, DeBrusk and Nättinen). In fact, I have Rasmus higher than most rankings (e.g. NHL Central Scouting has him as a 4th rounder and Bob MacKenzie's poll of scouts doesn't have him in their top 60). His critics have pointed out a number of flaws in his game – agility, conditioning and sometimes questionable defensive decision-making. While there is validity to these criticisms, I think we are under-valuing some of his strengths which have contributed to his terrific year in Barrie where he is averaging a point a game as a rookie defenseman. In particular, it is his ability to run the Barrie power-play with teammate Brendan Lemieux that has made it one of the best in the CHL. In addition, Rasmus is a minute-eating, all-situation guy who does a decent job of filling the hole created by the departure (to the NHL) of the all time-best Barrie Colt defenseman, Aaron Ekblad. I believe Rasmus will go off the board much earlier than his critics believe.
#45 from #29 – Jeremy Bracco, USA U18 NTDP, USHL – C, R, 5'9, 173
Jeremy Bracco is another player who had a gangbusters start to the season with 43 points in his first 23 games. Unfortunately for Jeremy, his results lately have been nowhere close to that pace with only 21 points in his last 27 games. Jeremy will need to regain his earlier pace or he could face an even further drop. When you are just 5'9, you need to show results.
#46 from #33 – Filip Ahl, HV71, SHL – LW, L, 6'4, 214
Yes, I like Filip Ahl's mammoth size (6'4, 214); yes I like his NHL ready shot and yes I like how solid and well-balanced he is on his skates. However, he needs to show quite a bit more intensity to his game if he wishes to be effective in the bigs. This was particularly evident at the recent Five Nations Tournament where he didn't make much of an impact which is why he has fallen to mid second round from early second round in THW's War Room rankings.
Agree or disagree with stock trends noted above? What other prospects are trending upwards and downwards with the 2015 NHL draft just over three months away?
Chris is THW's senior draft/prospect analyst and a Managing Editor. Watch for "The Next Ones" Prospect Profile series, exclusive rankings, mock drafts, as well as the annual THW NHL Entry Draft Guide. Follow @ChrisRalphYQ on Twitter as he infiltrates, dissects and analyzes all happenings of hockey prospects and the NHL entry draft. Email: cralph[at]thehockeywriters[dot]com