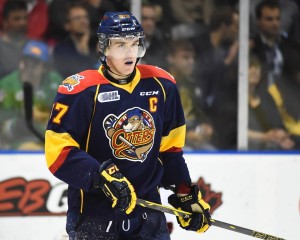 The Edmonton Oilers have selected center Connor McDavid of the Erie Otters with the first overall pick in the 2015 NHL Entry Draft.
The selection ends one of the worst kept secrets in the league when it came to who the Oilers were going to selection number one at the start of the draft. McDavid is the no-doubt top prospect available in this year's class, with many believing he's the type of player that comes around once every 10-20 years.
McDavid is coming off a season where he scored 120 points in 47 regular season games for the Otters. In 20 playoff games, he scored 49 points.
[RELATED: Connor McDavid – The Next Ones]
As things stand, the Oilers still have nine more picks to make throughout the draft, including another first-round pick at 16th overall thanks to the deal that sent David Perron to the Pittsburgh Penguins. It's already been said that new Oilers general manager Peter Chiarelli won't deal the 16th overall pick for a goaltender, but that doesn't mean a deal can't happen for another player.
With plenty of ammo to play with, the 2015 NHL Draft could be a historic one for the Oilers franchise. For more on the 2015 NHL Draft, be sure to follow The Hockey Writers' live draft tracker throughout the night.