Connor McDavid THW Close-Up:
Date of birth: 1/13/1997
Place of birth: Richmond Hill, ON, CAN
Ht: 6'1″     Wt: 190 lbs
Shoots: Left
Position: C
NHL Draft Eligibility: 2015
Twitter: @cmcdavid97
THW The Next Ones Rankings (February): 1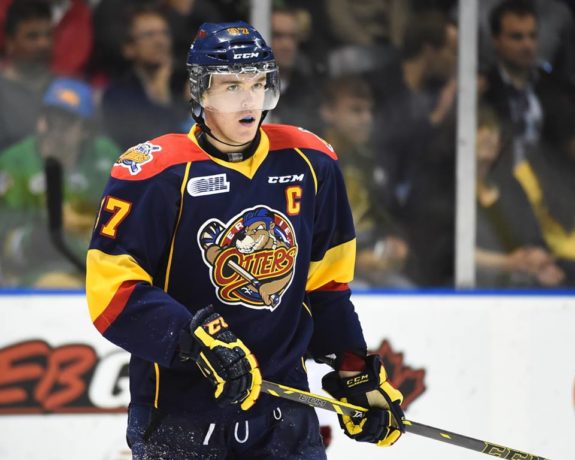 Other Rankings:
THW War Room Rankings (January): 1
Last Word On Sports (February): 1
Craig Button: 1
CS Final Rankings for North American skaters (January): 1
***
At the start of the year, there was speculation that Jack Eichel may close the gap on Connor McDavid for 1st overall. By this point, McDavid has quashed any ounce of doubt. He's been nothing short of superb this season for the Erie Otters. Despite missing a few weeks with a broken hand, he's made the gap in the OHL scoring race virtually nonexistent. Currently, he sits 3rd in the OHL with 107, but unless something crazy happens, he will run away with the scoring title.
For McDavid, it's not a matter of 'if' he will change the game, but 'when. A dynamic talent that only comes every so often, McDavid has the ability to sway momentum every time he's on the ice. He thinks the game at an NHL level, feeds tape-to-tape passes through a maze of sticks, can carry the puck a full 200-ft, and puts the puck in the back of the net with ease. Dictating the pace of the game when it's on his stick, McDavid is a man playing against boys.
While the focus is mostly on his offensive numbers and potential, the Richmond Hill-native is responsible in his own zone and sticks up for his teammates. Playing both sides of the puck is an essential part in a center's game, and McDavid does it with ease. He reads plays as they progress and positions himself in such a way that he can stop an opposition's breakout before it starts. A total package, McDavid is another generational talent the NHL will gladly welcome in June's draft.
Where Will He End Up In June:
Connor McDavid will be the 1st overall draft pick in the 2015 NHL Entry Draft. There is no argument any longer.
Scout's Honor:
"An intelligent and highly creative player who makes dynamic plays that will pull you out of your seat…a fluid skater who moves with outstanding speed, agility, solid quickness and an impressive change of pace…he controls the game whenever he touches the ice, and uses his intelligence and vision to put the puck exactly where he wants it…has a very sharp, accurate shot that allows him to pick corners or small openings on the tender even while in full flight…not afraid to work the wall and retrieve pucks himself…has all the tools to become the NHL's next superstar…just an incredible offensive talent. (August 2014)"
Aaron Vickers – Future Considerations
"Has a 'next generation' processor and sees the game in a 'parallel universe.' Lightning quick in his head, hands and feet and what the minds directs the feet and hands can do. Exceptional ability to recognize both opportunity and danger at the same time and then exploit the opportunity and avoid the danger. Big time competitor albeit a 'quiet' one but lethal."
Craig Button – TSN.ca
"McDavid possesses a natural quickness, an ultra-quickness if you will, in all areas of his game that sets him apart from the pack. Whether it's skating quickness, speed and agility or his hands, passing and shooting, or his anticipation, awareness and reaction time; all these components of his game are performed with a quickness that at times is truly amazing, and that ability places him in the company of [Wayne] Gretzky and [Sidney] Crosby."
Dan Marr – NHL.com
"Lets start with looking at the offensive weapons here, and McDavid has it all. Exceptional hands and stickhandling ability, he can dangle past a defender and does an excellent job of protecting the puck and maintaining possession.  His hockey sense and decision making is already at an elite level.  His decision making and vision are excellent, he reads the play very well and always seems to keep the puck moving in a smart and efficient manner. His passing is outstanding as the young centre has the ability to thread pucks through tight spaces and put passes tape to tape at high speeds. Connor McDavid also possesses an accurate shot, with a good release. McDavid's ability to make all these plays at a high speed, and to never have to slow down his feet to control the puck is a huge asset.  He has the ability to change gears quickly and effectively and this aids him in beating defenders.  His top speed is good, but its the acceleration and the ability to vary his attacks, to slow the game down when necessary or to make the quick play that really sets him apart.  The unpredictability can leave defenders flat footed as he quickly accelerates around them.  Or he can look like he his going to beat his man wide and suddenly slow down, opening up space for a shot or quick play in front of the defender. His agility and edge work is also outstanding.  He has shown the ability to change direction on a dime, which makes him an absolute nightmare to defend. He also has very good balance and is a lot stronger on his skates than most expect.  He added some strength to his frame this off-season and has become extremely hard to knock off the puck.  McDavid is a generational talent.  Any time the NHL makes changes to the draft lottery, you know that the player up for grabs is special."
Ben Kerr – Last Word On Sports
Statistics: 
Bio/Interview(s)/Links:
International Tournaments:
McDavid has played for Team Canada in four tournaments. He's won two gold medals in the U-18 WJC and the U-20 WJC. In 26 games for Team Canada he has 38 points.
ETA:
<1 year
Risk/Reward Analysis:
Risk: 1/5   Reward: 5/5
NHL Potential:
1st line center that will annually be in contention for the Art Ross/MVP.
Strengths:
Vision
Passing
Stickhandling
Finishing ability
Offensive prowess
Patience
Two-way play
Poise
Skating
Hockey sense/IQ
Flaws/Aspects He Needs To Work On:
Adding muscle for the NHL level
Fantasy Hockey Potential:
Offensive: 10/10    Defensive: 6/10
NHL Player Comparison:
– NHL comparison: Sidney Crosby
Video(s):
***
THW's The Next Ones prospect profile template design architect: Chris Ralph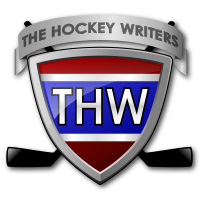 The archives of THW contain over 40,000 posts on all things hockey. We aim to share with you some of the gems we've published over the years.