This weekend, the University of North Dakota hockey team travels to Oxford, Ohio, to take on the Miami University RedHawks in an important two-game conference series. This is the regular season finale. The first round of the NCHC playoffs starts the next weekend.
Series history
All-time, UND leads the series against Miami 6-3-1 (.650). In Grand Forks, UND leads the series against the RedHawks 3-1-1 (.700). In Oxford, the series tied 2-2-0 (.500). At neutral sites, UND leads 2-1-0 (.667). Under head coach Dave Hakstol, UND leads 5-3-1 (.611). In the last 10 games against the RedHawks, UND leads 6-3-1 (.650).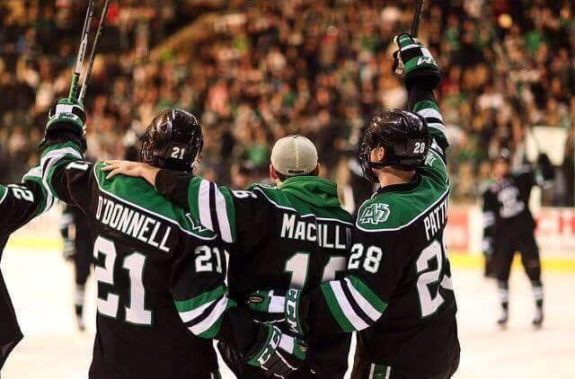 Tale of the tape
#1North Dakota (24-6-3, 15-5-2-0 NCHC) vs. #5 Miami RedHawks (20-11-1, 13-8-1-1 NCHC)
Date: March, 6-7, 2015
Game Time: Friday 5:30 p.m. CT, Saturday 6:05 p.m. CT
Location: Steve Cady Arena,  Oxford, Ohio
Last time out: Miami split with DU (5-3 W, 2-6 L)
Last time out: UND swept SCSU (3-2 W, 3-1 W)
MU Offense: 19th Nationally
MU Defense: 11th Nationally
MU PWR: 4th
MU Last 10 games: 6-3-1 (.650)
UND Offense: 7th Nationally
UND Defense: 7th Nationally
UND PWR: 1st
UND Last 10 games: 8-1-1 (.850)
TV: Friday:  CBS Sports Network, DirecTV 221, DISH Network 158
Live Streaming: None
TV: Saturday:   Midco Sports Network, FOX College Sports Atlantic, DirecTV 608, DISH Network 449
Live Streaming: NCHC.TV
Key Players to watch
North Dakota – Forwards: Drake Caggiula (15g-16a—31pts), Michael Parks (12g-19a—31pts, Nick Schmaltz (5g-19a—24pts), Luke Johnson (6g-12a—18pts), Brendan O'Donnell (11g-6a—17pts). Defense: Jordan Schmaltz (3g-22a—25pts), Paul LaDue (4g-15a—19pts), Nick Mattson (3g-13a—16pts), Tucker Poolman (6g-6a—12pts), Troy Stecher (2g-8a—10pts), Keaton Thompson (1g-8a—9pts). Goalies: Zane McIntyre (24-6-3, 1.93 GAA, .933 SV%), Cam Johnson (0-0-0, 5.54 GAA, .765SV%).
UND Injuries: Mark MacMillan (16g-9a—25pts) out indefinitely lower-body injury.
Miami RedHawks – Forward: Austin Czarnik (2g-30a—32pts), Riley Barber (16g-15a—31pts), Anthony Louis (6g-21a—27tps), Blake Coleman (12g-12a—24pts), Sean Kuraly (16g-7a—23pts). Defense: Matthew Caito (3g-15a—18pts), Louie Belpedio (4g-10a—14pts), Ben Paulides (3g-5a—8pts). Goalie: Jay Williams (16-6-0, 1.90 GAA, .920 SV%), Ryan McKay (4-5-1, 2.81 GAA, .907 SV%).
Special teams
Miami RedHawks – The RedHawks penalty kill is ranked 30th in the nation (113/136, 83.1%). The RedHawks power play is ranked 20th in the nation (27/140 19.3%).
North Dakota – UND's penalty kill is ranked 25rd in the nation (116/138, 84.1%). UND's power play is ranked 13th in the nation (29/139, 20.9%).
UND can clinch Penrose Cup outright this weekend
With a single point this weekend, UND can clinch the Penrose Cup outright. UND has a six-point lead over second place Miami.  Just for the record, UND hasn't been swept by an opponent since Nov. 1-2, 2013 vs. #9 St. Cloud State (3-2, 3-1).
UND on playing Miami
"It's a tough place to play," senior forward Brendan O'Donnell said. "I remember we played their last year. They've got their students right on top of you.  They get good crowds. It will be fun. For them, if they want a piece of it (NCHC title) they're going to have to come out and take two from us.  So, we're going to get their best. They're a tough team to play against. They're a really skilled – fast team – that plays with pace. They're a tenacious group. We know that were going to get their best."
UND's game plan against the RedHawks isn't all that complicated.
"We're going to have to keep the puck away from their forwards," senior forward Michael Parks said. "Always get the puck deep. Stay on their defensemen. Really get that puck the possession game going that we like to use. Use the five-man cycles and get our defense involved."
No one should be surprised that it all comes down to this weekend.
"Everyone playing pretty good hockey," head coach Dave Hakstol said. "We're playing pretty good hockey. So, it should make for a pretty good series. I don't think it's anybody's surprise that it comes down to the final weekend. We have a piece of the championship right now. We want to try to improve on that. We're obviously playing for seeding. As with every weekend, there's a lot on the line."
Series prediction
It's hard to believe that the season is almost over. The playoffs are almost upon us. This is the final conference series of the 2014-15 season. Next weekend, the NCHC playoffs begin. Teams will have their season's end with the overtime goal or one bad bounce of the puck. This is when drama begins.
Needless to say, there's a lot on the line this weekend. With one point, UND will clinch their first NCHC championship outright.
As I mentioned earlier, UND hasn't been swept since last season. I don't see them getting swept this weekend, they have too much pride as  a team. Make no mistake about it; Miami is a very good hockey team. My prediction for this weekend: split.
Eric is a 1996, 1999 graduate of the University of North Dakota. Eric covers the University of North Dakota Hockey and Division I college hockey. Eric is the Contributing Editor for Inside Hockey.