Finally Being Rewarded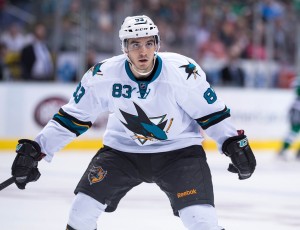 It may be cliché in the world of hockey, but if there were ever a player who has been "snake bit" this season, it would be San Jose Sharks sophomore forward Matt Nieto. Despite being at the very top of the league in the advanced stats during the first couple months of the season, Nieto had less than 10 points to show for it. When most other top-6 caliber teammates were seeing their points in the mid-20's, Nieto was stuck on single digits for awhile. In recent weeks though, Nieto has started to produce the points, and is now just four shy of his rookie season total of 24. The popular sports term "sophomore slump" has been attached to Nieto by numerous outside critics but those watching closely understand that really hasn't been the case. Finally the points are starting to prove it as well. Buoyed by a two goal, three point performance against Vancouver on Tuesday, Nieto has seven points in his past 10 games and feels his game is right where it needs to be.
"It's been a frustrating year production wise" commented the 22-year-old. "But overall I'm happy with how I've played. It's nice to finally have some hard work pay off the other night. I know I'm getting close to the amount of points I had last year. It's definitely another development year for me, I had to learn how to play through droughts, learning how to get out of it. I definitely feel good this last little bit here since the All-Star break. I've felt like I've been playing my game even when I wasn't scoring, I was getting better chances than at the beginning drought of the year. I'm getting in scoring areas and making plays, I'm skating well, I feel good, and hopefully keep getting on the score-sheet."
Fancy Stats
With 20 points in 55 games now, Nieto's points per game rate is exactly the same at .363 that it was last season with 24 points in 66 games. The Long Beach, California native and Boston University product has been driving possession all year but he says the players don't follow the so called fancy stats.
"We don't really look at that at all" Nieto confirmed when asked about the advanced stats. "I've been hearing about it all year, I don't really understand how they calculate it or anything like that. It's good to hear a stat like that but at the end of the day it is about the real points and getting on the real score sheet."
Playing the last few games back on a line with Logan Couture and Patrick Marleau, Nieto has been getting more positive buzz lately. However, weather positive or negative, Nieto says he doesn't go searching for what others are saying about him.
"No I don't [look myself up], and try not to let anything I see, whether on twitter or the internet affect me. I definitely don't go searching for it, if I see it, I see it but I try not to let it bother me."
Nieto's response on the matter isn't surprising. Despite being such a young player, the Sharks' winger never seems to differ in his emotions. Similar to the old veteran Marleau, you would never really know if Nieto is in a 20 game goal scoring drought or if he has seven points in his last 10 games. The latter of which, as mentioned above, is his current streak of points. His head coach was quick to note that the chances are much more frequent as of late.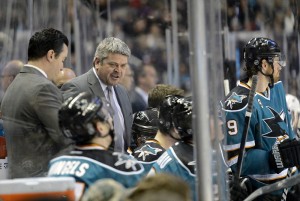 "He has had more chances recently" commented Todd McLellan after Thursday's practice. "Rewarded with two goals last game, everybody knows that, but the four, five games prior to that he was involved in a number of different chance opportunities. So when that's happening you're fine and comfortable with that. Prior to that he was dry a little bit and just the confidence being rewarded with goals has to help him but also has to help the line. The line believes now they can all get it done. He has always done good things for us away from the puck, penalty killing, creating time and space for other people, getting in on the forecheck. It's just when you do play those minutes against those types of lines, eventually you have got to score and hopefully he can get that going now on a steady basis."
Obviously the Sharks still have a lot of work to do and they have only won two in a row after the tough stretch where they lost eight out of 11. However, with guys like Nieto and linemate Patrick Marleau starting to put the puck in the net, there are lot of good signs behind those wins. Nieto is not having a sophomore slump, if he continues to produce down the stretch, his sophomore year can easily eclipse his rookie year performance.
Andrew has been credentialed to cover the Sharks since 2010 and the 49ers since 2012. He graduated with his BA in Broadcast Electronic Communication Arts in 2013 from San Francisco State University.