In Part 5 of the Pittsburgh and College Hockey Series, I sat down with a future SUNYAC player in Mike Sweeney, to get a sense of what a young player is looking forward to in College Hockey before jumping in with both feet.
Mike is currently in his 2nd year with the PAL Junior Islanders in the USPHL, where he finished with 22 points on the season. PAL is quickly becoming a must-see for college recruiters in the Northeast. This season alone they currently have ten players committed to NCAA programs.
Sweeney is the 2nd Upper St. Claire alumni to featured in this series, joining Part 2 Star and former teammate CJ Murray (Part 2). Sweeney was apart of the State Championship winning team that won in 2011, helping USC to the state playoffs by scoring the overtime winner at Consol Energy Center in the PIHL Championship.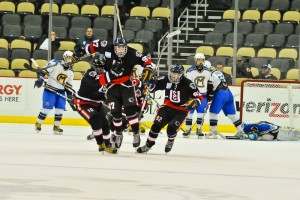 Sweeney has committed to SUNY Potsdam for the 2015-2016 season. Shane Talarico and Todd Thomas are two current Bears players with ties in Western Pennslyvania. Potsdam finished 4th in the conference this year, and had a record of 12-11-3 on the season. The SUNYAC conference offers some of the best crowds and fan bases in all of college hockey, and it's teams are consistently near the top of the nation in attendance, and of course rank.
So with the groundwork laid, let's learn a little more about future NCAA player Mike Sweeney.
1. Mike, How are you?
I'm doing great.
2. Tell us about your time playing in Pittsburgh for the Pens Elite and Upper St. Clair High School?
It was great to play for both of those teams. I learned a lot. Playing under Chris Stern with the Pens was awesome.  He's a great coach and really helped me with my game. Playing with USC was some of the most fun I've had playing hockey. I've been fortunate enough to be on some really good teams between the two of them. U18, with the Pens, we won the Tier-1 Elite Championship in Minnesota and had a great Nationals run where we got knocked out by Shattuck in Overtime.
3. You currently play for the PAL Junior Islanders in theUSPHL which is a top Junior league in the Northeast, tell us about your experience so far playing Junior Hockey?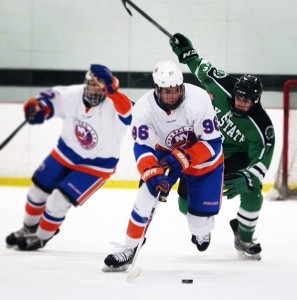 Junior hockey is definitely a lot of work, but it is also a lot of fun.  It's all hockey, all the time. But you build great relationships. I had a tough first year when I broke my leg early on and missed the first half, but this year has been very rewarding. PAL is a terrific organization with excellent coaches.
4. What were your goals when you decided to play for PAL
Everyone's goal when they play junior hockey is to develop as a player and to eventually get an opportunity to play college hockey, which is what I had in mind.
5. You won a High School State Championship with USC while in high school, what was your fondest memory from that experience?
I was a sophomore when we won States. It was awesome; we had a really good team. A lot of those players are now playing NCAA or club hockey.  It was some of the most fun I've had playing hockey. It's great to play hockey with your best friends, kids you grew up with. I would say my favorite memory was definitely the weekend of States. I was surprised to see so many people from USC had made the trip to Philly. It was also really nice to beat the hometown team with all of their fans there. Also, playing at Consol for the Pens cup was also really special when we won in overtime, and I was lucky enough to score the OT winner.
6. You recently committed to play NCAA hockey for SUNY Potsdam in the SUNYAC Conference of DIII hockey, one of the best conferences in the Country, what made you decide on Pots dam?
I went on a visit pretty early in the year and loved the campus. It was a pretty easy choice. A great education and the coaching staff is great.  They really know what they're doing. They made me feel like it's the best place to spend the next 4 years and that I will continue to grow and develop as a hockey player.
7. Did you speak or visit with any other schools while playing for PAL?
I had talked to a few other schools throughout the year but Potsdam really stuck out to me. My coaches are really good with helping kids get in touch with schools. Coach Galiani and Marshall know a lot of coaches at the next level and will do whatever they can to help us move on.  I just felt like Potsdam was a good fit for me over all.
8.What are you most looking forward to about College Hockey?
I'm looking forward to getting a chance to play for a national championship at a great school. It's always been a dream of mine to play college hockey. It will be really cool to play in such a great atmosphere at Potsdam.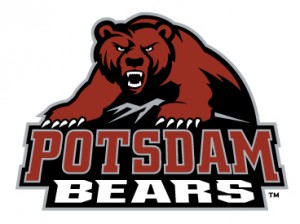 9. Are you familiar with the SUNYAC conference at all and the atmospheres you will be playing in on a weekly basis? Because the SUNY offers some great fan bases for college hockey.
I know the conference just because of the reputation it has at the DIII level. It has some really great teams, some of the best in the country. But I haven't seen a game yet so I'm not too familiar with all of it but I'm excited for a chance to get to play in a great conference.
10. What will you take away from playing junior hockey?
I've learned a lot about hockey through my two years of juniors. I've been fortunate enough to have had committed coaches. But it definitely has its ups and downs, through injuries and hard losses. So I guess my biggest takeaway would just be to keep pushing through all the downs. Also, the friendships of course.
11. PAL currently has ten players committed to play NCAA Hockey, five DI and five DIII, in your opinion what makes the Junior Islanders such an attractive market for NCAA scouts?
I think the reason we've had a lot of success getting kids to college is because of the coaching staff.  They know so much about the game and how to develop kids into great players. College coaches know that if they take a PAL player, they'll be getting a kid that's ready to play at the next level. Also we play in a great league in an area that coaches can come see games without much travel at all.
12. Is there anything you would like to say or anyone you would like to thank?
I would like to thank my family, most importantly my Mom and Dad.  They've sacrificed so much for me to get this opportunity to play hockey all this time. They travel whenever they can to be there.  Also all my coaches I've had that helped me develop as a player. And PAL for a great two years and helping me get to a great place for college hockey.  I've also been very lucky to live with a terrific billet family these last two years and appreciate all their support too.
Bill is a 2012 Graduate of Franklin Pierce University, where he played D3 NCAA Ice-Hockey. He covers Atlantic Hockey and D3 for the USCHO. He covers College hockey for THW.