In Part 2 of "Pittsburgh and College Hockey", I spoke with CJ Murray, a sophomore at Nazareth College. Nazareth competes in the ECAC-West of NCAA Division III.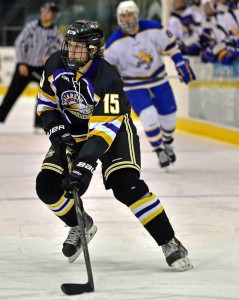 In recent years, the small city of Pittsburgh has been producing top NCAA Ice-Hockey talent in both DI and DIII. I have caught up with a number of these former and current players to get their take on some the various aspects of College Hockey, and see why Pittsburgh is being mentioned in the same breath as Massachusetts, Minnesota, and Michigan, despite just being small city in western PA.
CJ also had a unique path to College Hockey. If you follow high school hockey in Pittsburgh, his name will be familiar, he led Upper St. Clair to the Penguins cup his senior year, and then had a hat trick in the State Championship game including the overtime winner over Lasalle. Getting Drafted in the first round of the 2011 NAHL draft by the Michigan Warriors. Where he then played a season for them. Then he went on to play club hockey for a year at Washington and Jefferson. And with a little help from childhood friend, Pittsburgh native, and fellow DIII player Justin Selep, CJ found his way on a recruiting visit to Nazareth during their inaugural season in the NCAA. Shortly there after he committed. And now he is in the midst of his sophomore season for the Golden Flyers averaging a point per game, and coming off a great 2 goal performance against Elmira College.
Let's learn a little about CJ Murray..
1. Tell us a little about your time playing in Pittsburgh.
"I grew up playing for the Mt. Lebanon Hornets until I hit peewee when I decided to take hockey a little more seriously. I started playing for the Pittsburgh Hornets when I was in peewee. I played there until my sophomore year when I got cut from the Midget Major team. I thought my hockey career wasn't going anywhere. I went to high school and played at Upper St. Clair. My senior year I played for a split season AAA team coached by Jim McVay. This team allowed me to focus on high school hockey as well. My senior year, we ended up winning the Penguins Cup, and later beating LaSalle in the state championship game in overtime. I ended up having a hat trick including the OT goal. A highlight of my career, it opened up my eyes. Senior year, I played for Team Pittsburgh in an end of the year showcase, which helped me talk to different junior teams."
2. How has growing up in Pittsburgh helped mold you into the player you are?
"Growing up in Pittsburgh, watching the Penguins transform was a real treat. Able to watch  Sidney Crosby and Evgeni Malkin really helped me grow as a young hockey player. Also, growing up I played with guys such as Brandon Saad and a bunch of other DI and DIII hockey players that have had great success in their careers which has made Pittsburgh a great hub for young talent."
3. You play for Nazareth, a relatively new Division III school in the ECAC-West. Tell us why you chose Nazareth, and what has your experience been like in your first 2 years?
"Naz is currently in its third season as a program and it is nothing but amazing. From where we were three years ago, major strides have been made to make it the program it is. I chose Naz for a lot of reasons. I like the small school atmosphere and I think we have the best coaching staff in the country. We are treated so well here and the team gets so much acknowledgment from the school that it was a no-brainer to come here. Everyday I love coming to the rink and hanging out with the guys in the. I feel like I go to school with 30 brothers. We are all so close and we all support each other, and I couldn't ask for anything more than that."
4. NCAA DIII is an unknown area of hockey in Pittsburgh because there are no DIII Men's teams in the area, what would you tell people back home about the level of play and atmospheres you experience on a weekly basis?
"My first DIII game I ever saw was on my visit here at Naz when they played Elmira at home. My dad was with me and the both of us were amazed by the quality of hockey. Especially in the ECAC West, which is one of the best conferences in the country, every game is a high paced, and highly skilled. I also love the support that Naz gets at our home games. On my visit I saw the president of the school sitting in the stands.  It's pretty cool when you're walking to class and some random person tells you "good game on Saturday night." Those little things are what college hockey it about. Not only playing, but also representing your school in a sport that is loved so much."
5. How did you end up at Nazareth?
"Out of juniors I decided to focus on school and I attended and played club hockey at Washington and Jefferson College. After a couple games I realized I wasn't a fan, so I looked around to see if I could play somewhere else. My best friend Justin Selep, played here at the time. He talked to the coaching staff at Naz for me and they asked me to come on a visit. After watching my game film, it was a match, so I committed and transferred to Nazareth after my one year at W&J."

CJ Murray vs Oswego playing for Nazareth
6. As a sophomore at Naz, you came in during their second year of existence at the NCAA level, what is it like to help build a program from the ground up?
"It's a real treat to be able to be a part of the programs building process. The program has made great strides and every year I feel like we are bringing in better and better recruits to help this program grow. I am honored to be able to play here and to be able to watch this team grow as a real threat in DIII hockey."
7. What is it like playing for Coach George Roll, who has coached College Hockey (DI and DIII) for the past 18 years?
"George is by far the best coach I've ever had. You think Coach Roll is a good coach? You should see how good of a man he is. He is so approachable. He cares about us as young men. He's very hard on us about our grades and how we handle ourselves off the ice. I think it has worked, our teams overall GPA last semester was around 3.4. We have a great coaching staff here and they make coming to the rink a lot of fun. I have learned so much about the game and they have shown me what it takes to be successful at this level."
8. Last year you were twice named the ECAC West Rookie of the week, what do you have to do this year to obtain special weekly honors?
"I am not really worried about winning awards. The main focus is winning games and playing solid as a team. I come to the rink trying to improve my game everyday. It was great to be recognized but I couldn't have done it without my teammates."
9. How is Naz doing thus far? What are you doing well? What needs to be better?
"We are doing well. Currently sitting tied for second in our conference. We have arguably one of the hardest schedules in the country, every game is a battle. I'm still getting in the swing of things after my injury. Trying to trust my knee again was hard for me at first. But I can tell it is getting better everyday."

CJ Murray, Nazareth
10. The rest of your games are all ECAC-West Conference games. How important are these Conference games down the stretch?
"Every game from here on out is huge for our team. Every game is going to be tough and we cannot take any nights off."
11. What is the Nazareth Men's Hockey team goal for this year?
"Our goal this year is to win the ECAC-West. We know we have the team to do it. Winning the conference would put the Nazareth hockey program on the map. We just have to take it one game at a time and continue to play like we have. We all know we can do it. It's just a matter of executing."
12. What are your immediate goals for the remainder of the seasons? Goals for your NCAA Career?
"Obviously the main goal of mine is to win the ECAC-West. It would be so amazing for our program to be able to do it. My personal goals are just to try to get better everyday. Whether it's in or off-season, I just want to be able to perform for my team to the best of my ability."
13. Is there anyone you would like to thank?
"First, I'd like to thank my pal Justin Selep, without him I would not be where I am now. He has always supported me and we continue to be each others biggest fans. Secondly, my trainer, Pete McCabe who was with me every step throughout my injury. I had this guy up at 7 in the morning rehabbing. Without him there's no way I would be playing at the level I am. Third, I want to thank my coaches and teammates. They are my second family I wouldn't change that for anything. They have supported me and helped me so much this year, I am so grateful to have such an amazing team around me. Last but not least, I'd like to thank my parents. My parents are the reason why I am even here right now. My dad comes to every one of my games. He's my biggest fan and I love playing in front of him every night."