Marc Methot Cranks Out the Hits: Methot's Top Three Hip Checks
During the Ottawa Senators' 7-2 trouncing of the Arizona Coyotes on Saturday afternoon, a familiar and welcome sight was seen.
Marc Methot demolished Lucas Lessio with a thunderous hip check.
YESSS MARC! GIF: Methot Hip check. http://t.co/OXDG49k2PQ

— Jack Leiper. (@SensUnofficial) January 31, 2015

Methot has a history of delivering the effective but risky hit. His use of the hip check is so well-noted that Marc Methot's hips have their own Twitter account.
Seriously.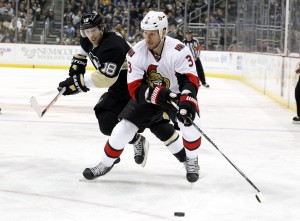 In a season plagued by injury and trade rumours, Methot's vintage hit was a welcome sight for Sens fans. And, in the spirit of the great hit, let's take a look at Methot's top three greatest hip checks.
*though the Lessio hit was stunning, we'll exclude the hip check from the list to highlight more of Methot's great work.
#3 – Marc Methot Catches Crosby
Early in the first period of the Senators' game against the Pittsburgh Penguins on December 23rd, 2013, Marc Methot drilled the league's greatest star.
Sidney Crosby carried the puck towards the net, looking to split between Methot and defense partner Erik Gryba. Just as the speedy Crosby looked to have a step, Marc Methot swept across the ice, hip-checking Crosby so hard that Crosby actually collided with and injured linemate Pascal Dupuis.
For nailing one of the game's fastest and most elusive skaters, this Marc Methot hip checks ranks third.
#2 – Marc Methot Upends Nick Foligno
Playing against his former team, the Columbus Blue Jackets, on January 28th last season, Methot delivered a nasty hip check to former Senators skater Nick Foligno.
The check itself is textbook. With Foligno driving wide and looking for a chance to shoot, Methot's sweeping hips separate Foligno from the puck.
Unlike the hit on Crosby, which came early in the first period, Marc Methot's sellout, take-no-prisoners check on Foligno came with about ten minutes left in the third period of a 2-2 game.
By eliminating Foligno's scoring chance, Methot's hip check was not only stylish. The hit preserved the tie.
#1 – Marc Methot Crunches Kadri
Playing against their bitter rivals, Marc Methot's hit on the Toronto Maple Leafs' Nazem Kadri was both stunning and effective.
With just over eight minutes left in the third period of a tie game, Kadri broke in on net. With Kadri eyeing up his shot, Methot spins right into the young Toronto forward, eliminating the scoring threat.
By hip-checking a shifty Toronto Maple Leafs forward to preserve the 2-2 tie, Marc Methot added yet another installment to his list of punishing hip checks.
In conclusion…
Finally healthy, Marc Methot's physical game on defense is a welcome sight for the Ottawa Senators.
Despite his injuries, trade rumours, and concerns about his contract extension, Methot's all around game (including his powerful hip checks) should be enough to help solidify his future role in Ottawa.
What do you think, Sens fans? Are Marc Methot's hip checks amazing or too risky and injury-causing?