Don't like teams that give up five goals? Well, that's the Winnipeg Jets way of late.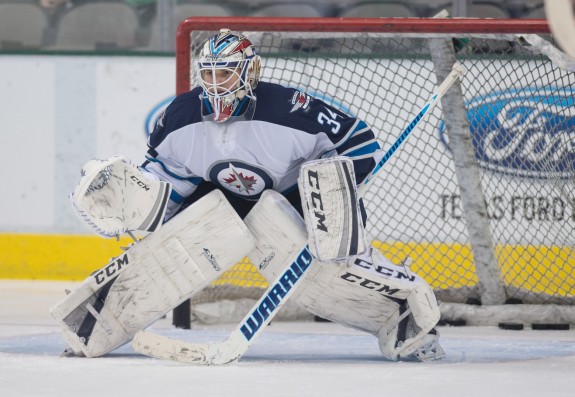 The second half of the season is in full swing for the Jets. After back-to-back losses to Eastern Conference opponents in which they allowed five goals in each a game, the Jets allowed another five and scored just two against the Dallas Stars. The Jets will now play six more games against Western Conference teams.
The Jets are 13-10-4 against the west and 9-4-2 against the Central Division, but will have to try to improve those records without Matt Halischuk.
Matt Halischuk
Halischuk was injured in Winnipeg's 5-2 loss to the Flyers and the news isn't good. He's not even considered week-to-week at this point, according to Paul Maurice.
#NHLJets HC Paul Maurice told reporters F Matt Halischuk suffered a "lower-body" injury vs #Flyers and is out "beyond even week-to-week."

— Ken Wiebe (@WiebesWorld) January 31, 2015
The Jets aren't losing an offensive juggernaut, as Halischuk has just two goals and five assists for seven points in 38 games. However, he is consistent factor in the bottom-six, playing solid two-way hockey. He has 44 hits and 16 blocked shots this season, averaging just under 10 minutes per game.
Michael Hutchinson
After an All-Star break where many thought he should have being playing in place of the injured Sergei Bobrovsky, Hutchinson has faltered of late.
He allowed four goals on 31 shots against the Flyers, three of which came at even strength, while one was a power play goal against.
Sloppy 2nd period for the #NHLJets. Lucky to be down 3-2 to Flyers. Hutchinson with some highlight reel saves to keep game close. #cbcmb

— Jeff Hamilton (@jeffkhamilton) January 30, 2015
There were times when it appeared he was keeping the Jets in it, making a few great stops on odd-man rushes, but overall, he wasn't good enough.
Against the Stars on Saturday night he allowed five goals on 32 shots. The first three were power-play markers by the Stars, as Winnipeg insisted on taking penalty, after penalty, after penalty. Those goals are as much on the team, which gave the Stars eight power play opportunities, as they are on Hutchinson.
In the third period John Klingberg put the game away for Dallas, with back-to-back goals less than five minutes apart.
I like Michael Hutchinson's confidence when it comes to playing the puck, but maybe he should stay in his net. Saying it with peace & love.

— Michael Remis (@mremis) February 1, 2015
Again, overall Hutchinson just wasn't good enough. For all the criticism handed to Ondrej Pavelec, most fans will be calling for him to start the next game and he likely will.
That said, it remains advantage Hutchinson on the season. Two bad starts may slow his momentum, but should not stop it. Hutchinson is likely still on track to making as many starts as Pavelec in the second half of the season.