Most North American sports fans are probably spending Sunday watching the Super Bowl. That got me thinking, which NHL stars have the best attributes to potentially cross over to the NFL? As all hockey fans know, hockey players are the best athletes. These top performers do their craft on frozen water every night, grass and cleats would be no problem!
Tight Ends: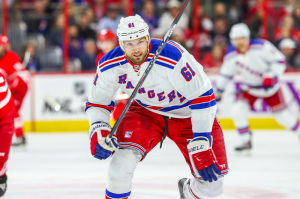 Brent Burns (San Jose Sharks), Milan Lucic (Boston Bruins), Bryan Bickell (Chicago Blackhawks), Rick Nash (New York Rangers)
These four forwards are big, nasty and hard to defend when they have the puck in the corner. Nash is having an awesome year with the Rangers and uses his 6'4″ frame to shield off defenders. Likewise Brent Burns known for his butt-checks on the ice, would be terrific at knocking over defenders and getting free inside the red-zone.
Outside Linebackers
Zdeno Chara (Boston Bruins), Brian Boyle (Tampa Bay Lightning)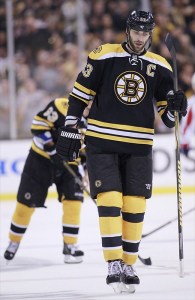 You want to talk about knocking down passes at the line of scrimmage, Chara 6'9″ and Boyle 6'8″ would be a menace for opposing quarterbacks trying to get passes off from the pocket.
Free Safeties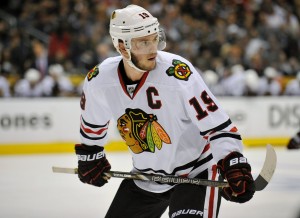 Jonathan Toews (Chicago Blackhawks), Joe Pavelski (San Jose Sharks), Patrice Bergeron (Boston Bruins)
These two way centers are puck hawks, always around the puck, they are puck magnets if you will. They always seem to be in the right place to create turnovers.
Shut Down Corners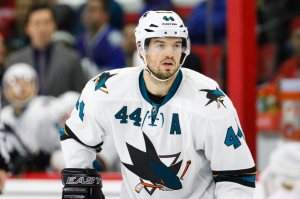 Drew Doughty (Los Angeles Kings), Marc-Edouard Vlasic (San Jose Sharks), Ryan McDonagh (New York Rangers), Ryan Suter (Minnesota Wild)
Need a player to shut down the opposing team's top wide-receiver? These four defenseman can go toe-to-toe with anyone and prevent them from getting the ball.
Strong Safeties
Shea Weber (Nashville Predators), Cody Franson (Toronto Maple Leafs), P.K. Subban (Montreal Canadiens), Victor Hedman (Tampa Bay Lightning)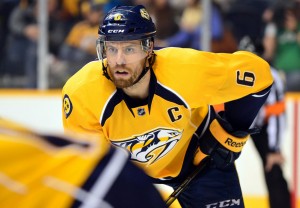 These defensemen provide an intimidating force out the on ice and would do so on the gridiron as well. Subban may not have the size as some of these other defenders but he loves to throw his weight around and does so effectively.
Wide Receivers
Alex Ovechkin (Washington Capitals), Steven Stamkos (Tampa Bay Lightning), Tyler Seguin (Dallas Stars), Wayne Simmonds (Philadelphia Flyers), Zach Parise (Minnesota Wild)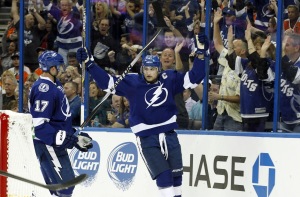 Goal scorers who aren't afraid to go to the dirty areas to score goals. Ovechkin would be the closest thing hockey has to offer to the Detroit Lion's Megatron wide receiver Calvin Johnson. Zach Parise is analogous to New England receiver Julian Edleman.
Quarterbacks
Sidney Crosby (Pittsburgh Penguins), Joe Thornton (San Jose Sharks), John Tavares (New York Islanders), Pavel Datsyuk (Detroit Red Wings), Claude Giroux (Philadelphia Flyers), Kevin Shattenkirk (St. Louis Blues), Mark Giordano (Calgary Flames), Keith Yandle (Phoenix Coyotes), Ryan Getzlaf (Anaheim Ducks), Anze Kopitar (Los Angeles Kings)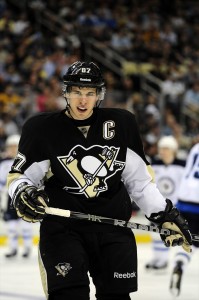 What do all these players have in common? They are all the best players on their respective squads. Each one can make passes into the smallest of windows with the game on the line. They put their teams on their backs and carry them to victory. Each one has the savvy on the power-play to distribute to the open player where others may force it into coverage.