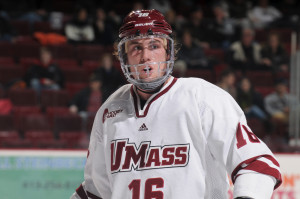 In recent years, the small city of Pittsburgh has been producing top NCAA Ice-Hockey talent in both DI and DIII. Recently I have caught up with a number of these former and current players to get their take on some the various aspects of College Hockey, and see why Pittsburgh is being mentioned in the same breath as Massachusetts, Minnesota, and Michigan, despite just being small city in western PA.
In Part 1 of "Pittsburgh and College Hockey", I spoke with a name that may be very familiar to the casual NHL fan. Eddie Olczyk, son of… Eddie Olczyk. Edzo has a very interesting story in college hockey. Having played Division I in one of the best conferences in college hockey, and then moving to Division III as an assistant coach and coaching at one of the best atmospheres in College Hockey. Not a lot of players/coaches have ties in both Division I and Division III. Also, he has strong family ties in what seems like every conference the NCAA offers.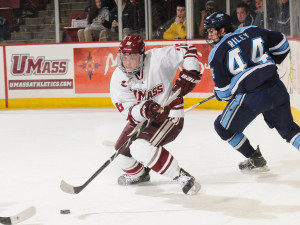 Eddie played his puck at UMass-Amherst in Hockey East, and now coaches at Utica College in the ECAC-West.
(Division III Atmospheres that Rival Division I)
Eddie was born in Illinois, but moved to Pittsburgh while his father was playing for the Penguins. Growing up in Pittsburgh allowed for Eddie to play local AAA and High School Hockey, honing his skills before going off to the USHL.
Having played against him in high school, I was always a fan of how Edzo played the game, very smart and confident, while still leaving just enough space for creativity if need be. Then attending a DIII school just up the street from where Eddie was playing DI, allowed me to take in his game at the College level on a number of occasions in the Mullins Center. I didn't see him make too many mistakes between the blue lines, he always seemed to get the puck out, and he back checked with intention, not just to do it. He played the grinder splendidly for the Minuteman.
Here's Eddie:
1. Eddie, How are you?
"I'm doing well. Our team (Utica) just came off a big win against Manhattanville this past weekend. Our team is rolling right now after a little bit of a slow start. We're 7-1-2 in our last ten, so we are trying to ride the wave."
2. You played your College Hockey in Hockey East for the storied Minutemen of UMass-Amherst. Tell us a little about your 4 years in New England.
 "Playing at UMass-Amherst was one of the greatest experiences I've had in my life. I've met some of my best friends while playing there. The faculty and staff, coaches, equipment managers, athletic trainers, and students are the reason UMass was such an amazing place to play. We'd play against BU or BC at home at the Mullins and we'd have 8,000 people pack the rink. It's safe to say there was no pulse check needed for my teammates and I on those nights. In my mind, Hockey East is the greatest conference in all of college hockey… the all around atmosphere that surrounds the entire conference is unparalleled."
3. How did it come about, you coaching at DIII Utica?
"This past summer I was back home in Chicago training to try to get a try out somewhere to play in the minors again, until I received a call from Gary Heenan. He was in need of a new assistant coach, and was wondering if I was interested in taking the position. After making one of the toughest decisions of my life, and hanging up the skates, I wholeheartedly took him up on his offer."
4. This is your first year transitioning from Professional Hockey player, back to the NCAA as an assistant coach. What has that Transition been like for you?
 "A bit of an adjustment at first. I'd get on the ice for practice and I'd almost have to remind myself that I'm coaching now, and I'm not just one of the guys. My entire career I was a penalty killing forward, and my role with Utica is running the defensemen and powerplay, so that was a big adjustment."
5. Having played against Utica at the "Aud" a few times, I can honestly say it one of the best atmospheres in all of College Hockey. What does playing in an arena like the "AUD" every week provide for you and the Pioneers?
"I can honestly say that The Aud is one of the greatest atmospheres, not just in college hockey, but in all of hockey. Utica is without a doubt a hockey city. We know players will want to come and play here when they come for a visit and watch one of our games, that's a no-brainer. Recruiting wise, and it wouldn't be possible without the support of our loyal fans."
6. What has your time at DI UMass allowed you to bring to Utica as a coach?
"Playing at UMass helped me understand how important paying attention to detail is, as well as acting like a professional on and off the ice. I think that reminding players that hockey may end one day is important, because this helps them understand how necessary it is to succeed in the classroom, as well to develop themselves as individuals throughout the community."
7. What was your locker room role for the Minutemen? What leadership qualities did you pick up from guys like Michael Marcou, TJ Snyer, and longtime coach Don Cahoon?
"My role in the locker room was an energy guy. I tried to stay as positive as possible regardless of wins and losses. I firmly believe that positive energy is infectious, and regardless of how your day is going, it is necessary to be a good teammate. I had a lot of great captains at UMass like Brett Watson, TJ Syner, Danny Hobbs, and Mikey Marcou. These guys played so hard, and truly did lead by example. Coach Cahoon and John Micheletto bleed the game of hockey. Their knowledge for the game and professional approach before practice and games is something that I saw every day I came to the rink. They are truly some of the most influential people I have met in the hockey world."
8.What is it like working with Gary Heenan on a daily basis?
"Working with Coach Heenan has been a great experience. You see a lot of coaches at different levels who focus strictly on hockey, but he does it all. He took this program 14 years ago and built it from the ground up into one of the premier DIII programs in the entire country. The success that Utica has had is evident through his work ethic as a coach and as a person. One of the biggest reasons we do have such a heavy following is because of all the community service we do as a program. Coach Heenan is a big advocate for keeping the guys involved in the community, and continually stresses the need to give back. I couldn't think of a better situation to be in, or to have a better individual helping me during my first year behind the bench."
9. Utica played Oswego this year at Syracuse's Carrier Dome in the Frozen Dome Classic. It broke the DIII NCAA attendance record, and was one of the best games I've watched in some time. What was it like to be apart of an event like that?
"The Frozen Dome game against Oswego was a game that will stick with me for a very long time. All the behind scenes people who go unnoticed did a fantastic job organizing the event. Breaking the DIII attendance record is not something many people can say they share… and we are humbled that were able to be involved."
10. You are one of the few people in College Hockey who have experience with both DI and DIII. Talk about the similarities a bit, the differences?

"During my playing career I never really followed DIII hockey. I had a few friends that played for teams, but I really didn't know much about it. Now that I am around it every day I can definitely draw a lot of similarities from both. Players from both levels play extremely hard, and they all want to get better. The majority of players are strong students in the classroom and take a lot of pride in learning. The biggest difference between the two is the budget for unlimited new equipment, as well as the recruiting side."
11. You come from a pretty remarkable hockey family. Your dad obviously had a tremendous NHL playing career and post-playing career. Now comes the impressive college hockey ties. Your Uncle was All-Ivy at Brown University in the early 90's. Little Brother Tommy plays at DI Penn State. And baby bro Nick is in the USHL and committed to Colorado College for the fall. What is it like to sit down at Olczyk dinner table during the holidays and discuss hockey?
"As a family, we are very fortunate for all the game of hockey has allowed us to do. I've lived in 11 different cities for 6 months or more, traveled to hundreds of others, and have met some of the greatest people in the world all because of hockey. My brothers and I have been lucky to be able to learn all that we know about the game through our dad, and our uncle Rick. It's great to see Tommy and Nick doing so well with their careers. We have a great relationship with one another, and we are all very close."

Eddie Olczyk at Umass
12.You more than most know the level of competition, commitment, and dedication that is involved with playing in the NCAA. What makes College Hockey so great in your opinion, and what would you tell someone like your little brother who is about to embark on the 4 year journey?
"College hockey is much different than playing minor hockey, juniors, or even at the professional level. You come to school as a 18-21 year old freshman with a bunch of guys who have entirely different backgrounds. You may be strangers at first, but when you graduate you become brothers for life. The life experiences you gain, and lessons you learn about yourself while playing at the college level is unmatched. There's nothing like going to class, and then going to the rink everyday."

"…If you're a young player who is about to start your college hockey career I think the two biggest pieces of advice I can offer is to step outside of your comfort zone. Challenge yourself to become a better person every day you step inside the classroom, and on the ice. When times get tough the easy thing to do is to point the finger or give up, but college hockey will help you learn how important accountability is in every facet of life."