NHL color analyst and ex-player Eddie Olczyk is celebrating his birthday on Aug. 16, and life is certainly good.
But it wasn't always that way. Olczyk's world was turned upside down just a few short years ago in Aug. 2017 when he was diagnosed with colon cancer. Since then, the man the hockey world affectionately refers to as "Eddie O" or "Edzo" has embarked on an incredible journey of strength and courage.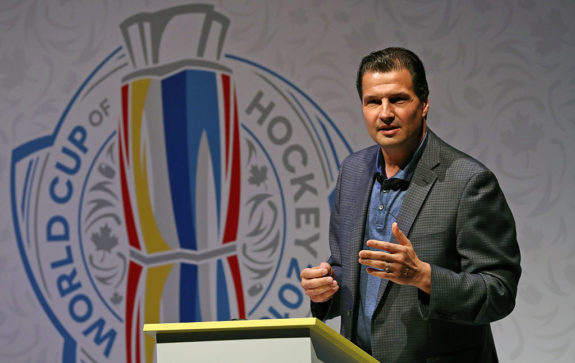 Olczyk exudes a down-to-earth and relatable nature. He personifies many aspects of the common man. But he is anything but common, especially when it comes to the passion and enthusiasm he seems to always have around hockey and all aspects of life. His recent struggles remind us to appreciate and gain inspiration from the life he's built for himself.
Among America's Best
Olczyk's rise to popularity off the ice began on it. He was drafted by his hometown Blackhawks third overall in the 1984 NHL Entry Draft and finished his career with the same organization 16 years later. Between his playing career's bookends in Chicago, he spent formidable years with the Toronto Maple Leafs and also played in stints with the Winnipeg Jets, New York Rangers, Los Angeles Kings, and Pittsburgh Penguins.
Related – A Blackhawks' History: Irrelevance to Prominence & Back Again
During his inaugural 1984-85 NHL season, Olczyk, as an 18-year-old, was an immediate contributor in the Blackhawks' run to the Campbell Conference Final. He tallied 20 goals and 30 assists during 70 regular-season games and scored another 11 points in 15 playoff games.
As a member of the 'Clydesdale Line', which included Curt Fraser and the Blackhawks' current radio color analyst, Troy Murray, Olczyk posted three successful seasons with Chicago. Ironically, the Clydesdale Line's name was coined by Edzo's current Blackhawks' TV partner, Pat Foley. It is considered by many to be one of the best nicknames in NHL history. Coincidentally, while it had nothing to do with the naming of the line, Olczyk is also an avid horse racing fan and is involved with the sport in a multitude of ways.
After his first stint in Chicago, Olczyk dialed up the best statistical years of his career during the 1988-89 and 1989-90 seasons with the Maple Leafs. He tallied 90 regular season points during 1988-89 and followed that up with an 88-point season the next year, competing in all 160 contests over the two-year stretch. He then spent nearly a decade bouncing around the league, including a notable stop with the Rangers during the team's 1993-94 campaign. While Olczyk was not a significant contributor to the squad in large part due to injury, he did win his one and only Stanley Cup with the Rangers.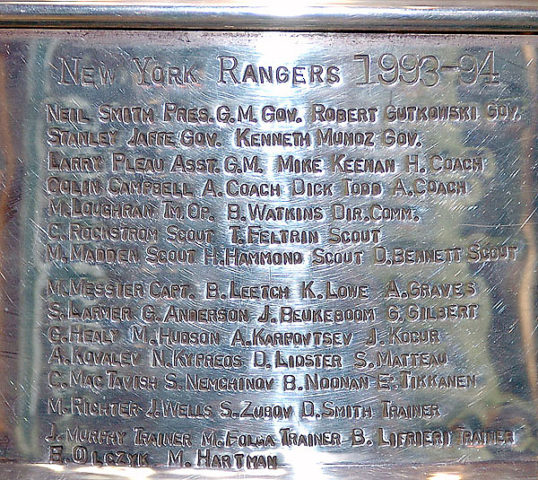 Most would consider Olczyk one of the 25 best American-born players to grace the league. He finished his career with 342 goals and 452 assists (794 total points). Among his American-born peers, those numbers rank 17th, 25th and 19th, respectively. When Olczyk retired, he took his propensity for success on the rink and carried it with him off the ice.
Eddie Olczyk – The Voice of Hockey
Since Olczyk's playing career concluded in 2000, he has spent the large majority of his time as a color analyst for both regional and national television broadcasts. Edzo started with FSN Pittsburgh, where this particular nickname was coined by his partner Mike Lange. He then moved from the booth to the bench for the Penguins to start the 2003-04 season. But his time there only lasted a few years, and Olczyk was dismissed from the Pens' head coaching job after the team's disappointing start to the 2005-06 season.
---
---
But the Chicago native's post-playing days were just getting started. Prior to the start of the 2006-07 season, Olczyk was hired as the Blackhawks' TV color analyst for games on Comcast SportsNet and WGN. He would join play-by-play man Dan Kelly for two seasons before the Blackhawks re-hired Foley and paired him with Olczyk. That same season, Olczyk was hired as the lead color commentator for nationally-broadcast games on NBC and NBC Sports Network (formerly Versus).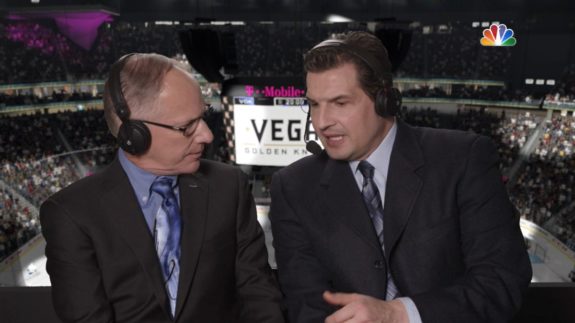 Since those hires were made, Eddie O has developed into the voice of Blackhawks hockey and one of the premier voices of the NHL. His broadcasts are lively, insightful and unique. He has developed his own style, and one that flows seamlessly with Foley and his national play-by-play partner Mike "Doc" Emrick. Fans and viewers have grown accustomed to his voice. His delivery of the action has, in some respects, become synonymous with the game.
Building a Legacy
Whether it's on the ice, behind the bench or in the broadcast booth, Olczyk has created a lasting legacy. He was inducted into the US Hockey Hall of Fame in 2012 and into the Chicagoland Sports Hall of Fame a year later.
Related – Meet the New Blackhawks: Robin Lehner
Olzcyk is also a lead instructor for Blackhawks Youth Hockey Camps. In 2011, the Blackhawks and their charities established the Eddie Olzcyk Award. The award assists individuals, families and sanctioned teams that may not have the financial or other means to compete. Since its inception, the award has distributed over $450,000 in grants to 212 individuals and eight organizations.
Winning the Battle with Cancer
Olczyk's life and history is certainly commendable. But it all came to a screeching halt on that August day in 2017 when he was diagnosed with cancer. Life changed, to say the least.
The once-invincible hockey hero underwent surgery to remove his tumor, and then had to endure six months of chemotherapy that was anything but pleasant. As he told Sports Illustrated,
I was in treatment three and came home and…my side effects were killing me. Chemo takes over your body. All of a sudden you s— your pants. It's the reality. You vomit, your nose starts bleeding, and you're like, how can I live like this? I told my wife, I'm done. I can't go another nine treatments. There's no way. I'm not going to live like this. I think I was asking for help. I think I raised my hand and said, look, I'm done. My wife grabbed me, and I said this last night, she said, "Fight for me, fight for our kids, fight for all the people who love you."
Olczyk did just that. He fought the battle and he won. After missing much of the 2017-18 season in the broadcasting booth due to his chemotherapy sessions, he returned in March of 2018 to announce he was cancer-free.
Olczyk has since furthered his legacy. In Oct. 2018, he was granted the Ace Bailey Award of Courage, which is given to "a recipient who has shown exceptional courage and exemplary determination in life." In November of that same year, Olczyk skated "One More Shift" with the Blackhawks as he was honored for his contributions to the organization. Fittingly, this was also during the Blackhawks' "Hockey Fights Cancer" night at the United Center.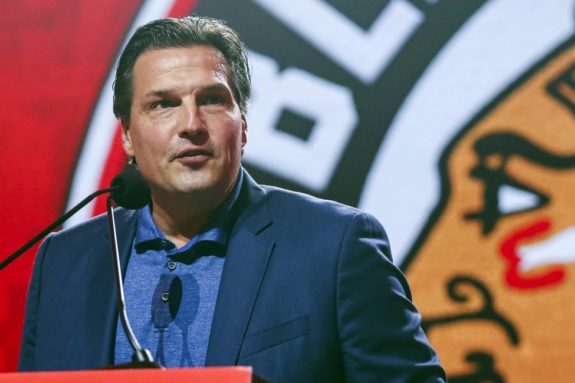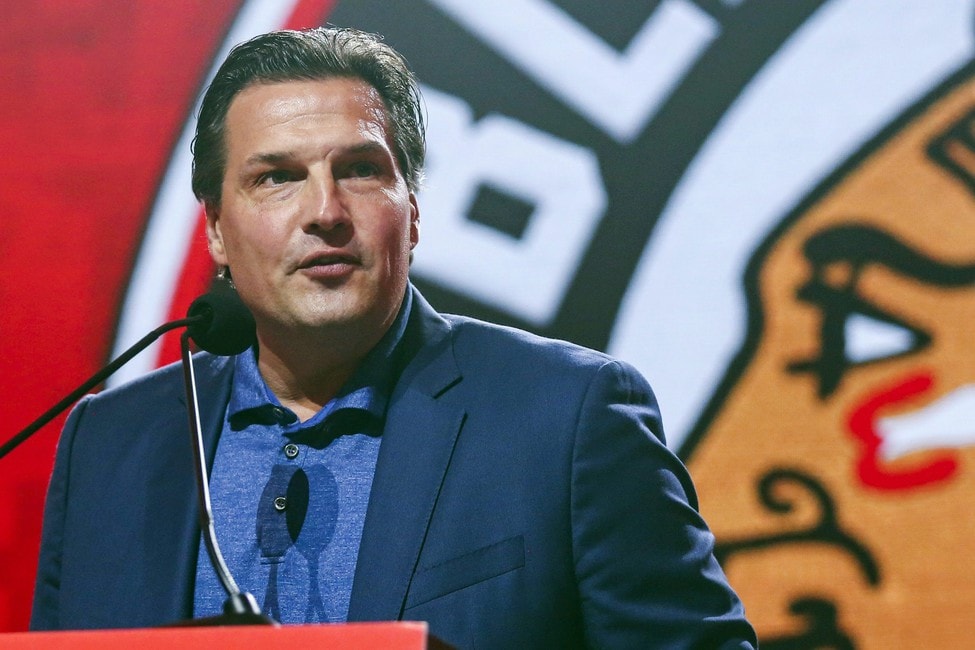 This courageous man took a terrible situation and made something positive out of it. He has been very public about his struggles in an effort to inspire and encourage others. In addition to being an ambassador for hockey, Olczyk can now be an ambassador for so much more. He can raise awareness, encourage routine preventative medical appointments and motivate those walking down the same path.
This is a true success story. Eddie O is back in our lives now. He's healthy, and he's renewed his old routine. We look forward to welcoming his voice into our living rooms as the 2019-20 season commences. Olczyk continues his legacy with hockey, and now with cancer awareness. It's a wonderful life, after all!
(Originally written by Scott Kline in Oct. 2017)
---
Latest News & Highlights
---