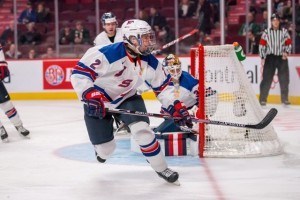 NHL Commissioner Gary Bettman said "Tonight we are looking forward to opportunity and renewal." Nothing could be more relevant to fans of the Carolina Hurricanes in this 2015 NHL Entry Draft. A team that has missed the playoffs for the past six seasons definitely needs some renewal.
With that in mind, 'Canes GM Ron Francis held onto his fifth pick in the first round and selected Boston College defenseman, Noah Hanifin. At 6-foot-3, 203-pounds, Hanifin is considered by many to be the best defensive prospect available in this year's draft. NHL's Central Scouting ranks him third overall among North American skaters.
On the Hurricanes website, they profiled Hanifin and others. Of Hanifin,  Tony MacDonald, the Canes' chief amateur scout said,
"He's a big man. He plays a very efficient and effective game."
The 'Canes need defense as I wrote about here. Hanifin could be a great start for meeting that need.
Hanifin is 18 and  recorded 23 points (5g, 18a) in 37 games with Boston College. That was the third-most among freshman NCAA Division I defensemen. The question will be for 'Canes fans, "Is he ready?" Or will he be in the form of Haydn Fleury and take a some time to develop? In any event, this was the best pick for the 'Canes with where they were and who was available. A hat-tip to Francis.
Picks to Come
The 'Canes have the fifth pick in both the Second Round – 35th overall, and in the Third Round – 66th overall.
In the Fourth Round they have the second and fifth picks – 93rd and 96th overall. This pick was obtained when they Tim Gleason to Washington Capitals for Jack Hillen.
In Round Five, Carolina has the fifth and 17th picks – 126th and 138th overall. The 17th was obtained when the 'Canes traded Jiri Tlusty to Winnipeg Jets.
In Round Six they have picks five and 18 – 156th and 169th overall. The 18th pick was obtained when they traded Jay Harrison to the Winnipeg Jets.
In Round Seven they have the fifth pick – 186th overall.
Make sure to keep an eye on THW's NHL Draft Live Tracker and THW's Deal Tracker for up to the minute info on the Draft, deals and signing going down.
Mark Shiver is a staff writer for The Hockey Writers credentialed with the Carolina Hurricanes. You can follow him on Twitter @markshiver