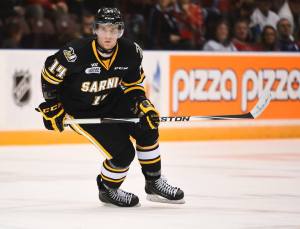 The New Jersey Devils have selected Pavel Zacha with the 6th overall pick in the 2015 NHL Entry Draft.
Zacha is exactly the type of player the New Jersey Devils needed. He's a center, has a great shot, and he has a physical edge to him that not many prospects in the top-10 have. Zacha played with the Sarnia Sting of the OHL this past season, and he scored 34 points in 37 games.
The point total may not seem like much, but he was injured for parts of the season. Zacha isn't the kind of player who can step into the lineup next season and produce, but he's the type of player that in maybe two years could become a force on a team that desperately needs offense. Look out for Zacha.
[RELATED: Pavel Zacha – The Next Ones Profile]
The Devils still have five picks remaining in the draft. They have two picks in the second round, first being their own pick at 36th overall, and the 41st overall pick they acquired in the trade with the Florida Panthers at the trade deadline in exchange for Jaromir Jagr.
Their last three picks are 66th overall in the third round, 96th in the fourth round, and 156th pick in round six.
For more on the 2015 NHL Draft, be sure to follow The Hockey Writers' live draft and trade trackers throughout the night.