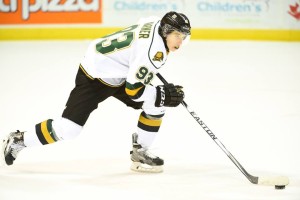 The Toronto Maple Leafs have drafted Mitch Marner with the fourth overall pick in the 2015 NHL Draft.
The Maple Leafs opted for speed and skill instead of defense as the Leafs went with Marner. It really shouldn't have surprised anyone as Mark Hunter was able to draft him for the second time after taking him with the London Knights.
With the Leafs rebuilding, it is unlikely we see Marner with the team this season. He'll get as much time as he needs to develop with the Knights before probably playing a season or two for the Toronto Marlies. The Leafs hope that he can play like the player everybody compares him to in Patrick Kane. However, it will be a while before we see him in a Leafs jersey on a regular basis.
[RELATED: Mitch Marner – The Next Ones]
The Leafs pick again in the first round at No. 24, the pick they acquired in the Cody Franson and Mike Santorelli deal. They are missing second and third picks. Will Brendan Shanahan and Kyle Dubas make a move to acquire a pick in those rounds that remains to be seen.
Make sure to keep an eye on THW's NHL Live Draft Tracker and Deal Tracker for up to the minute info on the Draft, trades and signings going down.