by Eldon MacDonald (edited by @ChrisRalphTHW)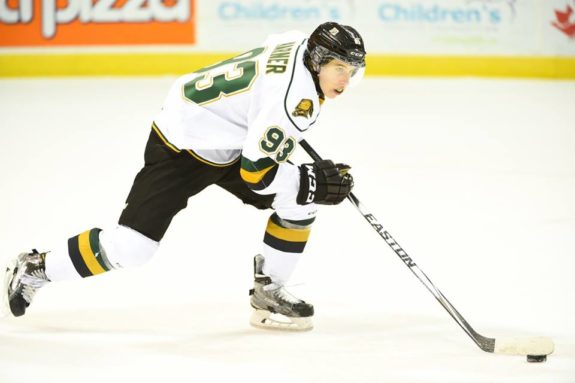 NHL Draft War Room: Mitchell Marner
THW's NHL Draft War Room Rankings – Jan-14: #3
Hashtag: #TheMagican
Team: 93, London, OHL
Position: Centre/Right Wing
Shoots: Right
Height: 5'11
Weight: 164 lb.
Born: Thornhill, ON, 5-May-97
Twitter: @Marner93
Stats
Other Rankings
From THW's NHL Draft War Room
Eldon MacDonald, THW:  A few words on Mitchell Marner: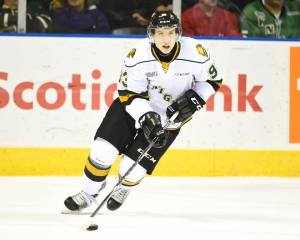 Yeah, do you believe in magic
Believe in the magic of a young player's shot
Believe in the magic of a player that can get so hot
Believe in the magic that can draft a player at three
Ohhh…talking bout Mitch Marner!
Yes, Mitch Marner is the Magican. He is the master of illusion, the master of the decoy, the master of deception. At this point in the season, the Magician leads the CHL with 119 points.
Just another day for Mitch Marner, 3 more points after 2 periods, leads OHL in scoring by decent margin. Last 17 YO to do that was Seguin.

— Corey Pronman (@coreypronman) January 11, 2015
Five Reasons Mitch Marner May Go Number Three After Connor McDavid and Jack Eichel:
Master of deception: My favourite Mitch Marner Master of Deception move is his Harry Houdini Skate up to the opposition defenseman until you can't go any farther without touching his nose. Contort and angle your body so it backs up on itself and then you have all the time in the world to unleash a magic shot – I say, a magic shot because it usually magically causes a big red light to go on. There are many other magical moves from the master of deception. You usually need to re-watch them because many are of the "How'd he do that?" nature.
Big time game reader: Mitch Marner is also Captain Obvious. He does the obvious things that all players should do, including:

Scouting the enemy formation before he receives a pass so that he can immediately penetrate any weaknesses in their defense.
Hunting his prey aggressively on the forecheck and using deception, change of path, change of angle, change of speed and an active stick to remove them of their most coveted possession, the puck.
Camouflaging his shot based on the opposition setup with dekes, dangles, change of angle, change of body position, change of speed – what you see is often not what you get.

Impersonator: Does the best impersonation on the London Knights of the offensive skills and results of Patrick Kane since, well, Patrick Kane.
Finisher: He has anelite finish because his shot selection are all elite with a quick release, multitude of variations and camouflaging ability make him close to unstoppable when he is on a roll, which is most of the time. There are only a few London Knights with 40 goals at age 17:
Constant threat – He looks like he is going for it every shift with or without the puck.
#ICYMI Do the London Knights have a new Patrick Kane? @THNRyanKennedy on 2015 draft prospect Mitch Marner: http://t.co/OZpmT7D92A

— The Hockey News (@TheHockeyNews) January 17, 2015
Offense: Elite, the works.
Shot – Amazing release (sometimes it seems that it is just a flick), amazing wide variety of slappers and wristers, amazing decoys from any location.
Passing – Becoming more of a shooter but still makes his teammates look pretty with his physical passing skills and his mental passing skills of knowing when, where and how to pass.
Stickhandling – Adroit, adept; the deke, the dangle, the defense is left with only their imagination.
Vision – Has the mental skills to do the what, where and how as required. His cerebral game is as good or better than his physical game.
Puck protection – Top-end, a strength.
Creativity – If you haven't guessed it by now, Mitch will try just about anything and usually succeeds. He is at the very top end of the 2015 draft class for creativity with only Connor McDavid probably being slightly superior.
Defense: Yes, he does PK duty; yes, he will block shots; yes, he will come back down low; yes, he has a very active stick; yes, he is very effective on the breakout. Yes, there are a few better defensive players out there but Mitch Marner provides you with a complete game that is only evolving.
Awards and Achievements:
2013-14: OHL – Runner-up for most rookie points
2013-14: London Knights – Rookie of the Year
2014-15: OHL – Player of the Month (Nov-14)
2014-15: Pacific4 Sports Management draft eligible Forward of the Month (Nov-14)
Improvements to make: Mitch does not have any major weaknesses in his game. He will, however, need to add some weight and strength to be as effective in the NHL as he is now in the OHL.
NHL Projection: So where does Patrick Kane play? Would it be first line right winger, first team power play and on a top team as well? I think you can say ditto to all of that for Mitch and maybe add a little PK, defensive acumen and successful forecheck as well.
Draft placement : Most of the rankings have Mitch in the 3 to 6 range. Sometimes smaller players can slip but I don't think that will be the case for Mitch. I have him at 3 and yes, I like him a lot; he is a player I have seen a lot of this year and last year and I think he will be a high-end player in the NHL in a few years down the road.
Editor's Note
Does Mitch "The Magician" Marner have an outside shot at making an appearance in the 2015 NHL Draft just after Connor McDavid? Hypothetically speaking, if I were an NHL GM or head of scouting, I would be tempted to do just, despite the immensely talented, athletic and proficient Jack Eichel in the mix. Realistically, he's more likely to go in the aforementioned 3 to 6 range, but a team could do worse by building around this unique, relentless, uber-talented prospect. While Eichel is still the probably frontrunner to be this year's Evgeni Malkin to McDavid (as Geno was to Ovechkin in the 2004 draft as the 2nd overall pick), don't count out The Magician.
Forget the playoff races, the #OHL scoring race is more fun to watch right now. LDN's Mitch Marner with 6 pts last night, 118 on the season.

— Mike Farwell (@farwell_ohl) March 1, 2015
Interviews
Profiles
Quotable
Video
[catlist categorypage="yes" numberposts=3 excludeposts=this]