You probably just read that headline, and now you're thinking: "this girl is absolutely insane. The Minnesota Wild have the best goalie in the league right now." And you would be correct. The Wild do have one of the hottest netminders in the league, but what happens when you have the hottest goaltender and no backup?
Dubnyk to the Rescue
Last night, Devan Dubnyk made his 22nd consecutive start, continuing to shatter the franchise record for the Minnesota Wild. Since he was acquired on January 14, Dubnyk has started every game for Minnesota, earning a 16-3-1 record. That's incredible.
What's even more incredible is that Dubnyk's presence has helped the Wild storm back into the playoffs. In a little over a month with Dubnyk in net, this team has gone from close to the bottom of the Western conference to fifth place, surpassing the Winnipeg Jets with their win over Washington last night.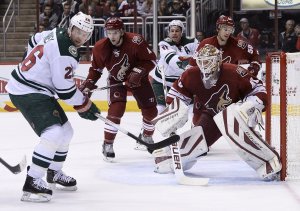 Minnesota was a long-shot to make the playoffs before Dubnyk was in the picture, but now this team looks unstoppable.
All of this sounds great. And it is great. Dubnyk has been nothing short of amazing for this team. But surprisingly, he isn't superhuman, and that means he does need a night off at some point.
Backstrom? Kuemper?
This brings up the question: who starts for the Minnesota Wild in place of Kuemper? Or does Mike Yeo just keep playing Dubnyk and risk running his starting goaltender into the ground when the team needs him the most?
Now I know Kuemper and Backstrom are both perfectly capable of stopping pucks (I think), but the Wild have so much confidence on the ice right now. I'm terrified of what will happen if something disrupts this team's streak.
Now I may be exaggerating in thinking this could be a crisis. It's not like Minnesota is pulling some random guy off the street and sticking him in net so Dubnyk can have the night off, but it has been a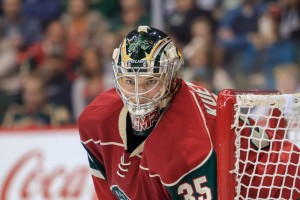 while since anyone else was in the net.
According to Chad Graff of the Pioneer Press, Darcy Kuemper would be expected to get the start if Dubnyk gets the night off:
If Dubnyk doesn't play in Carolina Friday, Darcy Kuemper will likely get the nod. He hasn't started a NHL game since Jan. 6, although he spent two weeks in the AHL on a conditioning stint at the end of January and beginning of February.
Who knows, Kuemper may come out and surprise everyone. But worrying about if your goaltender can stop a puck isn't going to instill confidence in the rest of the team. In the long run, the Minnesota Wild need to find a stable back-up option. Devan Dubnyk has been on fire, but he can't do it all by himself.
The Wild play the Carolina Hurricanes tonight, so we'll just have to wait and see what happens with this situation.
Alli covers the Minnesota Wild and has been a contributing writer with THW since August 2014. She is currently a journalism and sports management student at the University of Minnesota. For all of your Minnesota Wild news and updates, follow her on twitter: @allibaker23