Nicolas Meloche THW Close-Up:
Date of birth: 7/18/1997
Place of birth: LaSalle, QC, Canada
Ht: 6'2″     Wt: 198 lbs
Shoots: Right
Position: D
NHL Draft Eligibility: 2015
Twitter: @nicolasmeloche
THW The Next Ones Rankings (February): 29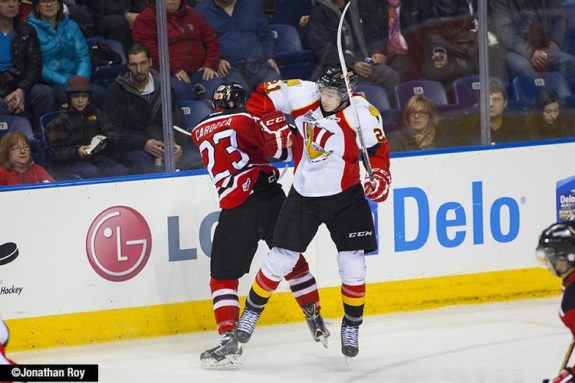 Other Rankings:
THW War Room Rankings (March): 36
Future Considerations: not ranked
HockeyProspect.com (February): 29
Last Word On Sports (February): not ranked
Craig Button (March): 26
CS Final Rankings for North American skaters (January): 45
***
If it's a talented defenseman with a mean streak you're looking for, Nicolas Meloche is the player you want. Meloche relies heavily on his positioning in the defensive zone because he simply doesn't have the foot speed to catch the opposition. His defensive awareness is superb and has excellent gap control.
No matter the circumstance, Meloche is always willing to stick up for his teammates and isn't afraid to drop the gloves – his 99 PIM this season speaks for itself. He knows when to play physical and when to do just enough to cause a turnover. Meloche clears people in front of his net so his goalie can get a better angle on the puck.
It's not just his defense that makes Meloche an effective blueliner. He's quick to push the puck out of the zone and makes an intelligent first pass. With one of the best point shots in the draft, he uses his booming slapshot to get the puck to the net to create chances. In 2013-14, Meloche played 54 games and scored 25 points. This year, he was able to put up 34 points in 10 less games.
Where Will He End Up In June:
Nicolas Meloche might sneak his way into the 1st round of the draft, but it's likely he gets selected in the early 2nd round.
Scout's Honor:
"A good sized, two-way blue liner…has some power to his stride but his footwork is still a little clumsy and off balance…a big kid who isn't afraid to use his size to play physical in the corners and along the walls…sees the ice well and makes some strong outlet passes…very active using the stick…likes getting under the skin of his opponents…has a heavy point shot…needs to read the play in his own zone a little quicker and play with more intensity on a consistent basis…at his best when he keeps his game simple. (December 2014)"
"Usually young defenders who display strong two way game don't come with a full package and toolbox. Not so here. He is player who is strong positionally but also displays mobility and strong physicality. Already mature in his understanding of his position. He takes attackers to the outside, with good gaps and timing. Retrieves many of those pucks and quickly advances them with quick outs. Reads the outlets and is precise in his passes, causing odd-man breaks at the other end. Is developing as pointman on the PP. Will walk in along the wall to open things, and is also starting to walk the blue line to set up the attack on the PP. A big man with excellent mobility. Looks destined to go early."
Bill Placzek – DraftSite.com
Statistics:
International Tournaments:
Meloche has played for Team Canada on three separate occasions and won gold medal in the Ivan Hlinka tournament.
ETA:
2-3 years
Risk/Reward Analysis:
Risk: 1/5   Reward: 3.5/5
NHL Potential:
2nd pairing two-way defenseman that can play PP/PK.
Strengths:
Physical
Point shot
Plays in all situations
Clears players from in front of the net
Positioning
Size
Sticks up for his teammates
Flaws/Aspects He Needs To Work On:
Speed
Lateral movement
Fantasy Hockey Potential:
Offensive: 4.5/10    Defensive: 7/10
NHL Player Comparison:
– NHL comparison: Dan Hamhuis
Video(s):
Goal is at 3:15 in the video below
***
THW's The Next Ones prospect profile template design architect: Chris Ralph