Dmytro Timashov THW Close-Up:
Date of birth: 10/1/1996
Place of birth: Kirovograd, Ukraine
Ht: 5'10"     Wt: 187 lbs
Shoots: Left
Position: LW/RW
NHL Draft Eligibility: 2015
Twitter: @DTimashov
THW The Next Ones Rankings (February): Not ranked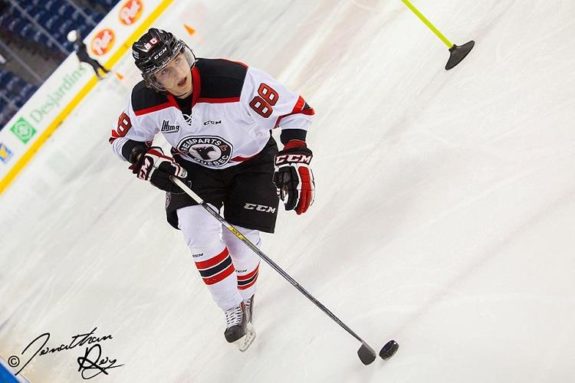 Other Rankings:
THW War Room Rankings (January): 87
Future Considerations: not ranked
HockeyProspect.com (February): not ranked
Last Word On Sports (February): not ranked
Craig Button (March): not ranked
CS Final Rankings for North American skaters (January): 58
***
Born in the Ukraine, Dmytro Timashov moved to Sweden when he was 7-years old. That was when he started to play the game of hockey and hasn't looked back since. He's played in numerous tournaments for Team Sweden and even played a handful of games for the famous MODO Hockey Club in the SHL last season. But the fast track for Dmytro wasn't going to be on Swedish ice. He decided to take his game to the CHL and play for the Quebec Remparts.
In his first season with the Remparts, Timashov is well over a point-per-game pace and has wowed scouts and fans all year. His short stature allows him to accelerate quickly with a few quick strides and keep the momentum and speed going all over the ice. Furthermore, at those speeds it's as if the puck is on a string when he has it. Dmytro is able to get out of tight situations with his elusive stickhandling.
I've watched many Remparts games this season and he started the year well, but was a bit of a puck hog. The instincts of when to pass the puck were lost on him. However, as the year has progressed he's done a fantastic job finding players open around the ice. While shifty, Timashov can get knocked off the puck easily if the opposition catches up to him.
Players under 5'10" don't really get a fair shake in the NHL, but we're beginning to see more and more undersized players get chances. Overall, Timashov is a heads up player and will be getting his chance when he hears his named called in June.
Where Will He End Up In June:
Timashov has a polished skill set, but his height might be a factor in him falling a bit in the draft. From a pure offensive point of view, Timashov could be drafted in the 2nd round, but I feel a 3rd round selection is more probable.
Scout's Honor:
"An offensive catalyst who makes electrifying moves with the puck… can get caught over handling it at times…a very fluid skater and he is always moving his feet…likes the puck on his stick and knows what to do with it…makes things happen whenever he is around the puck…has a good quick wrist shot that is also consistently on target…dangerous in the shootout because of his creative bag of tricks…a goal scorer…has good vision as well and makes skilled passes…not great size but is strong and has the speed and elusive ability to compensate. (December 2014)"
"Short stature is not a concern as he's involved all over the ice. Has consistently been the most dangerous forward in the Q so far this year."
Kyle Woodlief – USA Today
"Fireplug winger who arguably is the most dangerous player in the entire Q.A tremendous stickhandler and agile skater who can make any defender look bad. He basically is a perimeter player who can center of the puck and control it in most areas at high speed while patiently reading his options. You are not drafting a strong defensive player but the trade off is a guy who makes odd-man rushes and match-up challenging the entire game. "
Bill Placzek – DraftSite.com
Statistics:
Bio/Interview(s)/Links:
International Tournaments:
Timashov has played five times for Team Sweden in various different tournaments. He's won three gold medals and two silver medals.
ETA:
3-4 years
Risk/Reward Analysis:
Risk: 3/5   Reward: 4/5
NHL Potential:
Top-six scoring threat and playmaker.
Strengths:
Fluid skating
Speed/agility
Stickhandling in tight spaces
Vision
Finding open teammates
Hockey IQ
Flaws/Aspects He Needs To Work On:
Adding extra weight
Defensive play/awareness
Fantasy Hockey Potential:
Offensive: 7/10    Defensive: 3/10
NHL Player Comparison:
– NHL comparison: Mats Zuccarello
Video(s):
***
THW's The Next Ones prospect profile template design architect: Chris Ralph