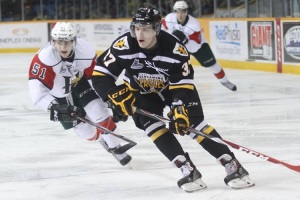 The Detroit Red Wings have selected left winger Evgeny Svechnikov from the Cape Breton Screaming Eagles with the 19th overall pick in the 2015 NHL Entry Draft.
This was Detroit's second highest pick in a draft since 1991 when they took Martin Lapointe with the 10th overall pick. Svechnikov is an above average scorer with skilled hands and unbelievable speed.
He's coming off a good season with the Screaming Eagles where he recorded 78 points (32g-46a) in 55 games for his QMJHL club. He added seven points in seven playoff games.
Svechnikov also isn't afraid to throw his body around and will help the Red Wings in the future on the wing. While his defensive ability is certainly something the Wings will need to help him develop, Svechnikov has the potential to turn into a top-six forward at the NHL level.
[RELATED: Evgeny Svechnikov – The Next Ones]
As of right now, the Red Wings have six more picks – with the second round being their only missing pick. There's still a lot of talent left in this deep draft and Ken Holland and the Wings will look to take advantage with their remaining picks.
For all the latest trades and transactions, check out The Hockey Writers' live tracker and keep up to date with the latest draft picks with THW's live draft tracker.