Jeremy Roy THW Close-Up:
Date of birth: 5/14/1997
Place of birth: Longueuil, QC, CAN
Ht: 6'0″     Wt: 183 lbs
Shoots: Right
Position: D
NHL Draft Eligibility: 2015
THW The Next Ones Rankings (February): 18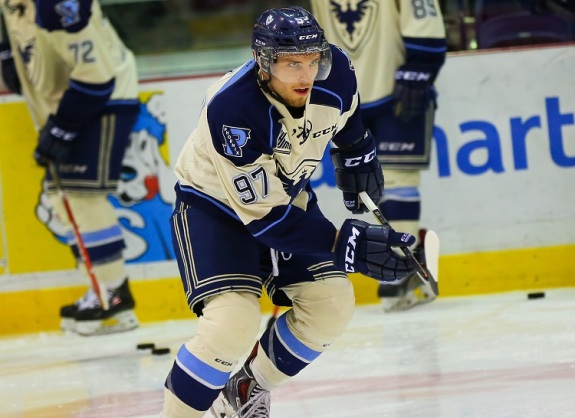 Other Rankings:
THW War Room Rankings (March): 15
HockeyProspect.com (February): 10
Last Word On Sports (February): 16
Craig Button (March): 21
CS Final Rankings for North American skaters (January): 23
***
The Sherbrooke Phoenix were the worst team in the QMJHL last season, but despite that, a bright spot was defenseman, Jeremy Roy. He's followed up a 44-point rookie season with a 43-point sophomore season. That stat isn't all that impressive until you realize he scored those 43 points in almost 20 less games. Furthermore, Sherbrooke ranks 8th overall in the entire QMJHL and secured a playoff spot.
Jeremy Roy is the best QMJHL defender available in this year's draft bar none. Instinctually, he's head and shoulders above the rest. He does his best work in the offensive zone where he's quick, agile, and makes smart plays to contain pressure against the opposition. He runs the powerplay like an experienced veteran.
While production on the scoresheet from defenders can be tantalizing, no one should be overlooking his defensive game. Roy's skating is arguably his biggest strength. He has a low center of gravity and uses it to separate players from the puck. If he gets caught out of position (which doesn't happen often), it doesn't take long for him to get back into the play and break up an attack. Once he's retrieved the puck, he immediately looks to transition to an offensive breakout and does it with ease.
After the season ended last year I wasn't sure if Sherbrooke would be able to make an impact this year. I also was worried whether Roy would be able to stand out. Not only has he stood out, he was named assistant captain of the team and has been a leader on and off the ice. Management and coaches have been pleased with his play and now it's just a matter of how high he gets drafted.
Where Will He End Up In June:
With his consistency on both sides of the puck, Roy has made a case to be chosen possibly in the 9-11 range. Realistically, he will be picked in the 12-18 range.
Scout's Honor:
"An offensively gifted defenseman who is solid in the defensive zone…has a real smooth stride and is pretty mobile…very mature game with strong positioning and smart with the puck…tough to separate from it as he has a heavy stick…makes terrific passes and rarely has anything intercepted…has a good point shot as well and he gets it on net…has the vision and creativity to QB a PP…solid defensively, using his smarts and his strong stick to break up plays and take away chances…uses his strength on defense to play physically down low and contain his man…used in all situations…a big presence on the ice and slows down the play when the puck is on his stick. (August 2014)"
"An alternate captain with Team Canada at the Ivan Hlinka tournament, Roy put up three assists in five games and brought home a gold medal.  This season, Roy has shown dynamic offence from the blueline for the Phoenix, with 40 points in 42 games. Roy is an outstanding skater, and shows great mobility both forwards and backwards, as well as the strong edge work and agility to cover all areas in the defensive zone, and walk the line in the offensive zone.  He's a smart player, who almost always makes the right pass out of his own end, or on the point at the powerplay.  Roy is developing a hard one-timer, and understands that by keeping it low and on net, he creates second chance opportunities for the Sherbrooke forwards. Roy's hockey sense and positioning are extremely good, and he battles hard in the corners and in his own end.  He may only be 17, but he plays all situations and against top competition for the Phoenix this year and is a real difference maker for his club."
Ben Kerr – Last Word On Sports
"Elite skating defender who is compact-sized but whose offensive prowess and skating burst is giant-sized. An aggressive attacker who also uses his acceleration, powerful leg drive, and stick to get back in position after the puck goes back in transition. He plays fairly physical and handles attackers and the front and has decent gap control and stays with attackers. His true strength is his as a dynamic attacker and puck carrier who understands the tempo and can slow down the play but also feels in an instant that window to aggressively explode the zone with either an aggressive pass or even by going straight into the slot and letting the puck fly. Very solid puck handler who is strong on his carries but also precision-like in his outlets and set-ups."
 Bill Placzek – DraftSite.com
Statistics:
Bio/Interview(s)/Links:
Interview with Buzzing The Net
Feature on Future Considerations
International Tournaments:
Jeremy Roy has played for Team Canada twice and won a gold medal in the Ivan Hlinka tournament.
ETA:
2-3 years
Risk/Reward Analysis:
Risk: 1/5   Reward: 4.5/5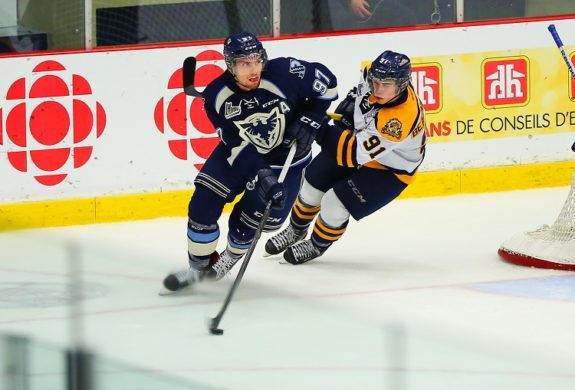 NHL Potential:
Top-pairing two-way defenseman with great offensive potential, but also defensively responsible
Strengths:
Patience with the puck
Defensive awareness
Heavy shot
Hockey IQ
Strong instinctual player
Gifted puck-mover
Powerplay QB
Flaws/Aspects He Needs To Work On:
Adding more muscle
Fantasy Hockey Potential:
Offensive: 7/10    Defensive: 6/10
NHL Player Comparison:
– NHL comparison: Ryan Suter
Video(s):
***
THW's The Next Ones prospect profile template design architect: Chris Ralph