Yakov Trenin THW Close-Up:
Team: #32, Gatineau Olympiques
Date of Birth: 01/13/1997
Place of Birth: Chelyabinsk, Russia
Ht: 6' 2″     Wt:  179 lbs
Shoots: Left
Position: LW
NHL Draft Eligibility: 2015
THW Ranking (The Next Ones; Chris's List): 66 Mid-term
Other Rankings:
FC Mid term: 51
***
***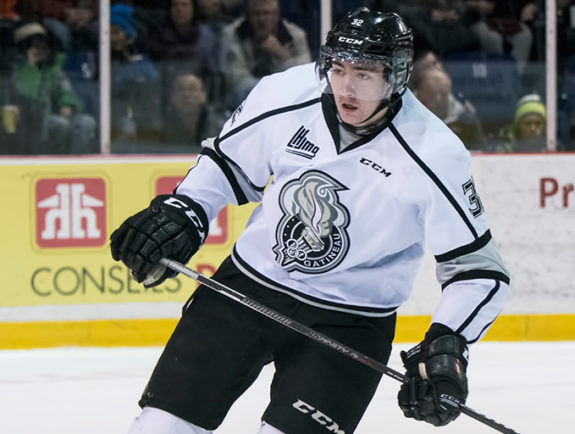 A Russian in the QMJHL – A Successful Story
In his first year in North America, Yakov Trenin showed much to scouts and fans, scoring more than one point per game and impressing with his smooth hands and good skating abilities. Trenin showed glimpses of excellence earlier in his career playing for Belye Medvedi Chelyabinsk in the MHL, posting seven goals and as many assists in 22 games as a 17-year-old against players three or four years older. However, it's in the QMJHL that Trenin showed most of his qualities, and crossing the Atlantic allowed him to raise his stock ahead of the 2015 NHL Entry Draft. He hails from Chelyabinsk, a team with an extremely rich hockey tradition and home to a number of NHL players from the past and the present, including Sergei Makarov, Valeri Nichushkin, Sergei Gonchar, and Evgeny Kuznetsov.
Even if he needs to bulk up, Trenin is an extremely interesting prospect: he possesses all those qualities you would expect from an elite Russian prospect (skills, skating, vision) and has already committed to play in North America. Moreover, he isn't afraid to throw the body around for the occasional hit or body check.
On the other hand, his defensive side needs some work and it would be good to have him tested against better competition. Trenin is an offensive dynamo who can get on the scoresheet with ease. The bottom line: Trenin is a player with a high offensive upside, with plenty of skills and a good touch of grit that should help him adapt to the more demanding North American style of hockey.
Scout's Honour:
"His puck skills are pretty good, can deke around defenders and uses solid puck protection due to his size and good speed once in the zone. He can make accurate, creative passes. His creativity with the puck is refreshing to watch. He has incredible vision down low or behind the net. Yakov possess a very hard shot with a pretty good release. He needs to shoot a bit more when in good position instead of looking to do a pass. He finishes his checks, goes in front of the net for deflection, initiates contact in the corners, works for loose pucks." –Future Considerations, November 2015
Where He'll End Up In June:
Yakov Trenin is having a very good first season in the QMJHL and most likely his name will be called during the second day of selections. The Russian factor may have him dropping a few spots, but he's expected to be a third or fourth-round pick.
Bio/Interviews:
 Interview with 2015 Eligible Prospect Yakov Trenin
NHL ETA:
Risk/Reward Analysis:
Risk: 2.5/5   Reward: 4.00/5
NHL Potential:
Highest: 1st-2nd line forward; Realistic: Scoring winger who can get power-play minutes
Strengths:
Passing
Puck skills
Good adaptation to North American hockey
Vision
Work ethic
Smooth hands
Can play center
Good skater
Flaws/Aspects He Needs to Work On:
Needs to bulk up
Lacks defensive awareness
Fantasy Potential:
Offensive: 7.5/10    Defensive: 5.5/10
Video(s):
** THW's The Next Ones prospect profile template design architect: Chris Ralph