Brandon Carlo THW Close-Up:
Date of birth: 11/26/1996
Place of birth: Colorado Springs, Colorado
Ht: 6'5″     Wt: 185 lbs
Shoots: Right
Position: D
NHL Draft Eligibility: 2015
Twitter: @1996_Carlo
THW The Next Ones Rankings (February): 20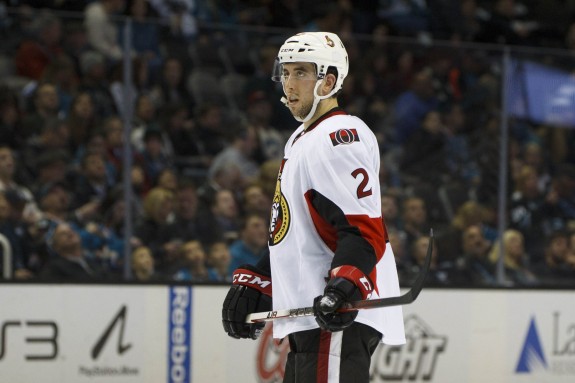 Other Rankings:
THW War Room Rankings (March): 16
HockeyProspect.com (February): 22
Last Word On Sports (February): 24
Craig Button (March): 35
CS Final Rankings for North American skaters (January): 16
***
Each NHL team is looking for the next big defenseman a la Chris Pronger or Zdeno Chara. While Brandon Carlo may never have a Hall of Fame career like the aforementioned defenesemen, he certainly has the size to be a contributing factor to any NHL blueline. A mammoth defenseman standing 6'5″, Carlo really put himself on the map when he was named to Team USA for this year's World Junior Championships. While the States had a poor showing, Carlo showed just how durable he was logging a ton of minutes throughout the tournament.
It typically takes a while to develop the necessary edgework and skating for a big man, but that is one of Carlo's biggest attributes. As it stands right now, he's physical, but still quite scrawny. Samuel Morin tacked on 20 pounds of muscle during the last offseason and adding that kind of weight to Brandon's frame would do wonders for his game.
The Colorado-native thought it was best to take the WHL route as they have produced some of the NHL's best defensive products. In my viewings of him, he's exactly what you want in a shutdown defenseman. He lays bone-crushing hits, uses his long reach to disrupt attacks into his zone, blocks shots with ease, and closes down passing lanes. While he is mobile, he mainly relies on his defensive positioning and instincts to be effective for the Tri-City Americans.
Offensively, I wouldn't read too much into his numbers. He's having a nice season with 25 points in the regular season, but his offensive game will be an afterthought at the NHL level. With a heavy slapshot, he can get the puck to the goaltender quick and force rebounds around the net. He's not a risky player and makes intelligent plays to move the puck up ice. His outlet passes are decent, but not anything to write home about. At the end of the day, Carlo will be highly sought after in this draft.
Where Will He End Up In June:
Big, mobile defenseman are coveted in the NHL, but I think Carlo may drop a bit to the late 1st round/early 2nd round.
Scout's Honor:
"An absolute monster out on the ice and skates extremely well for his size…a good powerful skating stride and displays good lateral mobility…a mean, nasty, physical player… looks to jump up into the rush and push the offensive pace…possesses a hard shot and does a good job getting himself into shooting positions…good offensive instincts to go with his skating and snarl…ability to make some big body checks…a big minute muncher who plays both sides of the puck…physically he is almost NHL ready. (December 2014)"
"Carlo had a bit of a coming-out-party at the WJC logging big minutes on USA's young blueline. With admirable pro-size on his size, Carlo knows exactly how to manipulate his size in defensive situations using his length and strength to contain opposing attackers. Opportunities to draft 6-foot-5 defensive defensemen with good mobility do not come around often so Carlo should be an attractive prospect as the June draft rolls around. He blends suffocating defensive skills with hard-nosed physicality and, as a bonus, his offensive tools are starting to emerge too. For a 'big man' he is a very good skater who maneuvers about the ice with ease. With NHL teams covering sizeable defensemen it's a sure bet that Carlo gets snatched up inside the first round and with him flashing an ability to jump into the rush and unleash his booming shot recently, there's some untapped potential here. Tri-City American's Alternate Captain has three goals, 23 points through 52 WHL games and has racked up 70 penalty minutes."
Brendan Ross – Dobber Sports
"At 6'5″ Carlo has the size that NHL teams covet on the blue line.  Normally known as a shutdown defensive defenceman, Carlo has added some offensive punch with 21 points in 45 games this year.  He has greatly improved his stickhandling, poise with the puck, and his passing skills.  Carlo is now waiting an extra second with the puck on his stick and making the smart pass on the breakout or in the offensive zone, instead of looking to get it out of the zone, or dumping it into the corner. This added offense has really brought him up the draft rankings from where he sat early this year. Carlo has very good mobility for a big man, showing a good first step, solid acceleration, and a powerful skating stride. He is willing to play a physical game and finish his checks, but must add some muscle to play that game more effectively.  He played for the U.S. Team at the World Junior Championships."
Ben Kerr – Last Word On Sports
Statistics:
Bio/Interview(s)/Links:
Interview with Buzzing the Net
International Tournaments:
Carlo has played for Team USA twice picking up one assist in 10 games.
ETA:
3-4 years
Risk/Reward Analysis:
Risk: 1/5   Reward: 3.5/5
NHL Potential:
2nd or 3rd pairing shutdown defenseman.
Strengths:
Size
Defensive awareness
Booming slapshot
Logs big minutes
Shot blocking
Clearing players in front of the net
Pokecheck
Mobile
Positioning
Laying big hits
Flaws/Aspects He Needs To Work On:
Adding muscle to his lanky frame
Puckhandling
Fantasy Hockey Potential:
Offensive: 2/10    Defensive: 9/10
NHL Player Comparison:
– NHL comparison: Jared Cowen
Video(s):
***
THW's The Next Ones prospect profile template design architect: Chris Ralph