Daniel Sprong THW Close-Up:
Date of birth: 3/17/1997
Place of birth: Amsterdam, Netherlands
Ht: 6'0″     Wt: 192 lbs
Shoots: Right
Position: RW
NHL Draft Eligibility: 2015
Twitter: @sprong97
THW The Next Ones Rankings (February): 27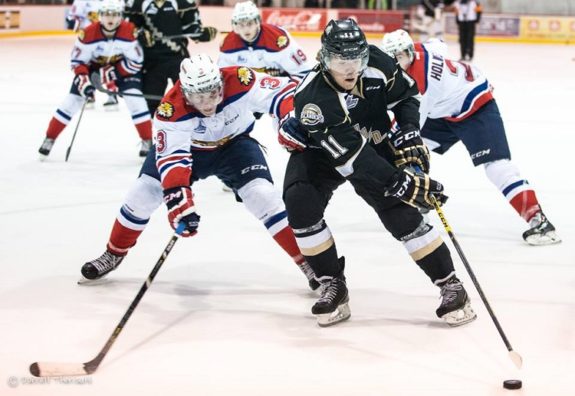 Other Rankings:
THW War Room Rankings (January): 24
HockeyProspect.com (February): 28
Last Word On Sports (February): 22
Craig Button: 20
CS Final Rankings for North American skaters (January): 20
***
The Netherlands isn't the largest hockey hotbed in the world, and rarely will you find a player that can crack an NHL lineup. In fact, there has only been one player in the NHL who hails from the dormant hockey country of Holland – Ed Kea. There is another on the horizon and he's been excellent for the Charlottetown Islanders this year.
Daniel Sprong has been lighting the lamp in the QMJHL all season. The 6'0″ winger performed well in his rookie season with a 30-goal performance and 68 points in 67 games. To date, he's followed that up this year with 35 goals and 43 assists.
Sprong has smooth dangles, but what has impressed me is his quick turning and agile movements. It looks like he's heading one way, but changes strides on a dime and creates openings through the neutral zone. I'm not entirely sure where he hides all the power behind his shot, but Sprong has a lightning quick release making his wrister absolutely devastating. Offensively, he's one of the more dangerous prospects with the puck on his blade.
He lacks in the defensive department. Of the games I've watched, for as quick as he is on his skates, he doesn't seem to hustle much to get back into the play. He'll coast around the ice waiting for breakout passes instead of being a responsible player. Another thing I saw from Sprong is that he tends to be trigger happy and a bit selfish at times with the puck.
Granted, he's just a kid with room to grow. The skillset cannot be denied and will be a go-to guy when a team needs the extra scoring boost. However, to succeed in the NHL, you need to be more than a one-dimensional player. We'll see how Sprong progresses throughout his development.
Where Will He End Up In June:
While Daniel Sprong certainly is top 10 in draft talent, I feel the other aspects of his game will make him drop to the 18-26 range.
Scout's Honor:
"A strong offensive player…he's quick and extremely involved in every play…an explosive player who can create chances out of nothing…strong skater and very slick hands…a wicked shot and can snipe top shelf…not easily pushed around, but still does need to add strength to truly dominate…he's adaptable and able to find ways to make an impact in every game…defense needs to come along and he isn't very physical, but his offensive skill set will make him a game breaker at the pro level…at times, he shows some real initiative in his own zone though, blocking shots and breaking up plays…works his butt off both on and off the ice to improve his game. (December 2014)"
"Sprong has great speed off the wing, and a bullet wrister with a deadly release. He is dangerous every time he touches the puck, and loves to shoot. Sprong has outstanding acceleration and his ability to change speeds while carrying the puck can help him to blow past a flat-footed defender.  He also has very good agility, and can slip by a a defender with quick cuts.  Add to this some great stick handling ability, and you have a player who can be a threat to go coast to coast at any time.  Don't get the wrong impression though, Sprong also has excellent passing ability and can play the role of playmaker if a linemate has an opportunity. He must get stronger and be better at taking a hit going forward.  This is specifically true of his lower body, where some more muscle would help him be more powerful and better balanced to be stronger on the puck. He is already good positionally and shows effort in the defensive end of the ice."
Ben Kerr – Last Word On Sports
Statistics:
Bio/Interview(s)/Links:
Interview with ThePipelineShow
International Tournaments:
Daniel Sprong has never played in any international tournaments.
ETA:
3-4 years
Risk/Reward Analysis:
Risk: 2/5   Reward: 4/5
NHL Potential:
Top-six winger who provides a scoring threat
Strengths:
Wrist shot
Shot release
Smooth hands
Speed
Ability to change direction
Hockey sense in the offensive zone
Flaws/Aspects He Needs To Work On:
Adding muscle
Working on his defensive game
Not holding onto the puck too long
Fantasy Hockey Potential:
Offensive: 8/10    Defensive: 3/10
NHL Player Comparison:
– NHL comparison: Alexander Semin
Video(s):
***
THW's The Next Ones prospect profile template design architect: Chris Ralph