Kennedy Fan Club Now Recruiting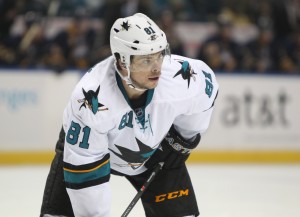 We may be apart of the minority, but there are a number of us who believe Tyler Kennedy deserves much better than the poor treatment towards the end in Pittsburgh and the lack of playing time in San Jose. The veteran winger was frequently a healthy scratch under both Dan Bylsma in Pittsburgh and Todd McLellan in San Jose. This in spite of the fact Kennedy drives possession, is excellent in the neutral zone, and when playing alongside a talented center, is a terrific complementary winger.
When the Penguins won the 2009 Stanley Cup, Kennedy was part of a famous third line with Jordan Staal and Matt Cooke. In those playoffs, Kennedy chipped in a solid nine points in 24 games (basically his exact numbers this year with the Sharks, nine in 25) after scoring 15 goals and 35 points in the regular season. The following year he dipped to 25 points but then got more action with top players like Sidney Crosby in 2010-11 and scored 21 goals and 45 points. Unfortunately for whatever reason Kennedy got into the Bylsma dog house towards the end of his tenure there. Despite scoring five points with a plus-6 rating in nine playoff games in 2013, he was scratched for another six playoff games.
Complementary Player
Kennedy's point totals will fluctuate as most role players' point totals due depending on how they are utilized, but he fits well with top players. He won't be able to carry a third line as the best player on the unit, but alongside a top caliber center, Kennedy can be a key contributor. Even in his first year with the Sharks, where he was admittedly awful, he still scored 17 points in 67 games. Given ice time with good players, Kennedy has the tools to be a 35-45 point player. That type of winger is incredibly valuable to have because he is cheap (acquired for a seventh rounder at the deadline unless the Islanders win the Cup), and alongside good players he can easily out produce his contract. Furthermore, putting him on the top line with Tavares allows the Islanders to strengthen their lower lines.
Covering the Sharks, I rarely get to watch the Islanders play and won't pretend to really know a lick about most of their players outside of Tavares, Kyle Okposo, Nick Leddy, and Jaroslav Halak. However, the Islanders have been having a terrific season before acquiring Kennedy, so obviously they have some talented forwards outside the two big name guys. With Kennedy in the fold next to Tavares, that allows whoever else would have normally played there, someone who is a better player than Kennedy, a chance to play on a different line with better matchups. There is a reason that guys like Crosby and Evgeni Malkin don't play together often at even strength. Most teams have a top shut-down pair. Putting all your eggs in one basket, makes it easier for teams to shut down the star players and not have to worry as much about other lines. With complementary pieces like Kennedy though, the Islanders can bring a more balanced attack.
In his Islanders debut the other night, Kennedy already showed what he can do next to Tavares. He fired home a nice feed from the top play-maker and also added an assist on the OT winner. Kennedy finished the game with four shots on goal. Yes, lots of Kennedy's shots do end up in the goalies' bread basket but firing lots of shots at the opposing goalie is a helluva lot better than chasing the puck in the defensive zone all shift long. Islanders head coach Jack Capuano may not start Kennedy with Tavares tonight but giving him a real chance in that spot would be a wise move. (According to my THW colleagues, Kennedy will start on the Tavares line tonight)
Andrew has been credentialed to cover the Sharks since 2010 and the 49ers since 2012. He graduated with his BA in Broadcast Electronic Communication Arts in 2013 from San Francisco State University.