Daniel Vladar THW Close-Up:
Date of birth: 08/20/1997
Place of birth: Praha, Czech Republic
Ht: 6'5.25″     Wt: 185 lbs
Catches: Left
Position: Goaltender
NHL Draft Eligibility: 2015
Twitter: @DanVladar
THW The Next Ones Rankings (February): not ranked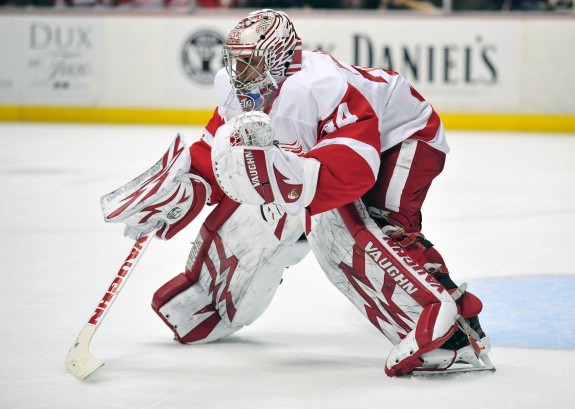 Other Rankings:
NHL CSS (European Goalies) – 2nd
Craig's List (Craig Button) – 90th
The Hockey Writers (Chris Ralph/Eldon MacDonald) – 40th
***
All Hail Darth Vladar!
At 6′ 5.25″ tall, Daniel Vladar is – to say the least – a towering individual to stand next to. Now imagine shooting pucks at such a big target and trying to beat a goalie that takes up as much space as Vladar does. Not an extremely fun task to look forward to, right?
Being the third tallest goalie in the 2015 draft class, Vladar trails only Jack Flinn and Evan Smith in terms of height, but neither of the two aforementioned North American goalies possess the assets that will make Vladar an interesting prospect come draft day.
Having an extensive resume that has showcased his progression throughout the Czech developmental leagues, Vladar has improved his play under a variety of settings. Spending a fair amount of time between the Czech U16, U18, and U20 programs, Vladar really proved his worth over the last two seasons of play in the Czech Republic.
While the majority of Vladar's play was divided between the Czech U18 and U20 teams, the goalie also stepped up and had a stellar showing (8 GP, 1.97 GAA, .933 Save Percentage) with HC Kladno of the Czech2 league. Despite the fact that Vladar hasn't been the best playoff performer during his time in the Czech developmental leagues, the goalie has a plethora of big pressure situations under his belt already.
Sure, Vladar's play in international tournaments hasn't been consistent, but it is quite a feat for a young netminder to have already experienced winning a silver medal on big stages such as the U18 WJC and Ivan Hlinka Memorial Tournament. As a matter of fact, Vitek Vanecek's performance on the international stage for the Czech Republic convinced the Washington Capitals to jump up the draft board and select the Czech netminder during last year's NHL Entry Draft, so one has to believe that Vladar's stock will be just as high as his fellow countryman.
Employing good lateral movements, Vladar is quick to take away the lower portions of the net from the shooter and is quite an athletic netminder for an individual of his height. Possessing good reflexes to go along with his excellent "lower-net" coverage, it's easy to see why Vladar will be a hot commodity in late June – especially since the goalie is still in his developmental stages and could use some fine tuning on aspects such as rebound control and positional play.
In short, the ceiling is quite high for Vladar, and it is certainly being seen in the goalie's stock for the upcoming NHL Draft. Like any goalie his age, Vladar will have to work on refining some parts of his game, but the beauty of selecting an 18-year old netminder is that a team has years to prepare the goalie for professional play.
Being chosen in the 2015 USHL Phase Two Draft by the Chicago Steel, Vladar will have every opportunity to come overseas and get adjusted to a North American style of play starting next season. Honing his play in North America would undoubtedly be a huge step for Vladar to take going into next season, but given the goalie's resume it's safe to assume that the netminder wouldn't mind taking on another challenge to further his hockey career. After all, with a nickname such as Darth Vladar, it would be more surprising to see Vladar back off from a challenge rather than dominating (all puns intended) his competition.
Scouts Honour:
"18 year old goal prospects don't come in "plug & play" form. They are projections whose talent is honed over long period of years with hopes they eventually lead to the pro game. It is rare to find 6 foot 5 inch guys with considerable natural skill, tools and athleticism. In him you see very little technique just lots and lots of upside. He moves so well from side to side, and battles hard on the 2nd and 3rd shots. He has quick legs and feet and is tough to beat down low. Very flexible with great reflexes, he has much to learn in terms of positioning, honing softer pads and improving his glove. Hasn't stopped playing the Eurostyle where the goalie gets a bit too far into the netting."
– Bill Placzek, Draftsite.com
"This past season, Vladar made the jump to the men's level, competing with Kladno in six Czech2 league games as a backup to Jan Chábera. His play with Kladno caught the eye of European scouts everywhere, with HK Sochi selecting him in the 2014 KHL Draft earlier this year. The kid is 6'5″, and while it's natural to think that all he needs to do is just sit and cover the net, he has the rare ability to be flashy, yet safe with his play. For a guy of his size, he has above average quickness and is almost unbeatable across the goal line. His positional play could use a bit of work, but Vladar has cat like reflexes, similar to Hasek, but in a more contained fashion. His rebound control may be the very best in the draft class, absorbing pucks with ease from pretty much every angle."
– Steven Ellis, PenaltyBoxRadio.com
"Czech Republic standout Daniel Vladar is coming to the United States next season, with the Chicago Steel having completed an absolute coup. At times, Vladar was nearly impossible to beat this season with Kladno's U20 team, finishing with a .925 save percentage and five shutouts in 29 games. He was equally impressive with the Czech Republic squad at the Ivan Hlinka Memorial Tournament, helping the Czech's win silver. With his size and ability to move laterally, the additional challenge of playing in the USHL will be a welcome one."
– David Hahn, Hockeysfuture.com
Bio/Interview(s)/Links:
Where He'll End Up in June:
Vladar will likely wind up being drafted in the middle rounds of the 2015 NHL Entry Draft.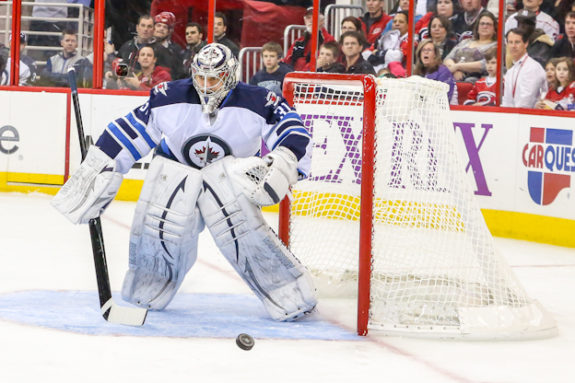 Statistics:
International Tournaments:
Has represented the Czech Republic at the U16, U17, and U18 levels in international junior play.
Played in the WHC-17 tournament as a member of the Czech Republic.
Played in the WJC-18 tournament for the Czech Republic.
Played in the 2014-2015 Ivan Hlinka Memorial Tournament as a member of the Czech Republic.
NHL ETA:
Risk/Reward Analysis:
Risk: 1.5/5  Reward: 4.5/5
NHL potential:
Strengths:
Hard to beat down low
Athleticism
Good lateral movement
Good flexibility
Good reflexes
Flaws/Aspects He Needs to Work On:
Could use work on rebound control.
Could use work on positional play.
Fantasy Potential:
NHL Comparable:
No true NHL-comparable player, but some have compared Vladar's reflexes to that of Dominik Hasek.
Video:
THW's The Next Ones prospect profile template design architect: Chris Ralph