Jens Looke THW Close-Up:
Date of birth: 4/11/1997
Place of birth: Gavle, Sweden
Ht: 6'0″     Wt: 187 lbs
Shoots: Right
Position: RW/LW
NHL Draft Eligibility: 2015
Twitter: @jensLooke
THW The Next Ones Rankings (February): not ranked
Other Rankings:
THW War Room Rankings (March): 54
Future Considerations: not ranked
HockeyProspect.com (February): not ranked
Last Word On Sports (February): not ranked
Craig Button (March): 47
CS Final Rankings for European skaters (March): 10
***
I didn't know much about Jens Looke at the start of the season. After watching him play in Sweden and at the World Junior Championships, Looke started climbing my draft rankings. While Sweden failed to medal, Looke made his mark on me and other scouts with his elusive stickhandling and impeccable vision around the ice.
The young Swede from Galve is most dangerous along the perimeter. He has dazzling footwork that can stop on a dime and change direction before the defender knows what hit him. Looke pairs that agility with quick dangles that allow him time to find teammates lurking around the net. While his passing is typically spot on, he does tend to pass at ill-advised points in the game from time to time. Always looking for that perfect pass can lead to turnovers and rushes the other way.
Looke is also a dangerous shooter. I haven't seen many players who can release the puck as quick as he can. His commitment to forechecking is also one of his best aspects. He always wants the opportunity to create and that can only happen when he has the puck, so his speed allows him to chase opponents down and transition the game back into the offensive zone. This draft is already deep and it will be tough for Looke to end up a 1st round selection, but one team in the 2nd round would be more than happy to have him in their prospect pool.
Where Will He End Up In June:
I think there is too many top-tier players for Looke to squeak into the 1st round of the draft, but he shouldn't fall past the 2nd.
Scout's Honor:
"A very smart and attentive player who always seem to be at the right spot at the right time. Played very well against older competition during the World Juniors and showed that he's capable of handling a big role. Has made the best of his opportunity in the SHL and shows that he's not intimidated by playing against men. Needs to work more on his skating."
Uffe Bodin – hockeysverige.se
"A solid all-round forward…no real standout qualities but good at many aspects…has a smooth and effortless stride married with good balance…a quick first step and good top speed…his hockey sense and ability to hold on to the puck are his big plusses…will use his frame to battle for pucks but will never be called a physical player…smooth hands but not Patrick Kane like by any stretch…has a good wrist shot but prefers to pass… in the right position in both ends of the ice and does not quit on the play…off to an impressive start in the SHL. (December 2014)"
"Competing against men in Sweden's top league, Lööke has not looked out of place and his slowly increasing minutes reflect his rookie success. As an underager on Sweden's WJC squad, Lööke flashed some of his promising offensive abilities and was trusted by Rikard Grönberg during critical game moments, scoring three goals in seven games. Lööke has good wheels and competes at a high intensity, showcasing creative passing and an element of elusiveness, sneaking into scoring areas uncontested. The young Swede is an intriguing prospect with good longterm upside."
Brendan Ross – Dobber Sports
"Interesting sleeper who is averaged sized, but has significant upside based on his all-around skill and puck handling ability. Really strong on the puck and a deft passer on the move. Has a variety of fakes and can convince defenders he is taking the shot while he is making time for one of his teammates to actually get the puck to make the play. Has good instincts and good handling the biscuit on the PP. Has shown improving compete level at both ends and must continue to be a better player when he doesn't possess it. Was on his homeland's team roster for the World Junior Under-20 at Christmas 2014."
Bill Placzek – DraftSite.com
Statistics:
International Tournaments:
Jens Looke has played for Team Sweden seven times. He's been able to win two gold medals, two silver medals, and two bronze medals.
ETA:
2-3 years
Risk/Reward Analysis:
Risk: 1/5   Reward: 4/5
NHL Potential:
2nd line playmaking winger with high offensive upside.
Strengths:
Elusive stickhandling
Very quick release
Vision
Offensive positioning
Passing
Forechecking
Speed
Agility
Flaws/Aspects He Needs To Work On:
Sometimes too risky in his pass selection
Getting stronger
Fantasy Hockey Potential:
Offensive: 7/10    Defensive: 4/10
NHL Player Comparison:
– NHL comparison: Jakob Silfverberg
Video(s):
***
THW's The Next Ones prospect profile template design architect: Chris Ralph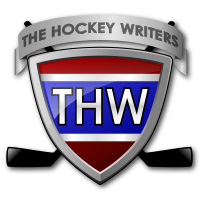 The archives of THW contain over 40,000 posts on all things hockey. We aim to share with you some of the gems we've published over the years.