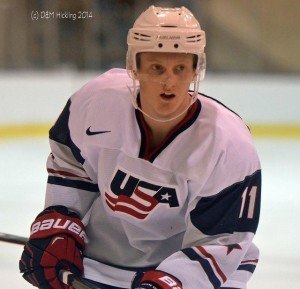 The Winnipeg Jets have selected Kyle Connor with the 17th overall pick in the 2015 NHL Entry Draft.
When your prospect cupboard is a full as the Jets is, you have the luxury of taking the best player available. There's not much better left in the draft than the left winger Connor. In 56 games with Youngstown of the USHL, he scored 34 goals and totaled 80 points. He played for Team USA at the World Under-18's, winning the Gold Medal with the team.
Connor is slated to the University of Michigan. Again, with the prospect depth the Jets have, they can give Connor as much time as he needs to develop. The Jets are known to be patient with their prospects and this will be know different.
[RELATED: Kyle Connor – The Next Ones]
The Jets select again in the first round at 25th overall, acquired in the Evander Kane trade. They select 47th in the second, 78th in the third, 108th in the fourth and 168th in the sixth. They have two picks in the seventh round, the 198th and 203rd (from Washington).
Make sure to keep an eye on THW's NHL Live Draft Tracker and Deal Tracker for up to the minute info on the Draft, trades and signings going down.
Toronto Maple Leafs Writer At The Hockey Writers.