AJ Greer THW Close-Up:
Date of birth: 12/14/1996
Place of birth: Joliette, Quebec, Canada
Ht: 6'3″     Wt: 203 lbs
Shoots: Left
Position: LW
NHL Draft Eligibility: 2015
Twitter: @ajgreer_10
THW The Next Ones Rankings (February): not ranked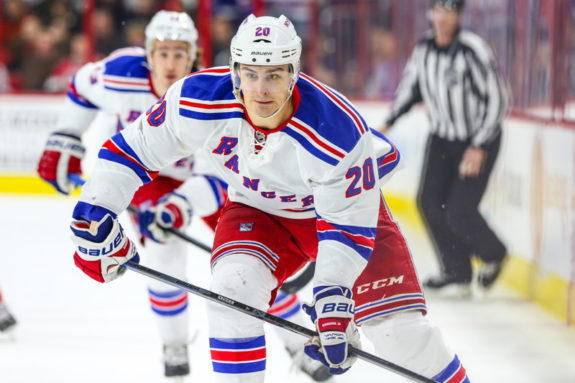 Other Rankings:
THW War Room Rankings (March): 76
Future Considerations: not ranked
HockeyProspect.com (February): not ranked
Last Word On Sports (February): not ranked
Craig Button (March): not ranked
CS Final Rankings for North American skaters (April): 69
***
Most hockey players born in Quebec follow their fellow countrymen to develop in the QMJHL. AJ Greer isn't like his fellow countrymen. He saw an opportunity to work on his power forward style of play in the NCAA with the Boston University Terriers, and his game grew leaps and bounds this season.
A 6'3″ left winger with some room to grow, Greer has legs like tree trunks and can whiz around the ice – an aspect you don't see in many power forwards. Excellent at using his body, AJ knows the best way to keep the puck away from defenders and create openings for his linemates. I watched many BU games this season and covered the Frozen Four this year where the Terriers lost in the National Championship, however Greer's tireless work ethic and forechecking is what I noticed most. He wears down on his opponents with his size and grit and causes them to second-guess their decisions, often creating turnovers.
His role this season was mainly on the 3rd and 4th lines, so his point totals weren't too glamorous. Seven points in his freshman season is nothing to write home about, especially in your draft year, but I do see offensive potential in his game because of his knack of winning puck battles and driving to the net. Greer has a heavy slapshot that he used in the semifinal game against North Dakota, but he doesn't use it often.
His defense isn't terrible, but it's not great either. While his top speed is excellent, his acceleration and skating stride could use some buffering. It might take all four years of college hockey before Greer fully grows into his body and understands just how big a force he can be in the NHL, but it will be well worth the wait.
Where Will He End Up In June:
Given his potential, it wouldn't surprise me if Greer was taken in the 2nd round of the draft, but it's more likely his name gets called in the 3rd or 4th round.
Scout's Honor:
"A massive and raw power forward…generates a good amount of speed and power with his stride…needs to work on foot speed and to keep his feet moving as that is when he is most dangerous…so physically dominant that at times, he looks like a man amongst boys on the ice and in the corners…needs to be more consistent with his physical play…has good athleticism for such a big kid…has a strong shot and hands that make him dangerous down around the opposition's crease…needs to put on muscle mass and learn to utilize his impressive reach better…raw talent going the NCAA route…has a very impressive upside. (August 2014)"
"Playing on talent laden BU roster, his opportunities and heavier workload are yet to come. It's apparent he can make an impact in some way in every shift. Excellent size, athleticism and feet. his strong on his skates and defenders have trouble detering him from going where he wants, usually a drive to the net, maybe even taking up shop there. Displays a heavy shot, good passing ability and the desire to win. Will get thicker and his role at BU will expand, so the team that selects him might end up with a real solid left winger."
Bill Placzek – DraftSite.com
Statistics:
International Tournaments:
Greer has not played for Team Canada in any international tournaments.
ETA:
3-4 years
Risk/Reward Analysis:
Risk: 1/5   Reward: 3.5/5
NHL Potential:
Bruising power forward that can be plugged anywhere into the top three lines.
Strengths:
Strength
Speed
Slapshot power
Puck protection
Crashing the net
Physical
Wins puck battles
Relentless forecheck
Flaws/Aspects He Needs To Work On:
Acceleration/skating
Overall defensive play
Filling out his frame
Fantasy Hockey Potential:
Offensive: 5/10    Defensive: 3/10
NHL Player Comparison:
– NHL comparison: Chris Kreider
Video(s):
***
THW's The Next Ones prospect profile template design architect: Chris Ralph