Rasmus Andersson THW Close-Up:
Date of birth: 10/27/1996
Place of birth: Malmo, Sweden
Ht: 6'0″     Wt: 209 lbs
Shoots: Right
Position: D
NHL Draft Eligibility: 2015
Twitter: @RalleA
THW The Next Ones Rankings (February): not ranked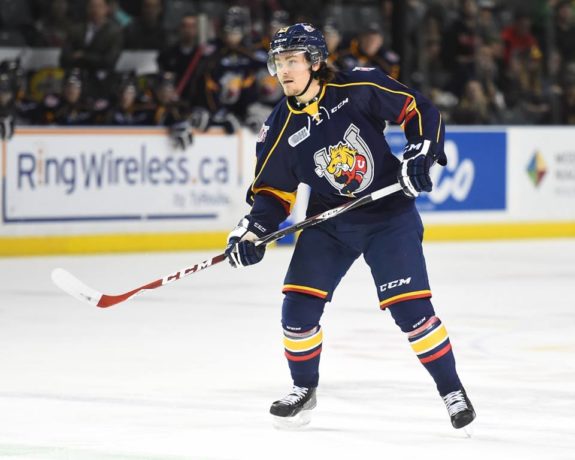 Other Rankings:
THW War Room Rankings (March): 43
Future Considerations: not ranked
HockeyProspect.com (February): not ranked
Last Word On Sports (February): not ranked
Craig Button (March): 32
CS Final Rankings for North American skaters (January): 84
***
The most sought after defensemen in the draft are Noah Hanifin, Zach Werenski, and Ivan Provorov – to a lesser extent, Jeremy Roy, Thomas Chabot, Oliver Kylington, and Jakub Zboril. There is one defenseman available who has been flying under the radar all season.
Rasmus Andersson of Malmo, Sweden decided to make the trip to North America to play for the OHL's Barrie Colts. In his first OHL season, he lead the Colts in points by a defenseman (64). As is typical with many Swedish defensemen, Andersson skates extraordinarily well and displays exceptional lateral movement. For a 6'0″ blueliner, he doesn't get pushed around easily – probably because he's a bulky 209 lbs. From the backend, he sees the open ice and gives quick passes to move the puck to his forwards. Andersson lays into every shot he takes with immense power, but he's a much better set-up man than goal scorer.
You rarely notice Andersson defensively – in terms of defense, that's a great thing. From the Colts games I've watched this season, I have seen him make a handful careless, but nothing he couldn't recover from. Overall, Rasmus isn't a risky player and will make the intelligent play to clear the puck rather than a few dekes to get around a forechecker. He also adds an element of truculence and throws his weight around quite a bit, often ending up with the puck. Andersson battles in the corners, along the boards, and in front of the net. To me he's shown more potential than most people have given him credit for and could be one of the biggest sleepers in the draft.
Where Will He End Up In June:
Rasmus Andersson is a likely 2nd round pick, but I think he has the potential to go in the late 1st round if an NHL team likes him enough to go off the board a bit.
Scout's Honor:
"A solid puck moving defender…moves the puck up ice quickly with a strong passing game…not a real skate the puck up ice himself kind of puck carrying defender…will join the attack, set-up at the point and contributes with intelligent passes and a shot that consistently gets to the net…a minute muncher…plays with a laid back, calm nature even when under pressure…shows good defensive coverage…could improve his staking going forward… good base and foundation skill set to build upon. (December 2014)"
"He was selected to the roster for the World Junior Under-18 Tournament in April, 2013 as a player almost two years younger than the rest, save Connor McDavid. An impact type blue-liner who has tremendous vision, and instincts. Heavy shooter who can lead the rush, or guide it from the backline. Superb passer who leads many of the transitional rushes. Smooth strong skater who is positionally very strong and able to read and adjust in his zone, along with his ability to contribute offensively. Strong and thick already, he will work on quickness and defensive side of the game. Another intriguing Swedish hopeful who was on the radar very early, maybe due to the fact his Father is a former NY Ranger and has had an older brother already selected. He is another early touted player that hasn't continued to rise from his early press billings. Extremely poised and gifted as a puck carrier and distributor, due to excellent vision and touch, but seems to have not regained his early swagger in his possessions. This is his first year in the OHL, and had a season in the Swedish Allsvenskan the year before. Needs to stay patient but also not overplay his possessions. Needs a whole lot more snark and physicality in his own end, and if he can add that to his already strong tools as a puck-carrier and PP guy, he may get his name called early. "
Bill Placzek – DraftSite.com
Statistics:
Bio/Interview(s)/Links:
Interview with HockeyProspect.com
International Tournaments:
Andersson has played 7 times for Team Sweden. In 55 games, he's scored 11 goals and 30 assists.
ETA:
2-3 years
Risk/Reward Analysis:
Risk: 1/5   Reward: 4/5
NHL Potential:
Top-four two-way defenseman with an offensive flair.
Strengths:
Strength
Skating
Agility
Not risky
Efficient outlet passes
Shot power
Physical
Wins puck battles
Flaws/Aspects He Needs To Work On:
Gap control
Overall speed
Fantasy Hockey Potential:
Offensive: 7/10    Defensive: 7/10
NHL Player Comparison:
– NHL comparison: Drew Doughty
Video(s):
***
THW's The Next Ones prospect profile template design architect: Chris Ralph