A traditional power forward has to be big. He has to throw his body around and be a physical menace on the ice. And he has to score.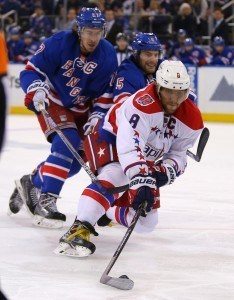 At 6'3″ 235 lbs with a world-class shot, Alex Ovechkin is the NHL's premier power forward.
Wayne Simmonds fits the bill, Jarome Iginla too. In the recent past, Cam Neely, John LeClair, Keith Tkachuk and Brendan Shanahan did as well.
This draft class boasts a healthy number of power forwards in the making, including at least five who are near can't-miss prospects and potential first-round picks: Pavel Zacha, Paul Bittner, Lawson Crouse, Mikko Rantanen, and Jordan Greenway.
But what if your team misses out on one of those players, but still seeks a player with power forward potential? Relax, this draft class has enough of everything for almost everyone.
David Cotton
(In this clip, Cotton is #11)
Texas-born Cotton played prep hockey at Cushing Academy this past season, and at 6'3″ 200 lbs, his opponents had a difficult time containing him. In 33 games Cotton stomped across New England last year, averaging over two points per game and earning Central Scouting's top ranking among New England prep hockey's draft eligible players.
Admittedly, Gagne has a ways to go before anyone will be calling him a power forward, but he's already making strides in his game,  and with the added muscle and menace, who knows what this kid might be capable of. He scored 35 goals in the QMJHL last season, doubling his previous goal total while seeing his role on the Tigres expand. He's a bit of a flier in terms of power forward potential, but if he peaks out at 6'6″ and 220 lbs and retains his developing goal scoring touch, he'll be far and away the flier of the year.
Erik Foley
Foley led the Cedar Rapid RoughRiders of the USHL in scoring this past season, and he envisions himself as a power forward. At 6'0″ some might consider him on the small side of that role, but he certainly doesn't play that way, embracing the physical game while showing an ability to drive hard to the net or score from the hash marks with a blistering wrist shot.
Glenn Gawdin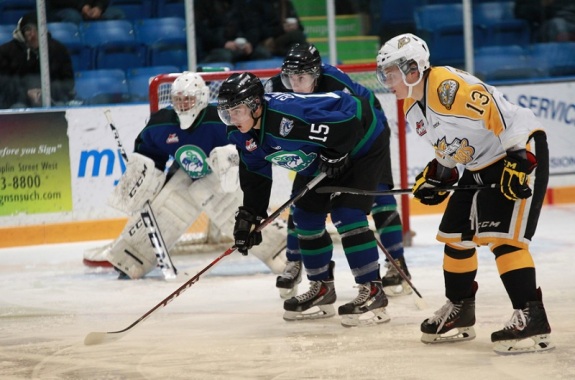 Together with teammate Jake DeBrusk, Glenn Gawdin represented a good minority of the offense generated by the Swift Current Broncos of the WHL last season. Although knocked for his skating deficiencies, Gawdin makes up for it in other areas, leading WHL scout Cody Nickolet to call him 'a poor man's Ryan Getzlaf.'
(Greer, #26, does all the heavy lifting on this goal)
Born in Quebec, AJ Greer made the rather unusual choice to play college hockey, but his decision to play for the Boston University Terriers was a good one. Sure, it meant playing in Jack Eichel's shadow, often in bottom six minutes, but it also meant playing in Eichel's shadow, where scouts were gathered by the dozens. Greer is a big-bodied kid who reminds THW's Shawn Reznik of Chris Kreider.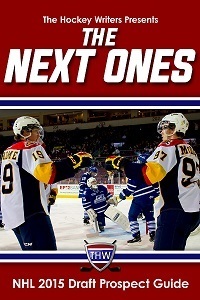 The THW Draft Guide
For a deeper look at 150 prospects including these five players, check out The Next Ones: NHL 2015 Draft Prospect Guide, the inaugural draft guide written by The Hockey Writers draft team, available now for the Kindle and for all other ereader formats.