Jeremy Bracco THW Close-Up:
Date of birth: 3/17/1997
Place of birth: Freeport, New York
Ht: 5'9″     Wt: 172 lbs
Shoots: Right
Position: C/RW
NHL Draft Eligibility: 2015
Twitter: @jbracco97
THW The Next Ones Rankings (February): 25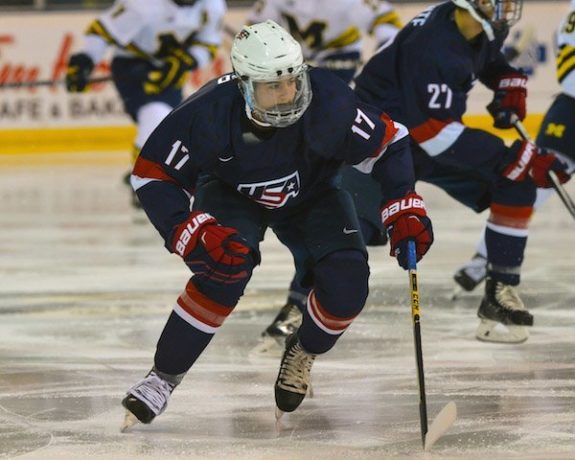 Other Rankings:
THW War Room Rankings (March): 45
HockeyProspect.com (February): Not ranked
Last Word On Sports (February): 23
Craig Button (March): 49
CS Final Rankings for North American skaters (January): 36
***
See Also: Leafs prospect Jeremy Bracco
He's heard it his whole life. Jeremy Bracco is small. There is no beating around the bush. It doesn't typically bode well for players who stand 5'9″, especially in a draft as deep as 2015. Notice how I said "typically". Jeremy Bracco isn't your typical 5'9″ player. If good things come in small packages, Jeremy Bracco shows that in spades.
A Boston College commit, Bracco has outperformed with the U.S. National Team Development Program. As we see more and more players like Johnny Gaudreau and Rocco Grimaldi, Bracco possesses lightning quick acceleration and speed around the ice that make him a dangerous commodity. It only takes him a few strides before he's at top speed and he has the soft mitts to match. Weaving his way in and out of high traffic situations, Bracco creates space and chances by out-hustling opponents and seeing the ice around him.
Highly skilled, Bracco is elusive in the offensive zone and outworks everyone to win loose puck battles. His work ethic is one of the best I've seen this year and he does everything in his power to help his team win. Size will always be a huge drawback, which is why I consider Bracco a "boom or bust" pick. He does get knocked around against bigger defenders, but that's to be expected. He's still able to maintain excellent balance for the most part given how low he is to the ground. Having said that, he's shown the grit and determination that leads me to believe he'll be more boom than bust.
Where Will He End Up In June:
It's difficult to gauge where he will be selected since we've seen many shorter players drop due to their size. Talent-wise, Bracco can squeeze his way into the late 1st round, but more than likely he will be taken in the early-to-mid 2nd round.
Scout's Honor:
"A small, but flashy and highly skilled, playmaker…tremendous skater with excellent quickness, balance on his edges and elusiveness with the puck…a quick set of hands…tough to handle when he gets going because he can elude defenders with his skating…great vision with the puck and makes tremendous passes…has a good wrist shot, but opts to be a pass-first playmaker…plays with grit and has no issue going to the net for chances… battles on the wall with limited success due to his lack of strength and reach…can really use some extra muscle…works hard defensively, and has a good defensive stick and plays aggressively at the point looking to cause turnovers. (December 2014)"
"The uber-skilled Jeremy Bracco has been a bright star among his peers for several years, oozing elite offensive skills. Bracco has continued to exceed all expectations setting scoresheets on fire with the Under-18 NTDP. Possessing a truly unique skating technique, relying on crafty edge-work and a heel-to-heel stride, Bracco is a dynamic offensive winger who competes at high speed. His ability to draw in defenders and then exploit their abandoned space is elite and speaks to his high-end vision and creativeness with the puck. He's small by NHL standards but his skill warrants a high draft selection."
Brendan Ross – Dobber Sports
"Bracco is having a fantastic season with the US National Team Development Program, and its getting him noticed in scouting circles.  Any time a US NTDP player puts up 74 points in 54 games on the Under 17 team, and has 17 goals and 54 points in 38 games with the Under 18 team, its going to make waves. The biggest knock on Bracco is his size, as he's just 5'9″ and 172 lbs. For an undersized player to succeed in the NHL today, he must be a great skate, and Bracco meets that requirement. He is one of the fastest players in this draft class, and has outstanding acceleration, edgework, and agility.  He also has great hands and this combined with his skating makes him extremely dangerous off the rush.  He has very good vision and strong passing skills as well, making him an ideal playmaker. Bracco has a decent shot and good release, but sometimes seems a little too hesitant to shoot.  Overall he must get stronger to win more battles on the boards, and to be able to succeed with his frame.  He's headed to Boston College in the fall."
Ben Kerr – Last Word On Sports
Statistics:
Bio/Interview(s)/Links:
Feature and interview with The Pipeline Show
International Tournaments:
Bracco has suited up for Team USA in international play once and won a gold medal.
ETA:
3-4 years
Risk/Reward Analysis:
Risk: 2.5/5   Reward: 4/5
NHL Potential:
Top-six playmaker with elite skill that can be used on the powerplay.
Strengths:
Vision
Speed/Acceleration
Deking
Edgework
Balance
Hockey IQ
Running a PP down low
Work ethic
Flaws/Aspects He Needs To Work On:
Size
Getting stronger
Defense/backcheck
Board play
Fantasy Hockey Potential:
Offensive: 8.5/10    Defensive: 4/10
NHL Player Comparison:
– NHL comparison: Johnny Gaudreau
Video(s):
***
THW's The Next Ones prospect profile template design architect: Chris Ralph