Yes. Yes they can. As long as they get in the playoffs that is. Would you be willing to bet against the Los Angeles Kings in a seven-game series? There are only two things that can keep the Kings away from being the favorite to clinch their third Stanley Cup in four seasons: injuries and not making the playoffs. The latter is the one of more immediate concern — as of press time Los Angeles is not in a playoff spot, but they are right there and this likely won't be settled until the final week of the season.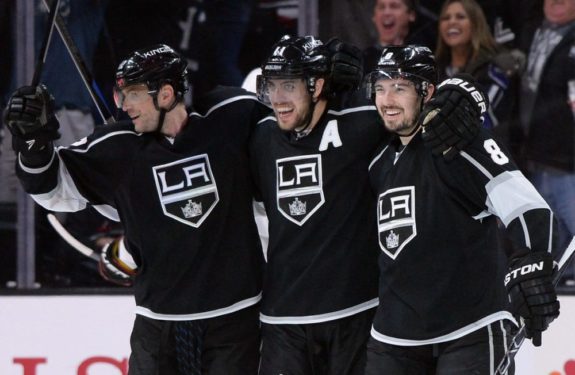 With eleven games left in the regular season the Kings embarked on a five-game road trip to the east coast with their season hanging in the balance. There are now nine games left after LA picked up wins on consecutive nights against the New Jersey Devils (3-1) and New York Rangers (4-2). For maybe a lesser team the prospects of heading out on a late-season road trip (through multiple time zones) in must-win situations might be too daunting of a task, but not these Kings.
"It is what it is; our schedule, that's the way it is," said Marian Gaborik, almost nonchalantly when The Hockey Writers asked him about it following the win in New Jersey. "So we just have to take care of business. You adjust to everything." Gaborik, who was a huge factor as a deadline day acquisition in the Kings' postseason (22 points in 26 games) seemed very confident his team is still very alive to make another one this spring.
Marian Gaborik has proven to be quite the playoff performer with goals like this one:
"Every game is big, we just have to build off this one. We have a quick turnaround tomorrow against the Rangers; we have to be ready," he said. "I try not to look ahead; we have a lot of work to do. This is an important trip, we just have to stay on top of our game." The 33-year-old Slovakian sniper is heating up at the right time as he has four points (2g-2a) in his last three games and six goals in his last ten games.
The remainder of this trip will see the Kings play the New York Islanders, Minnesota Wild and Chicago Blackhawks, three teams that will definitely be stiff competition. But they just beat one of the 'better teams' in the Rangers (perhaps giving the East contenders the blueprint on how to beat the Blueshirts?) and their top players are starting to play like their top players — see: Quick, Jonathan; Kopitar, Anze. Also they got one of their top-6 defensemen back in Alec Martinez who had missed 19 games with concussion-like symptoms (a concussion) before returning against New Jersey.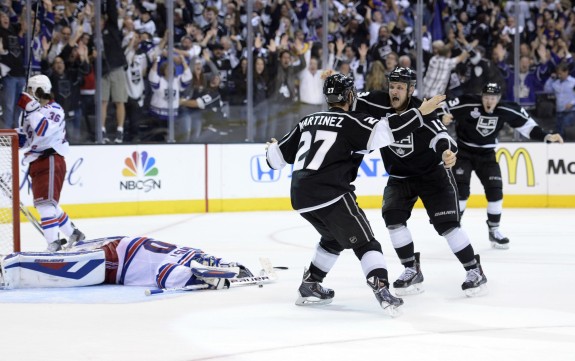 "It's fun to be back, around the guys; going on the road – I missed two road trips," said Martinez after the win. "It's a fun time of the year, obviously a real serious and important time of the year; but it's a fun time of the year (for me). I'm just happy to be back and be a part of it." His teammates and coaches are happy he's back also: in the two games he has blocked nine shots and put four shots on goal while averaging 15 minutes.
"If you want to win the whole thing you have to be able to win on the road," said Martinez. "We haven't really been too happy with our road record (14-14-7) this year so these are some big points out there for us down the stretch." The 27-year-old was no more excited about the win over the Devils to start the road trip than Gaborik was, knowing they still had much work to do. "One thing I've kind of learned (is that) each season has its own story, but you obviously can tap into your experiences that you have gone through before."
2014 Stanley Cup hero Alec Martinez post game #LAKings pic.twitter.com/9aBDj2hQTV

— Dan Rice (@DRdiabloTHW) March 24, 2015
"Ever since I've been here it's always been really tight in the West and you have to play playoff hockey months before the playoffs even start," he added perhaps explaining why the Western Conference teams seem to be the more dominant ones lately. "You see all the teams jockeying for spots, it's always really tight. You can move up or drop down and you didn't even play that night; it's good to have gone through it before."
Again, just like Gaborik, Martinez also seemed unfazed by the late season trek to the East out of their time zone and conference; telling THW he never even thought of it that way. "The Rangers will be a good test for us; our schedule had kind of been the same, at least since I've been here. We're home in January, gone a lot of February and March. I don't even really think about that, it's part of, it comes with the territory; part of our job."
Marian Gaborik and Alec Martinez combine to beat the Ducks in the 2014 playoffs:
Just like it was written in this space last season it is going to be an upset of epic proportions if someone eliminates the Kings in a seven-game series without one of their major players suffering an injury. The last two full NHL seasons they have walked away with the Stanley Cup, if they snuck in as the 8-seed how good would their chances be to take down the Anaheim Ducks or St. Louis Blues (two teams that they conquered in their two runs)? To be the kings (of the NHL) you'll have to beat the Kings…or prevent them from getting into the playoffs. How many NHL teams would breathe a sigh of relief if Los Angeles failed to qualify?
Dan Rice can be reached via Twitter: @DRdiabloTHW or via Email: drdiablo321@yahoo.com