There are many decent, talented prospects coming along for the Maple Leafs with Jeremy Bracco leading the way.
This is the first season that the focus hasn't been on the Toronto Maple Leafs' prospects. The Leafs have finished in the bottom of the NHL for the last few years and so naturally all attention was on the future. The future of draft picks. Who the Leafs would pick with those draft picks. And how great those prospects would be one day.
Well that future has finally been realized. Auston Matthews, William Nylander and Mitch Marner are all playing for the Leafs and have all made massive contributions to the Leafs in a short time. Those three players used to be the focus when thinking about the future of the Leafs. Now that they're in the NHL there isn't the same focus on prospects like there was before.
Jeremy Bracco Ready for a Breakout Season
Every year Bracco seems to be overshadowed. In 2014-15 when he played for the U.S National Under-18 Team he had 32 points in 24 games, but Matthews also happened to play on the team as well and finished with 48 points in 24 games. Bracco was then drafted in the second round of the 2015 NHL draft, which was also the year the Leafs drafted Marner.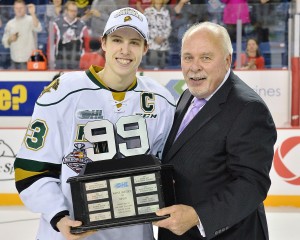 Bracco then began playing in the OHL for the Kitchener Rangers. He finished with a respectable 64 points in 49 games. There might have been more focus on Bracco and how well he played in his first season in the OHL if Marner hadn't blown everyone away.
Marner finished the season with an amazing 116 points in 57 games and won the Red Tilson Award for Player of the Year. He then helped lead the London Knights to winning the Memorial Cup and finished with 44 points in 18 playoff games. As if Marner didn't have enough trophies, he also won the Stafford Smythe Memorial Trophy for tournament MVP and the Ed Chynoweth Trophy for leading the tournament in points with 14.
Bracco who? It's no surprise that Marner became the center of attention last year and then add to that the Leafs drafting Matthews this past draft. The positive for Bracco is that he no longer has Marner and Matthews as competition. Bracco can now step into the spotlight as the next talented prospect for the Leafs.
Bracco's Turn in the Spotlight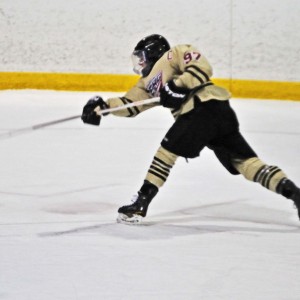 Bracco has been quick to show that he is still one of the Leafs' best prospects. In 19 games this season, he has recorded 40 points and is third in OHL scoring. Bracco has almost doubled his production compared to last season, when he had an average of 1.31 points per game. This season Bracco has a points-per-game average of 2.11 and is second in the OHL in that category.
For reference, last season Marner had a points-per-game average of 2.04 when he finished with 116 points in 57 games. It's unlikely that Bracco is able to keep up that pace for the entire season, but that doesn't mean he won't put up similar numbers as Marner.
Jeremy Bracco — he of the 19-game point streak with OHL Kitchener — is watching today's #leafs practice.

— Chris Johnston (@reporterchris) November 21, 2016
The accolades have started to come Bracco's way along with the points. He has been awarded OHL Player of the Week for the second time this season with the most recent being the week of Nov. 13-20. In that time Bracco had 10 points in four games, two games in which he finished with four points, and continued his point streak to 19 games.
This level of skill and consistency is just what the Leafs need to see. Bracco is still unsigned by the Leafs and with him being AHL-eligible next season, it's even more important for him to succeed.
I am convinced that by the end of the season Jeremy Bracco will be touted as the Leafs' next great young player.
End of Season Update
Update: With the OHL regular season over and the playoffs well underway it's time for a recap of Bracco's season.
Bracco had been on a 19-game point streak when we last checked in, but that streak turned into a 26-game point streak. Bracco now holds the second longest point streak in Kitchener history by passing Steve Downie's 25-game point streak set back in 2006-07.
Bracco was then traded to the Windsor Spitfires in a long-term blockbuster trade. In 27 games with Kitchener, Bracco had 17 goals and 34 assists for 51 points. His production took a hit once he went to Windsor with just 8 goals and 24 assists for 32 points in 30 games. Windsor had hoped that acquiring Bracco would help give them a deep playoff run since they are hosting the 2017 Memorial Cup.
Unfortunately, Windsor was knocked out in the first round of the OHL playoffs by the London Knights.
Bracco finished the regular season with 25 goals and 58 assists for 83 points. This put Bracco twelfth in the OHL in scoring and seventh in point-per-game with 1.46 point-per-game.

Toronto Maple Leafs contributor for The Hockey Writers.
I've been a fan of the Toronto Maple Leafs since I was a kid and have always had an interest in writing. At The Hockey Writers, I get to enjoy both of my passions as well as writing about small convoluted details in player contracts and stats.