Not long ago, his name was spoken in the same breath as Mikael Granlund, Teemu Pulkkinen, Teuvo Teräväinen, Rasmus Ristolainen and Aleksander Barkov. Not long ago, he won awards named after Sami Kapanen and Teppo Numminen. Not too long ago, Aleksi Saarela was a bonafide hockey prodigy. Some folks felt he was the top '97-born player in the world.
Barely a teenager, Saarela produced points like a machine and he made all his teammates look good. You know the drill: kid dances and dangles the puck down low, attracting and distracting defenders while his meaty-handed winger waits beside a wide open net for that perfect saucer pass.
Then, something happened. The hope of hockey Finland, who saw his first shifts against grown men in the country's top pro league while only 16 years old, was failing to make rosters for Team Finland and when he did make them, he was a late addition, and often saw little ice time. At the 2014 U18 World Junior Championships, a tournament designed to showcase players just like him, he mysteriously rode the pine, getting into just two games.
This is a player who was routinely penciled in as a top-line center.
What is known is that he ran into injury trouble. What is widely believed is that he ran into a bench boss who didn't like him, for whatever reason. Nonetheless, it had a ripple effect, especially among scouts.
Said Anthony Mauro of Draftbuzz:
"Dealing with a good amount of injury trouble as well as a newly tenuous international relationship has made quite a few sour on [Saarela] … Reported as having quite the character, more information is needed to assess what truly went wrong with his coach and team this past April."
By November, the opinion became consensus. Kyle Woodlief of Redline Report:
"Two years ago [he] was talked about as a future star, but his development has stalled out and his game is stagnant."
Redemption
Enter April 2015 and the U18 World Junior Championships. Here, the kid was a bonafide star, tallying 3-5-8 in seven games for the Finns, and scoring some big goals.
In a prelim match against the Swiss, he makes this pass look easy:
Here his one-timer is blocked, but Saarela doesn't quit on the play, chasing the loose puck into the corner and swatting it out to a wide-open Patrik Laine (a freight-train of a player, Laine is poised to be among the darlings of the 2016 draft.) In the highlight that follows that one, Saarela wins the face-off and scores on the very same one-timer.
In overtime, he nearly became the goat when he was called for a penalty, but after coming out of the box he collects a blocked shot in his own zone and uses his speed to get to the outside, where he catches the Swiss netminder unprepared with an accurate, in-stride shot.
Pro Game
Today he's a vested player for Assat in Finland's top pro league. Although the knocks against him for being injury prone persist, this past season he missed just five league games, and took part in over a dozen international tilts. Saarela long ago left behind the kind of dangling that made him prodigy material. In its place, he has assumed a simplified, more pro-style game without giving up any bit of his prodigious skill-set. He's an agile skater with great acceleration and excellent top speed; a killer puck-handler with incredible vision who processes the game with a world-class hockey IQ; he has a quick release, his shot is deadly-accurate whether shooting in-stride or off the one-timer; and he is as effective a playmaker as he is a finisher.
Even his defensive game has shown improvement. Yet the diss persists.
TSN's Craig Button ranked him 84 overall but according to that ranking, Saarela is just the sixth best Finnish prospect in the draft, behind countrymen Veeti Vainio, Roope Hintz, Julius Nattinen, Sebastian Aho and Mikko Rantanen. This isn't out of step with Central Scouting's Final Rankings of International Skaters. Although their order is slightly different, they too have Saarela as the 6th best Finnish prospect.
Rantanen, OK, that one makes sense. The others, not so much.
Hockey's Future caught up with him after he scored the OT winner against the Swiss. In true hockey tradition he has nothing of interest to say.
Does he have what it takes to play in the NHL? At 5'11" 198 lbs, he is about the same size as Sidney Crosby, and doesn't play at all as though he's undersized. As one scout put it, he seems very comfortable in his frame. He embraces the physical side of the sport, and although his production in the elite league has been sub-par for him, he is only 18 years old.
Maybe scouts believe that Saarela has effectively peaked, reached his ceiling, and that what you see is what you'll get. There may be character issues not widely known. Whatever the case, this past April Saarela left the past behind him and, in delivering a spectacular effort for Team Finland, transformed himself from a former hockey prodigy into the triumphant prodigal son.
—–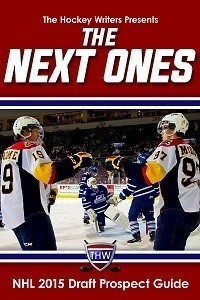 For coverage of over 150 prospects in the upcoming draft, check out THW's The Next Ones: NHL 2015 Draft Prospect Guide, available for the Kindle and all other e-reader formats.
Ross Bonander is a freelance health writer and book editor. He is the editor of 13 quotation collections– six of them hockey-related, including his most recent, Modern Hockey Quotations. His homepage is RossBonander.com.