The Ottawa Senators are facing a huge salary-budget challenge going into next season. They already have 21 players signed for a total cash commitment of $62 million.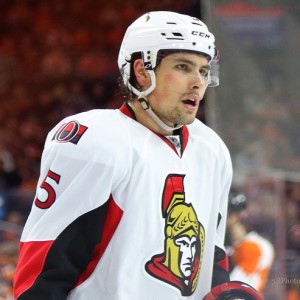 This includes Curtis Lazar, Matt Puempel and Cody Ceci; three players that are still on entry-level contracts but will be on the NHL roster when the season resumes. It does not include six free agents that are looking for new deals — five restricted and one unrestricted.
Ottawa has shown a pattern of paying players according to their career arc. Young players like Cowen and Wiercioch have contracts with escalating salaries. Players in the middle of their prime, such as Bobby Ryan and Marc Methot, have flat contracts that pay out a similar salary each year. Ageing veterans like Craig Anderson and Chris Neil have contracts where the salary declines. This approach makes sense for a budget team like Ottawa and will help them next year. All of the young RFAs will get lower salaries in the first year of their deals, which will buy time for management to purge some old contracts.
Mark Stone, Mika Zibanejad, Mike Hoffman, Jean-Gabriel Pageau and Alex Chiasson are all RFAs and will collectively make about $12 million next season on contracts that will escalate in value over time. The Senators will also attempt to sign UFA Eric Condra at a reasonable price and term. A three-year deal at $2 million per season would be a team-friendly contract. If it takes much more than that to sign him, then they will likely let him walk on July 1.
With those six free agents signed, the team would have a $76 million payroll for 27 players. At least four players will need to go to get down to a 23-man roster.
The next question is what the team budget will be for next season. Ottawa spent roughly $56 million last year. Financially, the team is benefitting greatly from new national and regional broadcast deals. However, the Canadian dollar has dropped from 92 cents a year ago to 81 cents today. That adds roughly $8 million Canadian to payroll costs.
Still not a cap team, but Bryan Murray believes the budget will be more next year.

— Steve Lloyd (@TSNSteveLloyd) April 29, 2015
Bryan Murray has publicly stated that the salary budget will increase next year, but by how much? If we assume a payroll of $63 million, then the Senators need to get $13 million worth of salary off the books. Trading or buying out the following four players would go a long way towards accomplishing that.
Colin Greening
2015-16 salary: $2.75 million
Years remaining on contract: 2
Buy-out savings next year: $1,758,333
Likelihood of returning: Yashin is more likely to return
There is no chance that Greening will be playing for the Senators next year. The only question is whether the team can somehow pull off a miracle and trade the final two years of his contract. It might happen if they retain a significant amount of salary. However, most likely, he will be bought out.
David Legwand
2015-16 salary: $3.50 million
Years remaining on contract: 1
Buy-out savings next year: $2,333,333
Likelihood of returning: Very Low
Legwand is still a useful player, but the Senators desperately need to dump his salary. He is behind Turris, Zibanejad and Pageau on the depth chart at centre. There simply is no room for him on the roster or his salary on the books. With only one season left on his contract, he is more tradeable than Greening, but the Senators may need to retain some salary. If he cannot be traded, then a buy-out may be necessary.
Jared Cowen
2015-16 salary: $3.70 million
Years remaining on contract: 2
Likelihood of returning: Low
It is difficult to know how management feels about Cowen after a poor season. They may still see him as a top-four defenceman. However, the fan base has seen enough. He is now the most criticized player on the team. There will be plenty of teams interested in acquiring him. He could be traded alone for a draft pick or prospect. Alternatively, he might be included in a package with one of the goaltenders in an attempt to acquire a top-six forward.
Robin Lehner or Craig Anderson
2015-16 salary: $2.03 million and $4.75 million, respectively
Years remaining on contract: 2 and 3, respectively
Likelihood of returning: One of them is gone
The Senators will trade one of these two goaltenders. As I wrote before, it will be a very difficult decision. Lehner has more long-term potential, but Anderson clearly gives the team a better chance to win games next year. Moving Anderson creates much more salary room, but the decision will likely depend on which can garner more value on the trade market.
Other options
Trading Neil or Chris Phillips would help the team. Both are in the last year of their contracts and, together, they will make $4 million. If they return, they will be depth players that do not contribute much on the ice. However, the team seems content with paying them one more year to provide leadership and continuity.
Zach Smith has two years remaining on a deal that will pay him $2 million next season. It is a reasonable contract for what he contributes. Several teams would be interested in acquiring him.
As a last resort, the team could decide to trade one of their key RFA forwards. Look for the Senators to maybe package Chiasson or Hoffman with Cowen and a goaltender in a blockbuster deal at the draft.
The Senators finished last season with an entertaining young team. Keeping that young core together will require some creative payroll management. This summer will decide the Senators' future for years to come.